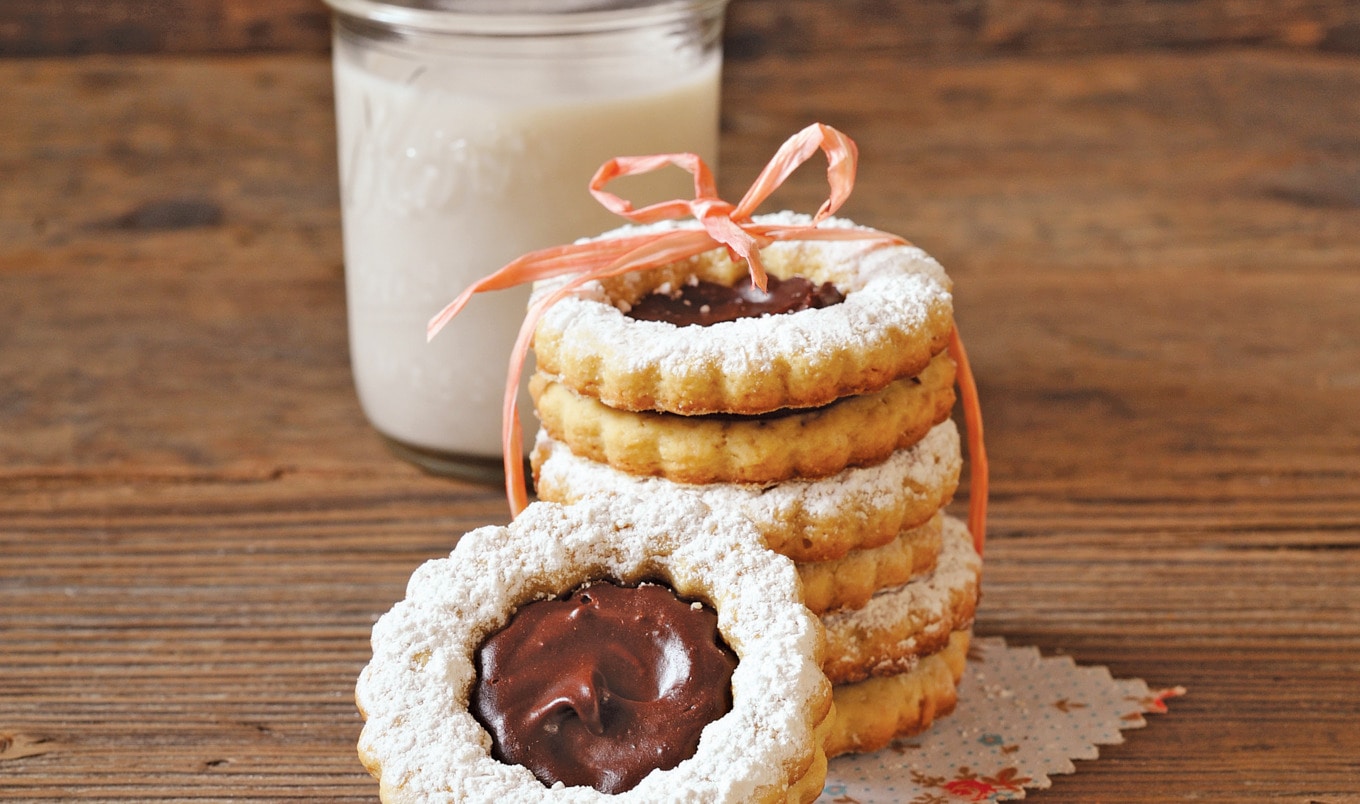 Orange and chocolate come together to create a perfect pairing fit for the holidays.
December 8, 2022
For a satisfying sweet treat, we bring you a veganized version of a holiday classic—from VegNews Food Editor Joni Marie Newman's Vegan Food Gifts—complete with the bold flavor of orange cookies and gooey chocolate ganache.
What you need:
For cookies:
1⅔ cups all-purpose flour
¼ teaspoon baking powder
¼ teaspoon salt
¾ cup granulated sugar
½ cup vegan butter
¼ cup orange juice
1 teaspoon vanilla extract
1 teaspoon orange extract
Powdered sugar, for sprinkling
For ganache filling:
½ cup cream from refrigerated can of coconut milk
1 cup vegan chocolate chips
1 tablespoon orange extract
What you do:
For the cookies, in a small mixing bowl, sift flour, baking powder, and salt.
In a large mixing bowl, beat sugar, butter, orange juice, vanilla, and orange extract until combined. Slowly add in flour mixture, and beat until well combined.
Onto a floured surface, knead dough until soft and smooth. Shape into a ball, wrap in plastic, and refrigerate for at least 2 hours.
Preheat oven to 375 degrees, and line baking sheets with parchment or silicone baking mats.
Remove dough from refrigerator, then divide in half. On a well-floured surface, roll out dough to ⅛-inch thickness. Using a linzer cookie cutter, cut 36 tops and 36 bottoms. Transfer to baking sheet.
Bake for 8 to 10 minutes, or until golden. Remove from oven, and cool. Sprinkle powdered sugar over tops.
For the filling, in a small saucepan, heat coconut cream until it begins to boil. Remove from heat, add chocolate chips and orange extract, stir, and combine until smooth. Set aside to cool.
Once cooled, spread 1 teaspoon of ganache onto a cookie bottom and top with another to make a cookie sandwich. Repeat with remaining ganache and cookies, and serve.