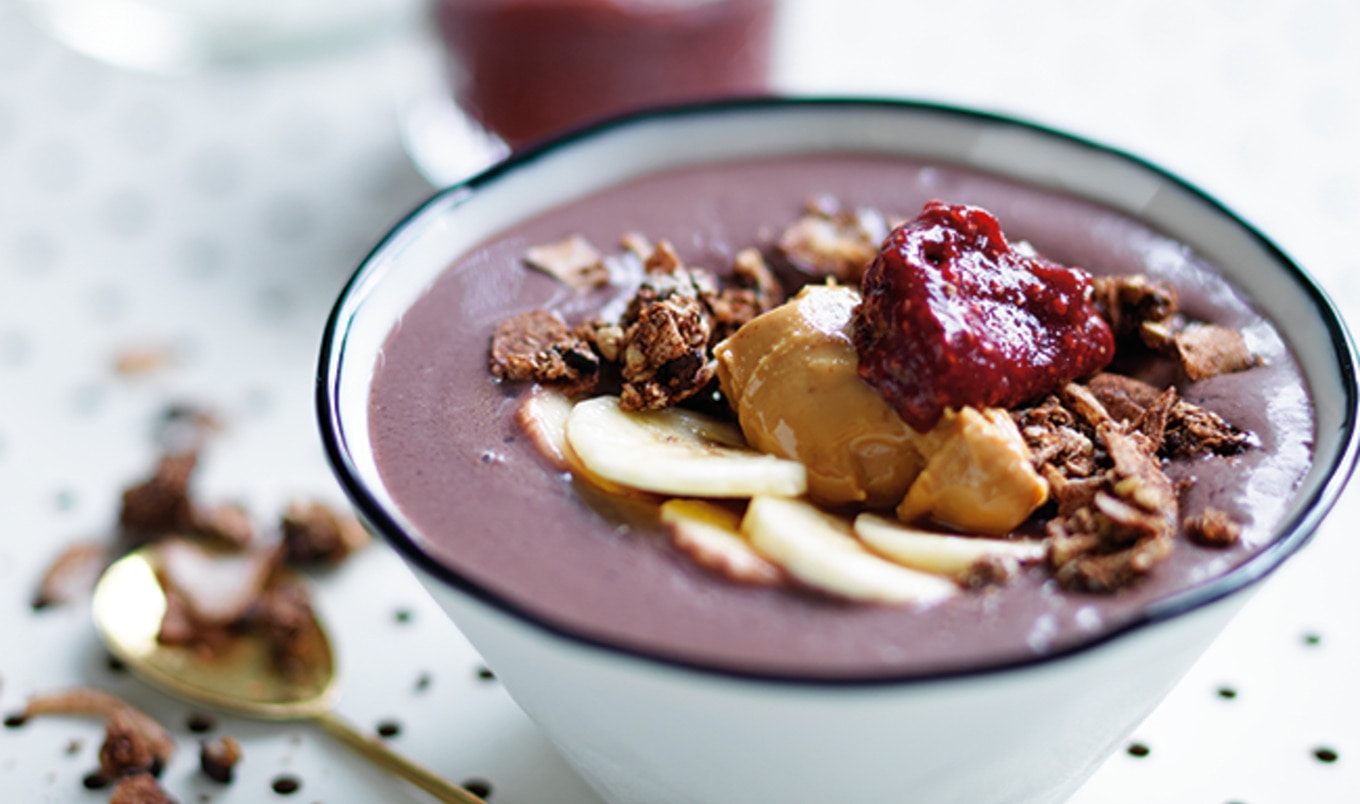 Nut butter, frozen açaí, and homemade raw granola make for the perfect breakfast bowl.
July 12, 2023
One of the world's best sources of vitamin C and antioxidants, açaí is a true superfood—which means that you can eat this raw peanut butter-and-jam açaí bowl, from Maz Valcorza's The Naked Vegan: 140+ Tasty Raw Vegan Recipes For Health And Wellness, any time of the day and feel great.
What you need:
For the Raw Granola:
1 cup shredded coconut
1 cup coconut flakes
3 cups goji berries
1 cup cacao nibs
1 cup flaxseed meal
1 tablespoon vanilla powder
3 tablespoons water
For the Berry-Chia Jam:
2 cups raspberries
4 tablespoons coconut nectar
4 tablespoons water
½ teaspoon vanilla powder
2 tablespoons white chia seeds
For the bowl:
2 (7-ounce) packets of frozen açaí berries
2 cups frozen chopped bananas
4 tablespoons raw cacao powder
4 large medjool dates, pitted
4 tablespoons peanut butter
1 cup coconut milk
To serve:
1 banana, sliced
1 cup Raw Granola
4 tablespoons cacao nibs
4 tablespoons peanut butter
4 tablespoons Berry-Chia Jam
What you do:
For the Raw Granola, in a mixing bowl, toss together ingredients until well combined, adding water in small amounts as needed if mixture is too dry. Spread mixture onto dehydrator trays lined with non-stick sheets. Dehydrate at 105 degrees for 12 hours. Remove non-stick sheets and flip granola over, place on mesh trays, and dehydrate for another 6 hours. Once set, break into small clusters and store in a sealed conatiner.
For the Berry-Chia Jam, into a blender add all ingredient except chia seeds, and blend until smooth. Pour into a clean, airtight jar and stir in chia seeds until the seeds have absorbed the liquefied and expanded to create a jam-like consistency. Seal jar and store in refrigerator.
For the bowl, into a blender, add all ingredients and blend on high until smooth, scraping down sides as needed.
To serve, divide mixture among four bowls. Arrange banana slices over each, then sprinkle with the Raw Granola. Top with 1 tablespoon each of the cacao nibs, peanut butter, and Berry-Chia Jam. Serve immediately.
For more recipes like this, check out: