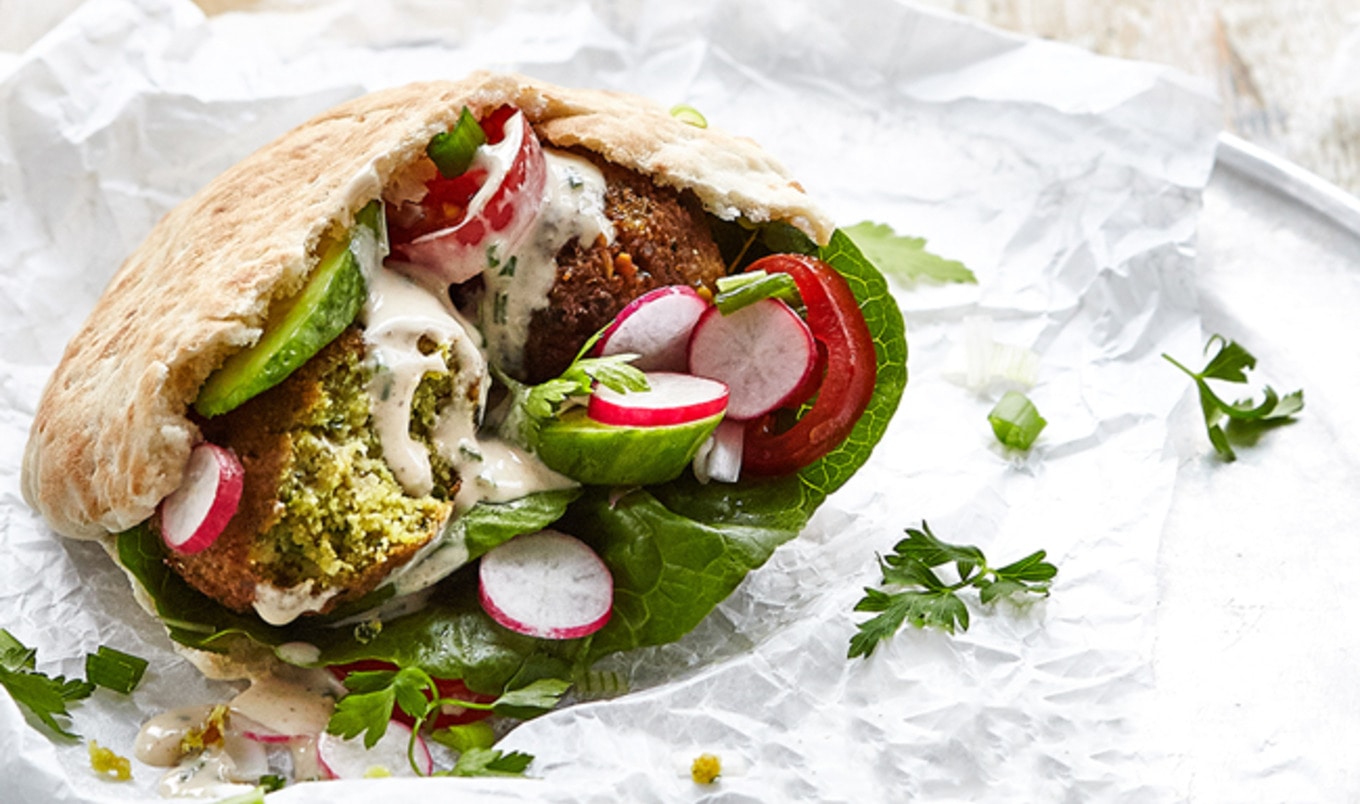 Tender, handmade falafel, crisp, cool vegetables, and creamy tahini combine for a classic Mediterranean meal.
June 9, 2023
No one likes a tough, dry falafel. That's why this recipe—from Dunja Gulin's Falafel Forever: Nutritious and tasty recipes for fried, baked, raw, vegan and more!—is now our new favorite. A 24-hour chickpea soak is time-intensive, but well worth the wait. The resulting falafel is tender, moist, and pairs beautifully with fresh, crisp produce and luscious tahini.
What you need:
For the falafel:
6 ounces dried chickpeas
5 tablespoons chopped onion
2 garlic cloves
1 bunch fresh parsley, leaves only
2 teaspoons ground coriander
½ teaspoon baking soda
1 teaspoon ground cumin
⅛ teaspoon chilli powder
1½ teaspoons salt
1 cup oil, for frying
For the pita sandwiches:
4 pita pockets
Tahini sauce
Raw vegetables (such as sliced tomatoes, cucumber, lettuce, rocket, parsley, spring onions)
What you do:
1. Cover chickpeas in water, and soak for 12 hours. Drain, cover with fresh water, and soak for another 12 hours. Drain, rinse well, and let drain again for another 5 minutes.
2. For the falafel, into a food processor, add chickpeas and process until a coarse texture is achieved. Add remaining ingredients (except the oil) and blend until mixture resembles a paste. Cover and refrigerate for at least 1 hour.
3. Using wet hands, roll chickpea mixture into walnut-sized balls. Deep-fry the falafels in hot oil for 4 minutes or until browned.
4. Warm the pita pockets, fill with vegetables of your choice, add falafel balls, and serve with the tahini sauce.
For more recipes like this, check out: