PRIDE is colorful. PRIDE is fun. PRIDE is a celebration—but it's more than just rainbows. While the items below focus on the literal sunshine and rainbows of PRIDE, we acknowledge that this month is about something far more important than promotional stuff. These products give back because there are still people who do not feel safe being who they are, and that's not okay. So here's to celebrating PRIDE—not just until LGBTQ+ individuals are universally accepted, but for years and years to come.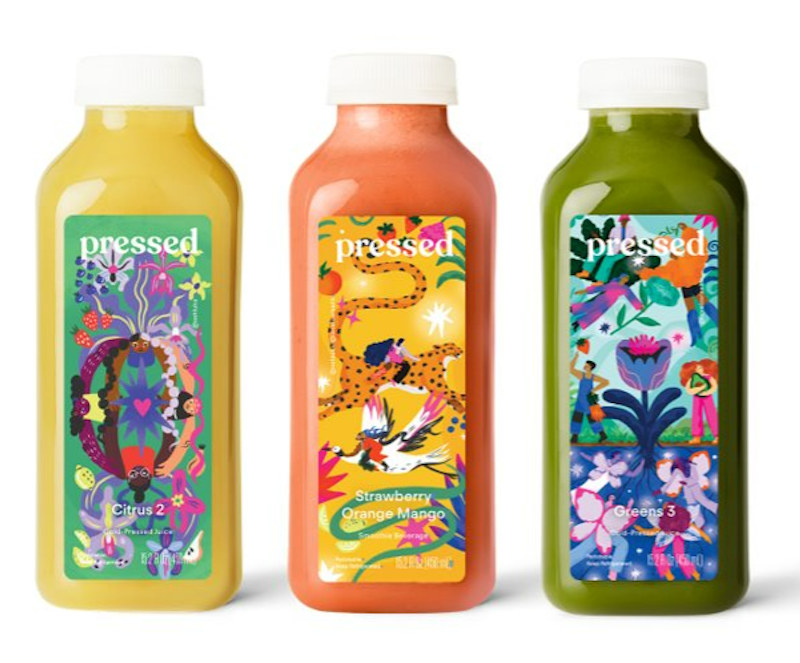 Pressed
1 Pressed
Three of Pressed's fresh juices are getting a makeover for PRIDE month. The popular juice chain has partnered with two LGBTQ+ artists, Ashley Lukashevsky and Loveis Wise, to redesign the bottle labels to bring attention to the campaign and support a chosen nonprofit. A portion of all sales from these three juices will be donated to LYRIC (Lavender Youth Recreation and Information Center) chapters across the country. Stock up on your Citrus 2, Greens 3, and Strawberry Orange Mango Smoothies from Pressed throughout the month of June so your purchase goes further.
Find out more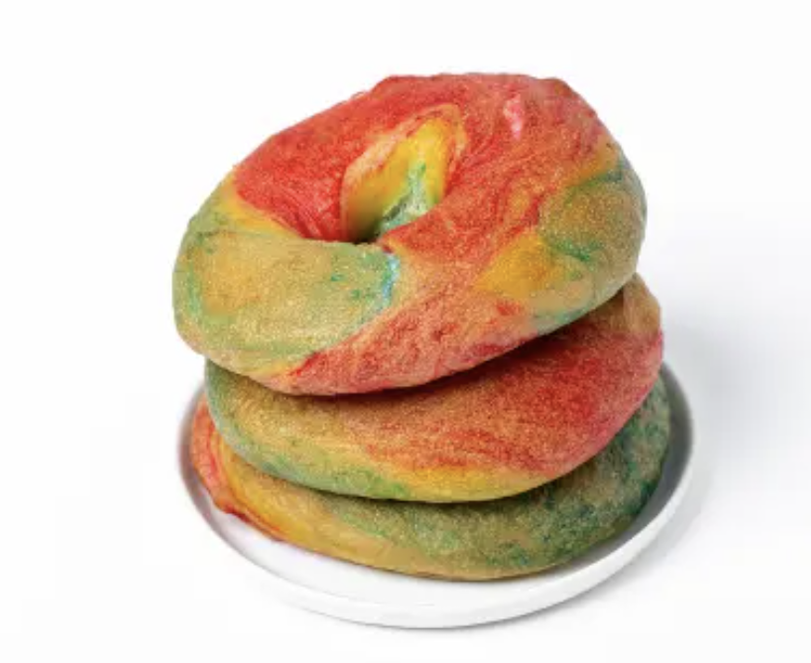 BaKIT Box
2 BāKIT Box
The rainbow bagel trend is alive and well—at least for the month of June. This baking subscription service provides all you need to get crafty in the kitchen—including pre-measured ingredients and detailed steps on creating the perfect chewy, vibrant rainbow bagel. If yeasted dough has intimidated you in the past, this is a solid place to start.
Find out more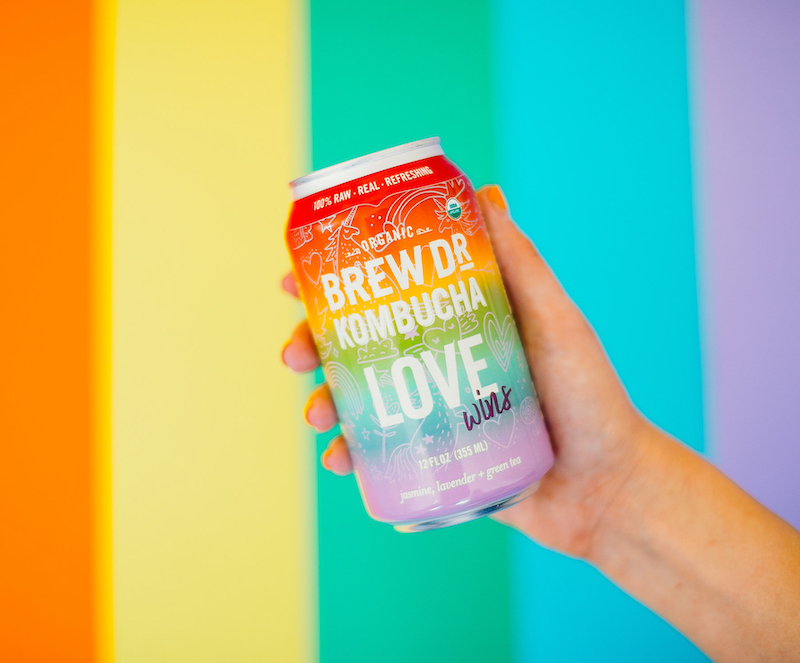 Brew Dr.
3Brew Dr. Kombucha
For the fourth year in a row, Brew Dr. is supporting The Trevor Project, this time, with a matching $10,000 donation. The rainbow-wrapped bottles can be found anywhere you typically purchase your Brew Dr. (see the store locator—from liquor stores to gas stations, they're everywhere). The specialized brew is the brand's iconic Love flavor reincarnated with flavors of lavender, chamomile, and jasmine green tea.
Find out more
4 Root Nine cookies
When you can't decide between a sugar cookie or chocolate chip cookie, this Planet Pride cookie lets you have both. The aquamarine and green tie-dyed treat features a soft, sprinkle-topped sugar cookie exterior stuffed with a decadently gooey chocolate filling. Not only does it look mesmerizing, but five percent of the proceeds will benefit the It Gets Better Project. Order a six-pack or add a few to a build-your-own box.
Find out more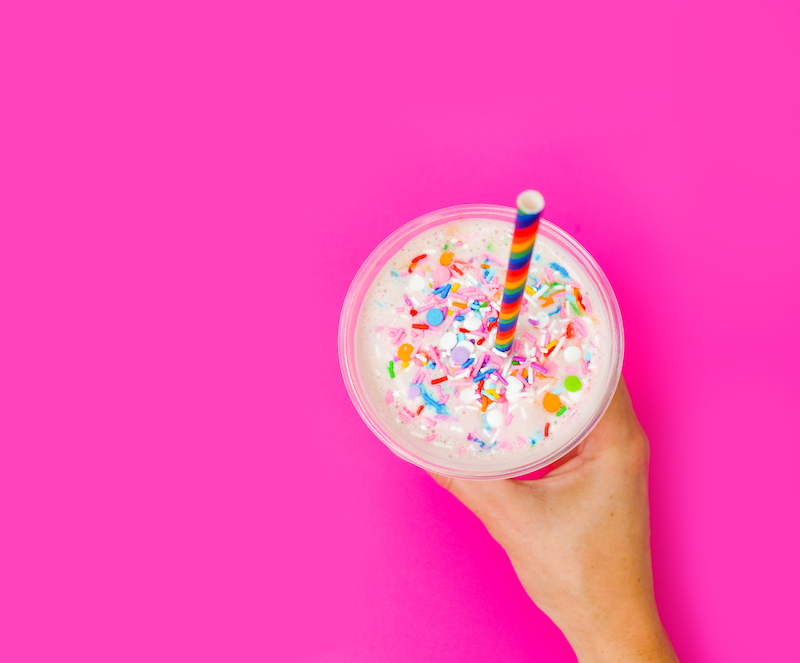 HipCityVeg
5 HipCityVeg milkshake
According to this Philly-based vegan eatery, you can never have enough sprinkles. The restaurant's returning strawberry-flavored Love Shake is doused with shimmery rainbow sprinkles and finished with a paper rainbow straw. Five percent of the shake's proceeds will be donated to various LGBTQ+ organizations across the states HipCityVeg calls home.
Find out more
6 Karma Baker cake and cookie sandwiches
This bakery is transforming cookies into donations. All proceeds from Karma Baker's fudge-filled chocolate chip sandwich cookies and vanilla rainbow cake will be donated to The Trevor Project for the month of June. That's right—not five percent, not 10 percent, but 100 percent. If you're thinking of donating to an LGBTQ+ organization this month, might as well support small vegan business and get something sweet all in one powerful transaction. Those unable to get their orders in by June can still make their purchases go further by ordering the rainbow cake any time of the year (it ships nationwide). Karma Baker donates 100 percent of the proceeds of this cake flavor to The Trevor Project year-round. That in itself is something to celebrate.
Find out more
7 Erin McKenna's Bakery cookie cake
This PRIDE Daddy treat ticks off two holidays in one giant, gooey, sprinkle-adorned cookie cake. Available online for nationwide shipping and in stores (order ahead), this pizza-sized chocolate chip cookie works for virtually every occasion and suits every kind of eater. The cookie itself is vegan and gluten-free and embellished with "PRIDE Daddy" frosting and rainbow edges. Think of it as a cleaner, more delicious, and vegan version of the Mrs. Fields cookie cakes you used to salivate over at the mall.
Find out more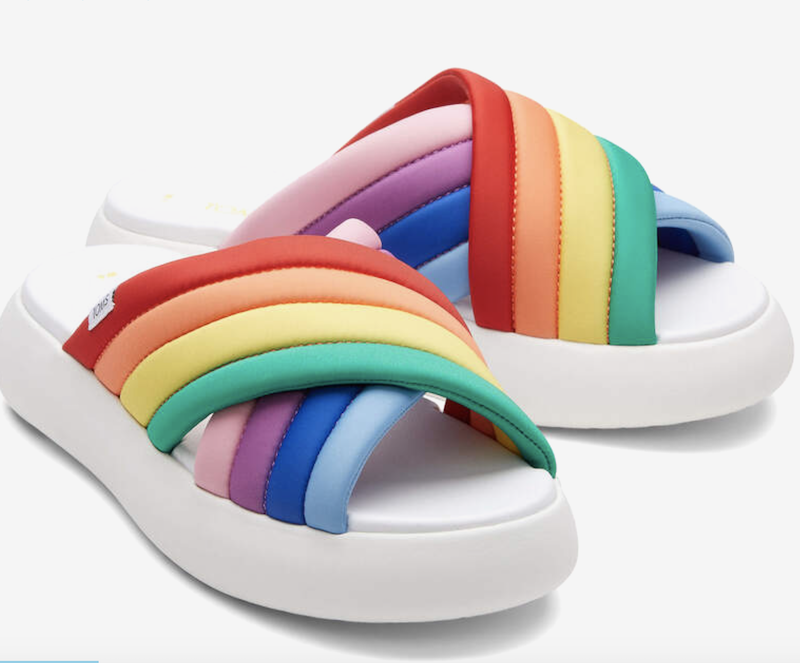 TOMS
8 TOMS Unity Collection
Support PRIDE year-round by rocking a pair of vegan-friendly kicks or sunglasses from TOMS' Unity Line. The collection features the company's classic canvas Alpargata style in rainbow, tie-dye, and a "Love Unites" print. Three different rainbow-accented sunglasses, a pair of cushy Mallow Crossover sandals, and a long-sleeve T-shirt complete the line. One-third of the proceeds from these items supports various LGBTQ+ organizations such as COLORS—a nonprofit that provides affirmative mental health counseling to LGBTQ+ youth and young adults.
Show your support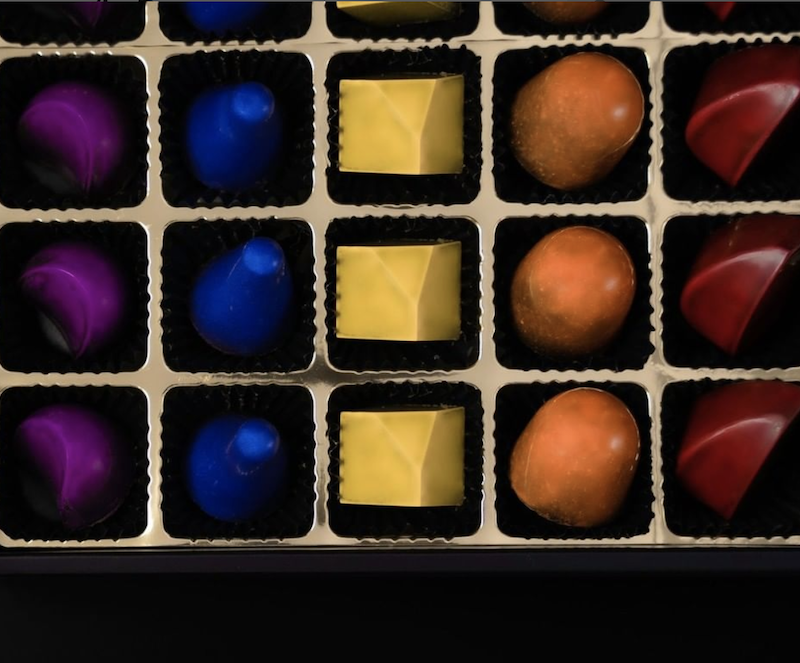 Casse-Cou
9 Casse-Cou
This gourmet vegan chocolatier proves that rainbows can be refined. The limited edition PRIDE box contains five flavors of expertly made vegan chocolates in classic PRIDE colors, each polished to a shiny bright hue that make them almost too beautiful to eat. Flavors include chewy Peanut Butter Caramel, bright Blueberry Walnut, boozy Whiskey Cake, tropical Rum Lime Caipirinha, and crunchy Banana Foster Pecan. A portion of the proceeds will benefit the Ali Forney Center, a nonprofit that supports LBGTQ+ teens and fosters independence.
Show your support
For more on vegan PRIDE, read:
10 Vegan Rainbow Recipes for a Delicious PRIDE Month
10 Contemporary Queer Vegans You Need to Know About
A Queer-Owned Vegan Doughnut Shop Is Comming to Seattle