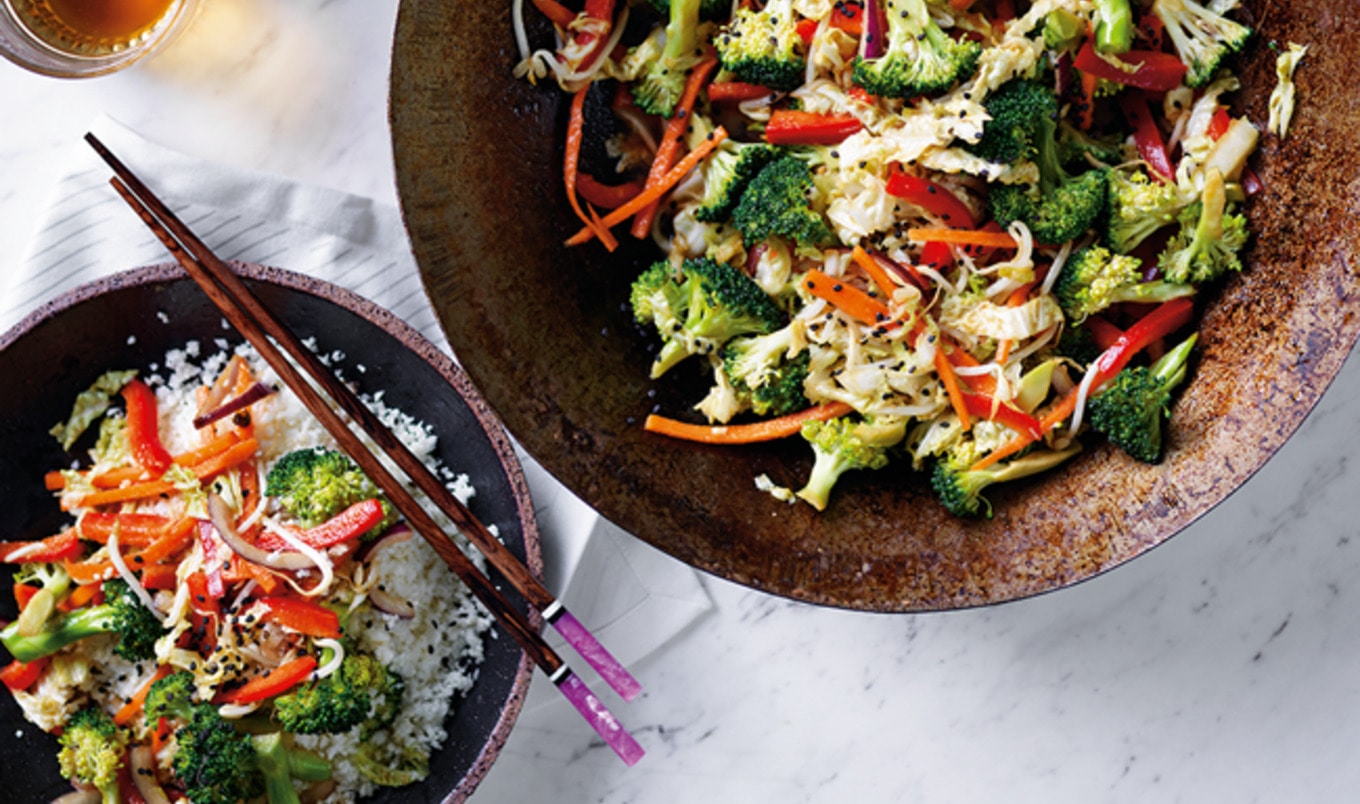 You'll be a fully raw convert after feasting on this zesty, crunchy, flavorful "stir no-fry."
May 9, 2021
With the weather warming up and colorful produce in abundance, there's nothing that hits the spot quite like a big bowl of fresh vegetables. Which is why this raw "stir no-fry" from Maz Valcorza's The Naked Vegan: 140+ Tasty Raw Vegan Recipes for Health and Wellness is such a winner in our books. With a light, ginger-infused lime and tamari marinade and easy-to-make coconut cauliflower rice, we're doubling down on our veggies—no stove required.
Serves 4

What you need:
For the lime & tamari marinade:
½ cup extra virgin olive oil
2 teaspons sesame oil
Juice of 1 lime
4 tablespoons tamari
2 tablespoons finely chopped fresh ginger
¼ cup roughly chopped peanuts
For the vegetables:
2 cups broccoli florets
1 red bell pepper, seeded and finely sliced
1 cup julienned carrots
1 cup bean sprouts
½ cup shredded bok choy
½ cup shredded savoy cabbage
½ red onion, finely sliced
1 garlic clove crushed
For the coconut-cauliflower rice:
4 cups cauliflower florets
½ cup shredded coconut
½ teaspoon Himalayan pink salt
For garnish:
4 tablespoons black or white sesame seeds
3 tablespoons cilantro leaves
What you do:
1. For the marinade, place all ingredients in a high-speed blender until well combined. Pour into a large mixing bowl.
2. For the vegetables, add all vegetables into the same bowl. Toss and allow to marinate while making cauliflower rice.
3. For the coconut-cauliflower rice, pulse all ingredients in a food processor until cauliflower resembles texture of rice, being careful not to over-process.
4. To serve, divide coconut-cauliflower rice among four bowls and top with vegetable mix. Sprinkle with sesame seeds, and garnish with cilantro.
Photo credit: Murdoch Books