Taco Bell has many appeals—it's fast, there's a drive-thru, the food is consistent, and with over 7,000 Taco Bell locations in the US alone, there's always one nearby. In July 2020, the chain caused an uproar by removing its beloved potatoes—in addition to other items—to make way for new plant-based options in the then-undetermined future. Thankfully, after more than a six-month hiatus, the brand reintroduced this starchy staple. (The chain's vegan menu just wouldn't be the same without it.)
Last fall, Taco Bell began testing a vegan carne asada option in the Dayton, OH area for a limited time, and here's hoping it'll make its way nationwide. But even without meat-free meat on the menu, the chain has always been at the forefront of vegan-friendly fast-food chains. Here is your vegan guide to Taco Bell the next time you roll through the drive-thru.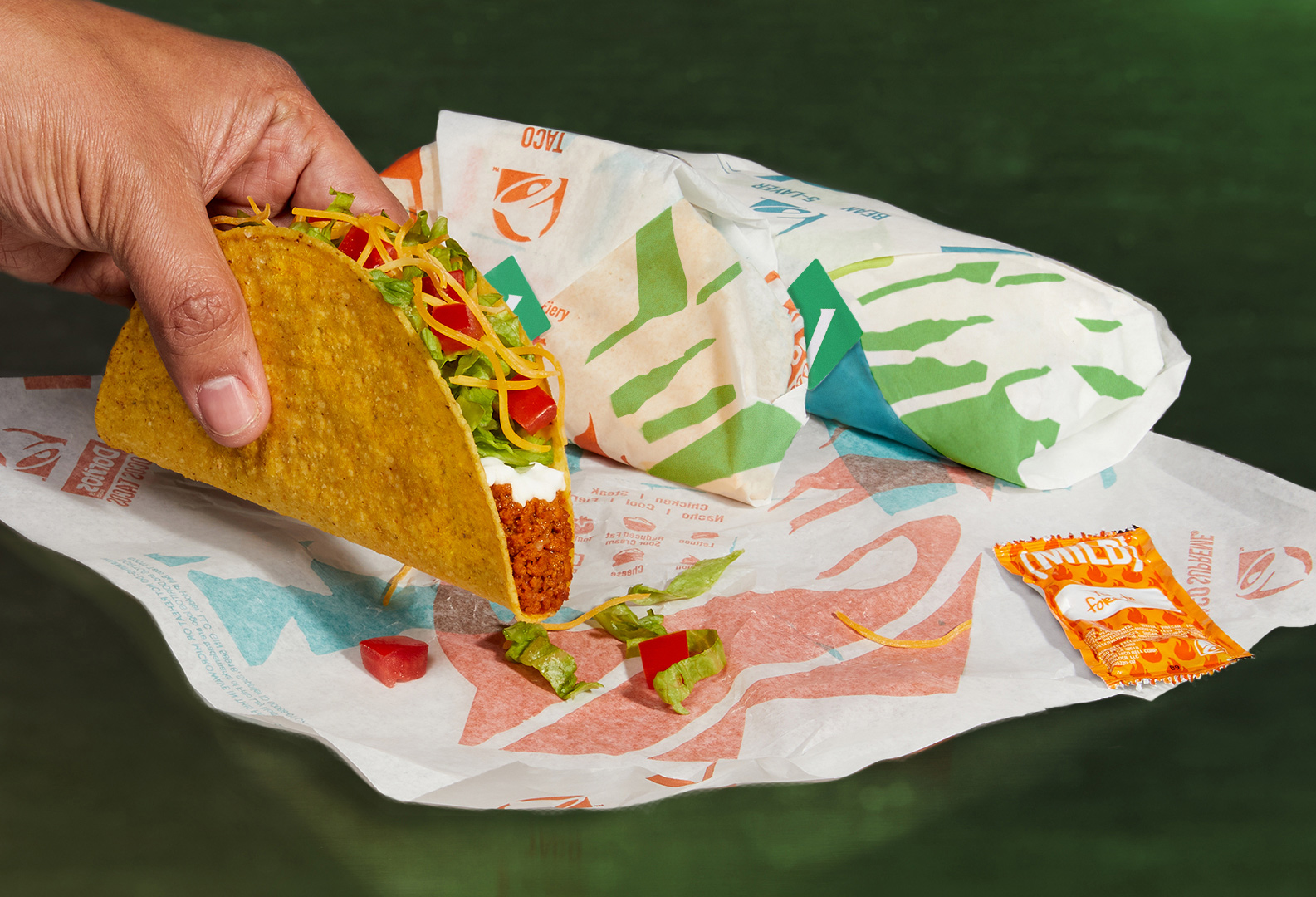 Taco Bell
Is vegan meat coming to Taco Bell?
In March 2021, Taco Bell announced that it was working with Beyond Meat to create a plant-based protein for its menu. On October 13 the following year, the Tex-Mex chain rolled out a vegan carne asada, but the test launch only occurred in Dayton, OH for a limited time. The new vegan meat was made to mimic Taco Bell's existing marinated steak in flavor and texture. It was featured in a quesadilla made with cheese but could be ordered in any menu item instead of animal-derived meat for no extra cost.
Plant-based beef isn't the only vegan meat that Taco Bell has tested out. In August 2022, the fast-food chain tested its own proprietary vegan beef across select locations in Birmingham, AL. Back in June 2021, a store in southern California tested out the Naked Chalupa with a Crispy Plant-Based Shell. Developed as a meat-free version of the Naked Chicken Chalupa, the test item featured a shell made entirely from a pea protein-based vegan chicken.
How to order vegan at Taco Bell
First and foremost, ordering "fresco-style" makes getting vegan food at Taco Bell so much easier. At Taco Bell, this is essentially code for "make it vegan." Virtually any item can be ordered fresco-style, and the employees know to replace all the dairy-based ingredients and mayo-based sauces with tomatoes. If you're ordering something that typically has beef, you'll have to specify that you want it without.
When it comes to ordering vegan at Taco Bell, you can just order things at the drive-thru using your words. But, we love ordering for pickup via the website or the app. Why? Because it makes custom orders—which you need to do a lot of when you're ordering vegan—as easy as the tap of a button. You can remove, or add, any ingredient from any item on the menu. That beats asking for a Crunchy Taco Supreme fresco style with beans instead of beef along with any add-ons you're craving.
Here are 14 vegan menu items and extras to order the next time you're at Taco Bell.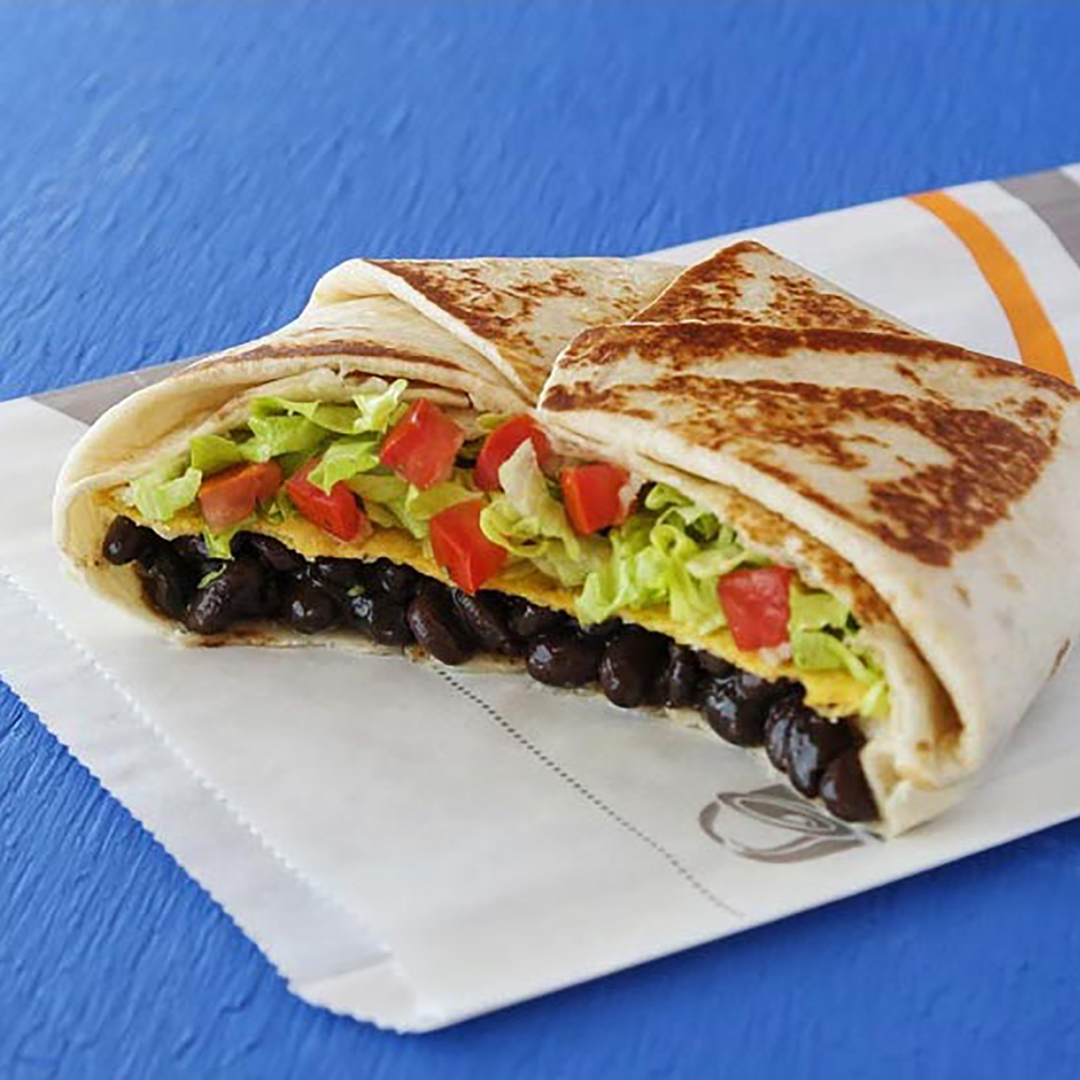 Taco Bell
1 Black Bean Crunchwrap Supreme
Taco Bell managed to invent a food item even more portable than the burrito: the Crunchwrap Supreme. Order this without the sour cream and nacho cheese sauce, and you're left with a hot, freshly pressed soft tortilla filled with black beans, salsa, lettuce, and a crunchy tortilla shell. Ask for a side of guacamole for dipping. Pro tip: add potatoes, too.
2 Black Bean Chalupa Supreme
This fluffy, fried, flour-based shell is thankfully vegan. Ask for this fresco-style and you'll get a crunchy chalupa filled with black beans, tomatoes, and lettuce. We love it with jalapeños.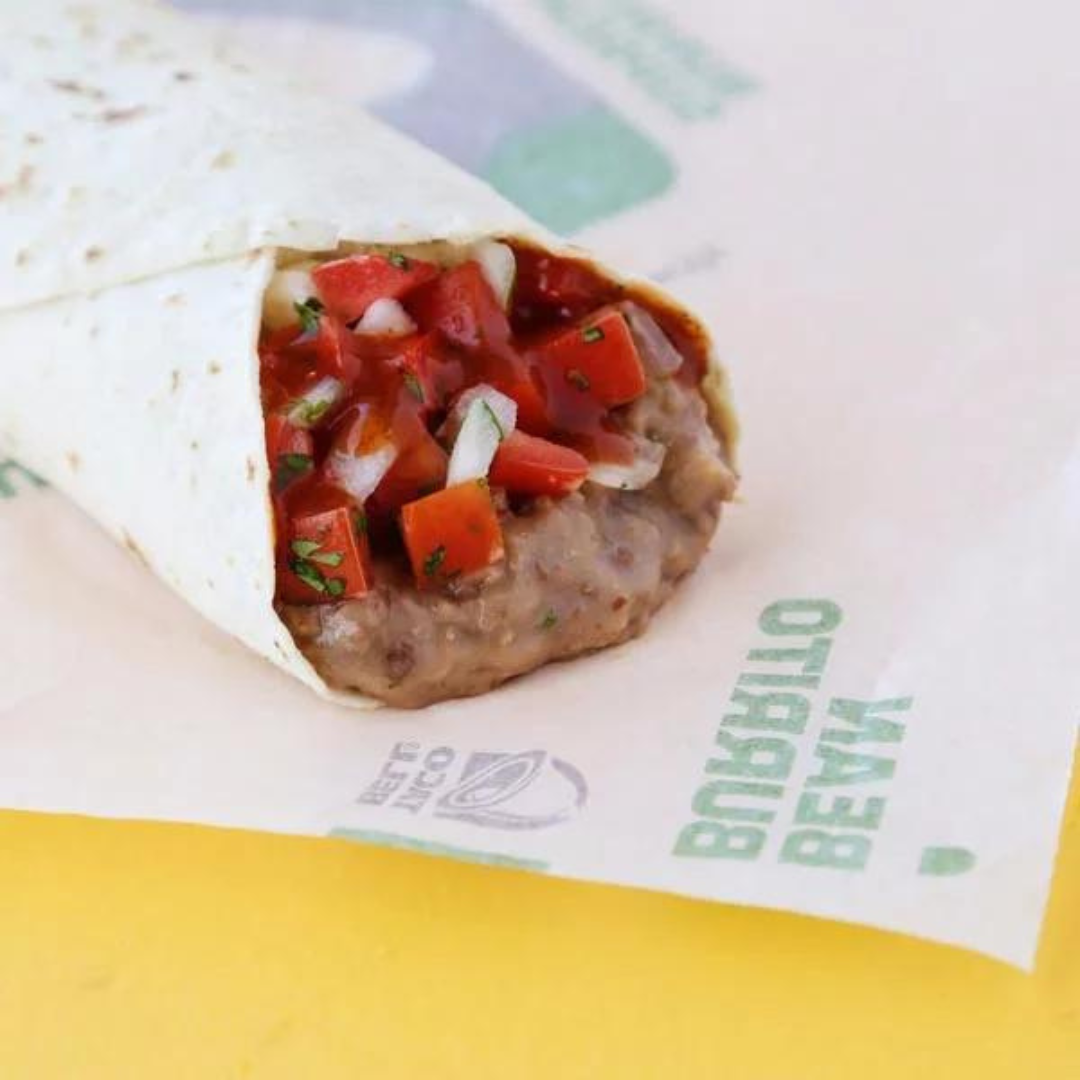 Taco Bell
3 Bean Burrito
Surprisingly, the bean burrito isn't vegan as-is (it contains cheese). However, order it fresco style, and you're set with a warm flour tortilla wrapped around refried beans, red sauce, diced onions, and chopped tomatoes. Not a fan of refried beans? Ask for black beans or potatoes instead.
4 Fiesta Veggie Burrito
This gem from the Cravings Value Menu is vegan if you order it fresco-style and without chipotle sauce. It's a delicious combination of black beans, seasoned rice, guac, tomatoes, and Fiesta Strips, which are pieces of red tortilla chips.
5 Spicy Potato Soft Taco
This one-dollar wonder becomes vegan when you order it without cheese and chipotle sauce. Adding onions and jalapeño peppers is highly recommended.
6 Soft and Crunchy Tacos
Aside from the Spicy Potato Soft Tacos, all tacos, soft and crunchy, can be vegan so long as you swap the meat for black or refried beans and leave off the cheese, sour cream, and chipotle sauce. Try the Crunchy Taco Supreme fresco-style with beans instead of beef and load up on add-ons. Unfortunately, the Doritos Locos shells are not vegan.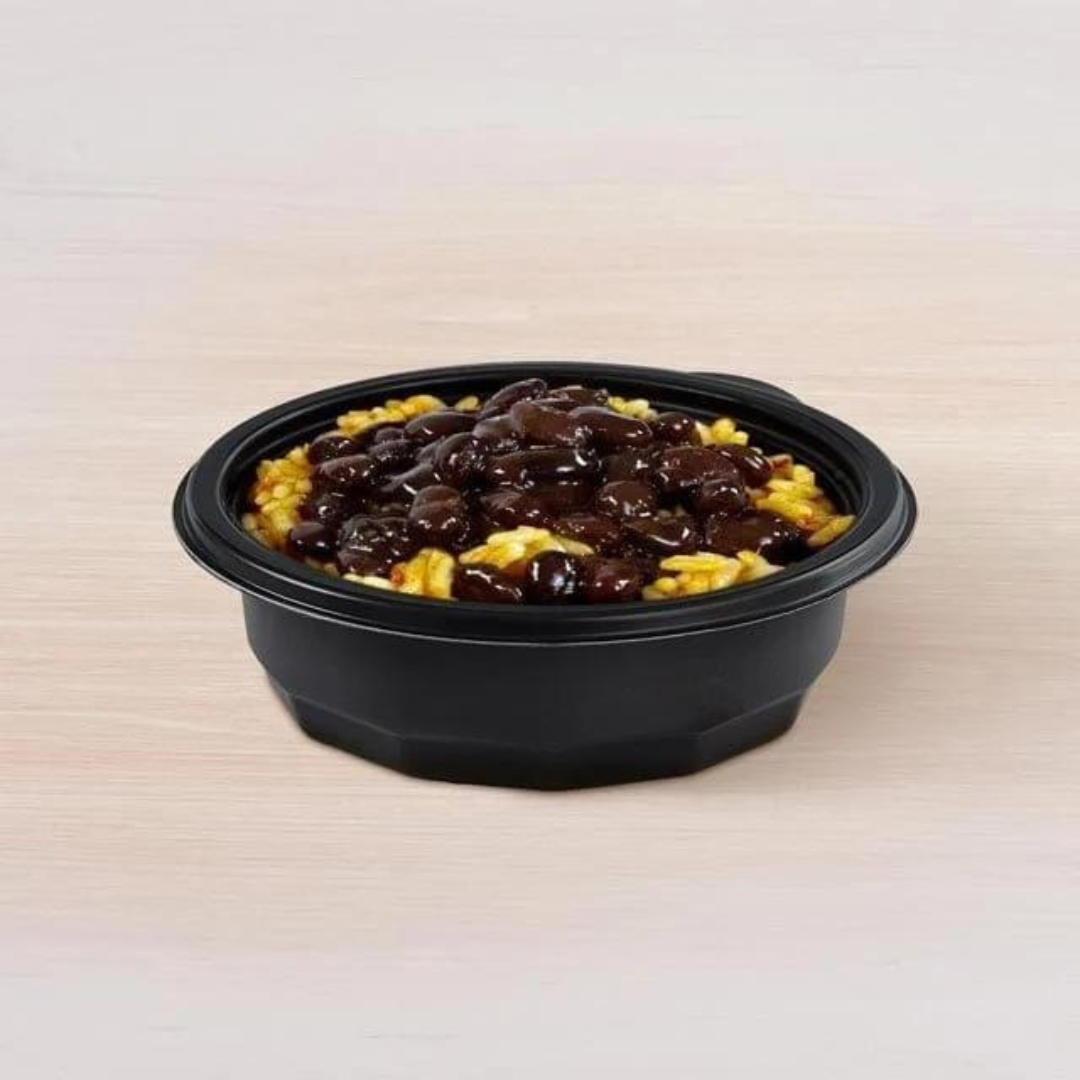 Taco Bell
7 Black Beans and Rice
Rejoice! The good ol' black beans and rice is vegan and even better when you load it up with toppings. But if you really want a veggie bowl, then check out the next option.
8 Power Menu Bowl - Veggie
All you need to do to make this rice bowl vegan is order it fresco-style. Do that and you'll have a wonderful meal of seasoned rice, black beans, lettuce, tomatoes, and guac. If you want to go the extra mile, then pile on all of the veggie add-ons at your disposal.
9 Nachos and Nachos BellGrande
The nachos come with cheese by default, but these salty, crunchy chips are vegan if you get them with guac and tomatoes. You can also make the Nachos BellGrande vegan by getting it without cheese and sour cream and swapping the beef with black beans.
10 Veggie Mexican Pizza
Taco Bell's Mexican Pizza made a much anticipated return to the menu last fall. The Veggie Mexican Pizza already omits beef, but order it without cheese to make it vegan. This will leave you with a crunchy "pizza" shell, refried beans, tomatoes, and Mexican pizza sauce. Add jalapeños or a side of guacamole for a heftier meal.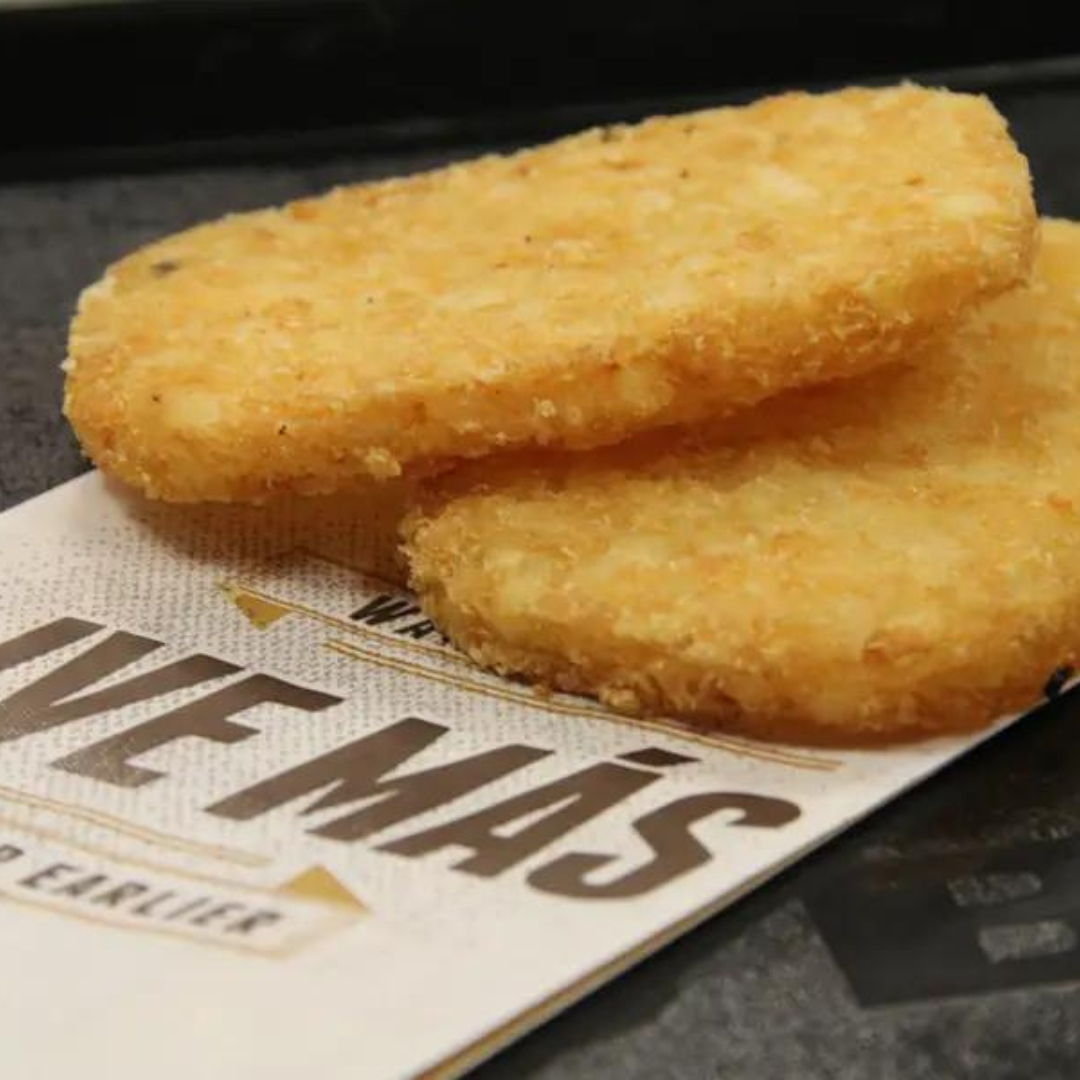 Taco Bell
11 Hash Browns
Need breakfast? You won't find much at Taco Bell, but you will find hash browns and coffee. It may be humble, but potatoes and caffeine will get the job done when you're in a pinch with no other options around you.
12 Cinnamon Twists
No shame if you order more than one bag. These crispy, light-as-air snacks are slightly reminiscent of churros and Cinnamon Toast Crunch cereal.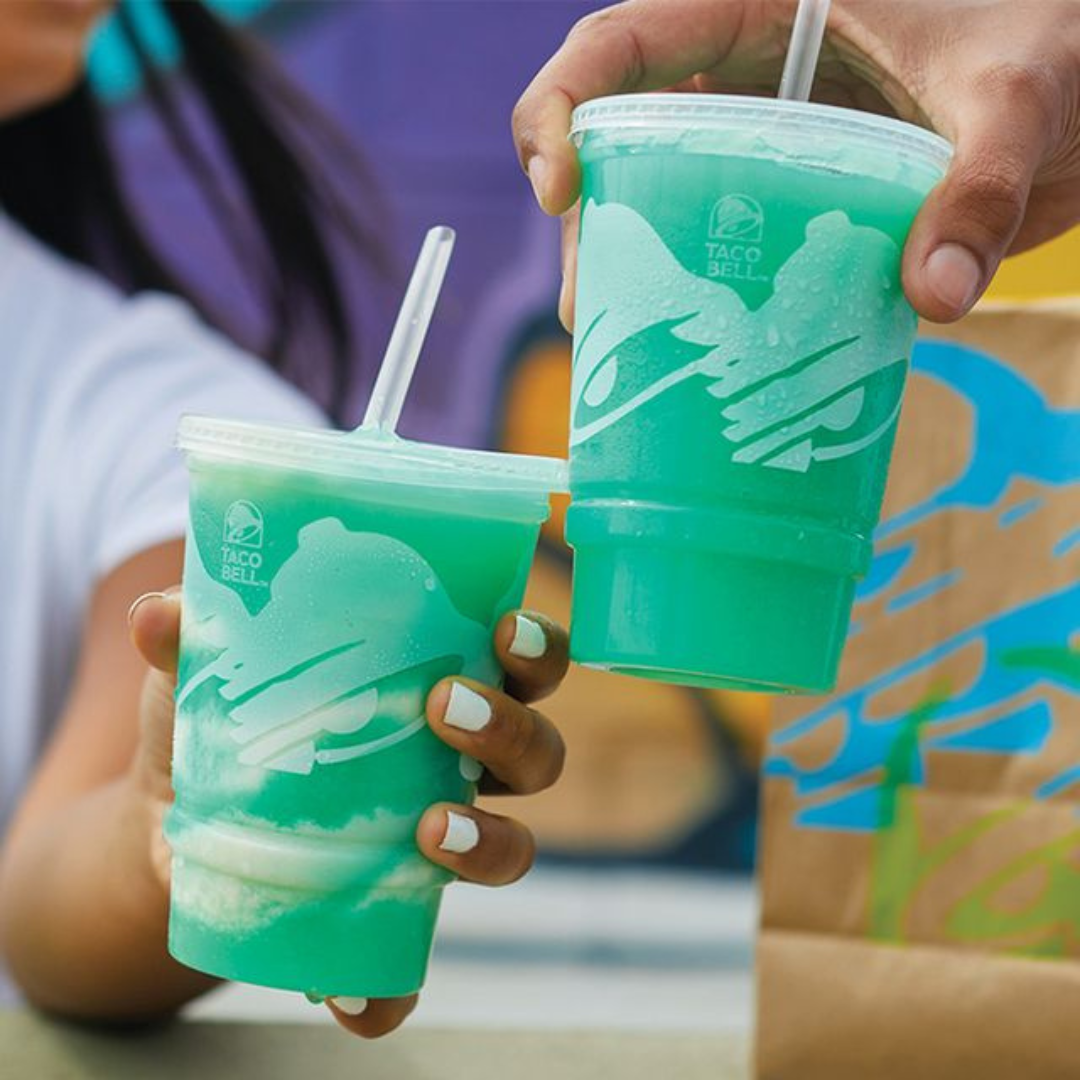 Taco Bell
13 Mountain Dew Baja Blast Freeze
This is the famed Baja Blast but in slushie form. Unfortunately, the other Freezes are made with confectioner's sugar, but this light blue frozen treat will cool you off on a warm day.
14 Extras
Apart from everything else that we mentioned above, the hot sauces from Mild to Diablo are all vegan, so you can feel free to pour them over everything. What a lovely thing. Be sure to save some for your home-cooked meals, too.
For more vegan fast-food options, read: