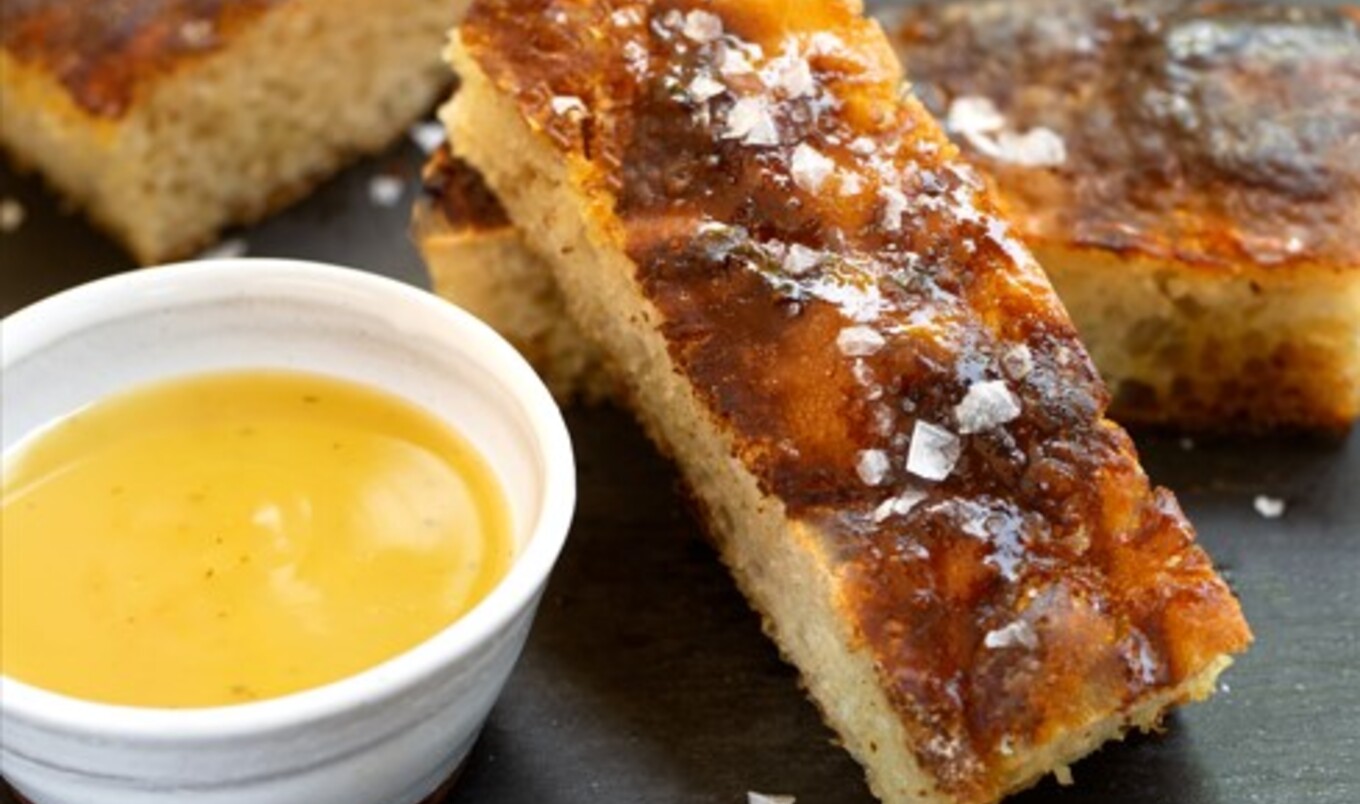 A bit of patience is involved in the making of homemade focaccia, but the final salty, golden-brown, fluffy bread result is well worth it.
May 25, 2023
Brushing the surface of the dough in this focaccia recipe—from The Everyday Vegan Cheat Sheet cookbook—with a baking soda and aquafaba mixture alkalizes the exterior, producing a richly caramelized, mahogany brown crust, just like a properly boiled and baked soft pretzel. Notable for its signature slightly bitter twang, this focaccia is best served with tangy whole stone ground mustard.
What you need:
3½ cups warm water, divided
1 tablespoon sugar
2¼ teaspoons active dry yeast
6½ cups all-purpose flour
1½ teaspoons salt
2 tablespoons olive oil, divided
¼ cup aquafaba
1½ tablespoons baking soda
2 tablespoons vegan butter, melted
½ teaspoon flaky salt
What you do:
In a large bowl, mix ½ cup of water, sugar, and yeast. Allow 10 to 15 minutes for yeast to activate, until foamy and aromatic. Add 2 more cups of water along 3¼ cups flour. Stir vigorously until incorporated. Add remaining water and flour, mixing well. Continue to stir aggressively for 5 to 8 minutes to beat out any remaining lumps.
Coat another large bowl with 1 tablespoon of oil. Transfer mixture to greased bowl, cover, and refrigerate overnight.
Thoroughly coat a half sheet pan with 1 tablespoon oil. Scrape dough out onto sheet pan and use hands to gently press out to evenly fill space. Let rest at room temperature for 30 to 45 minutes, until doubled in volume. Preheat oven to 450 degrees.
In a medium bowl, whisk aquafaba and baking soda, until baking soda is completely dissolved. Gently brush mixture over dough using a pastry brush, making sure to coat surface evenly, as any pockets of unmixed baking soda will be unpleasantly bitter. Bake for 18 to 20 minutes, until a mahogany color is achieved.
While still hot, brush with melted vegan butter and sprinkle with flaky salt. Let cool for at least 15 to 20 minutes before slicing into rectangles. Enjoy warm or at room temperature.
For more recipes like this, check out: