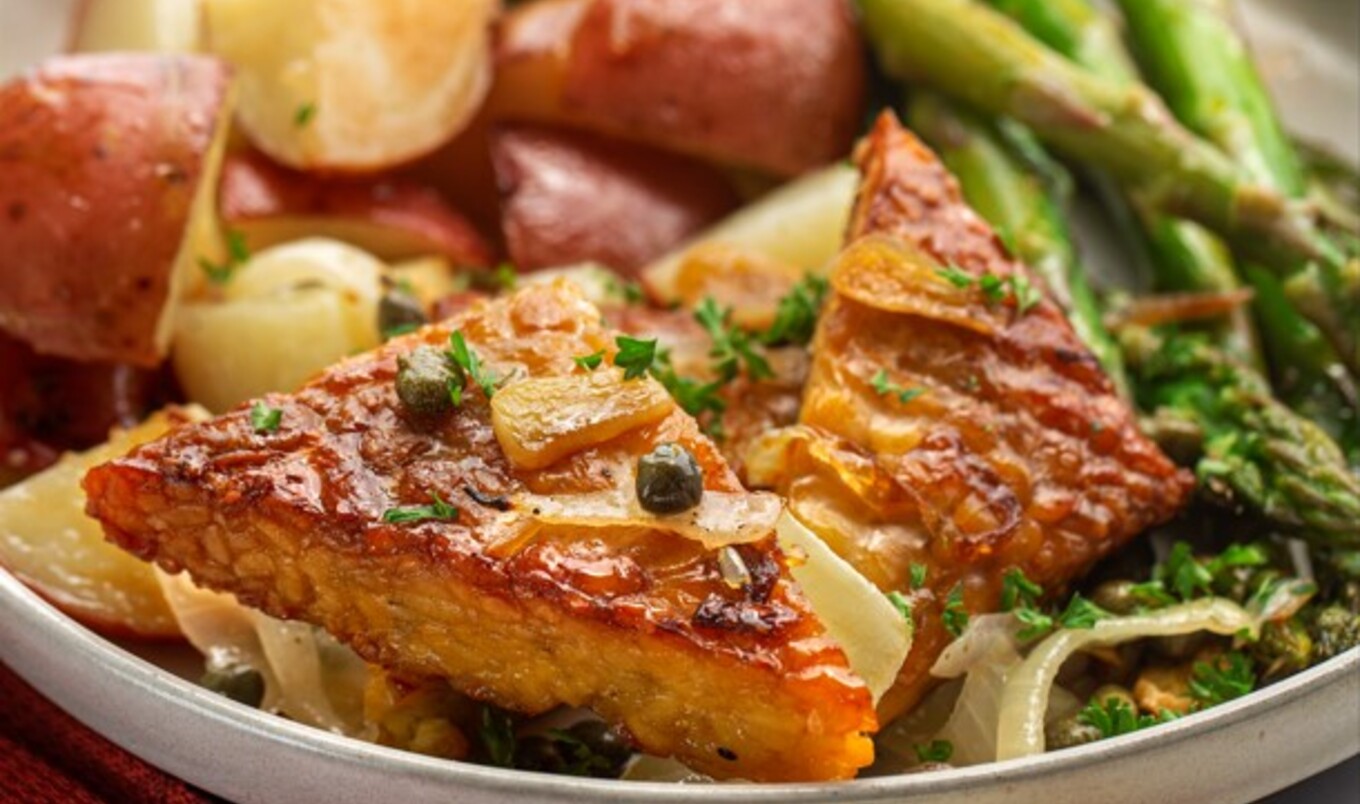 Lavished with a lemon-caper sauce that could make any protein shine, this tempeh will make you pucker up, and not just because of that lush, briny marinade.
July 31, 2023
Little salty explosions punctuate the garlicky landscape thanks to those pickled flower buds known as capers, which are essential to this dish from The Everyday Vegan Cheat Sheet cookbook. Some say green olives will work in a pinch, but seeking out the real deal is well worth it.
What you need:
¼ cup olive oil
1 (8-ounce) package tempeh
1 medium shallot, thinly sliced
2 cloves garlic, thinly sliced
¾ pound red baby potatoes, quartered
¼ cup white wine
¼ cup lemon juice
¼ cup low-sodium vegetable broth
1 tablespoon tapioca starch
2 teaspoons nutritional yeast
¼ teaspoon ground black pepper
¾ pound asparagus or green beans, trimmed
2 tablespoons capers, thoroughly drained
¼ cup fresh parsley, minced
What you do:
1. Preheat oven to 400 degrees and coat a half-sheet pan generously with oil.
2. Cut tempeh into 3 equal rectangles, then slice each of those rectangles in half diagonally to get 6 triangles. Arrange on one end of sheet pan. Spread shallot or onion in a line alongside, topped by sliced garlic. Spread potatoes out in center of pan, next to shallots or onions, without overlapping.
3. Bake for 15 minutes, until tempeh is beginning to brown around edges. Flip, stir potatoes, and add white wine. Return to oven for another 5 minutes.
4. In a small bowl, combine lemon juice, vegetable broth, tapioca starch, nutritional yeast, and black pepper. Carefully pour all over sheet pan and add asparagus on remaining empty space at end of sheet pan. Cook for 10 to 15 minutes longer, until vegetables are fork-tender, and everything is golden-brown.
5. Mix aromatics together with tempeh, adding capers and parsley just before serving.
For more recipes like this, check out:
Here at VegNews, we live and breathe the vegan lifestyle, and only recommend products we feel make our lives amazing. Occasionally, articles may include shopping links where we might earn a small commission. In no way does this effect the editorial integrity of VegNews.