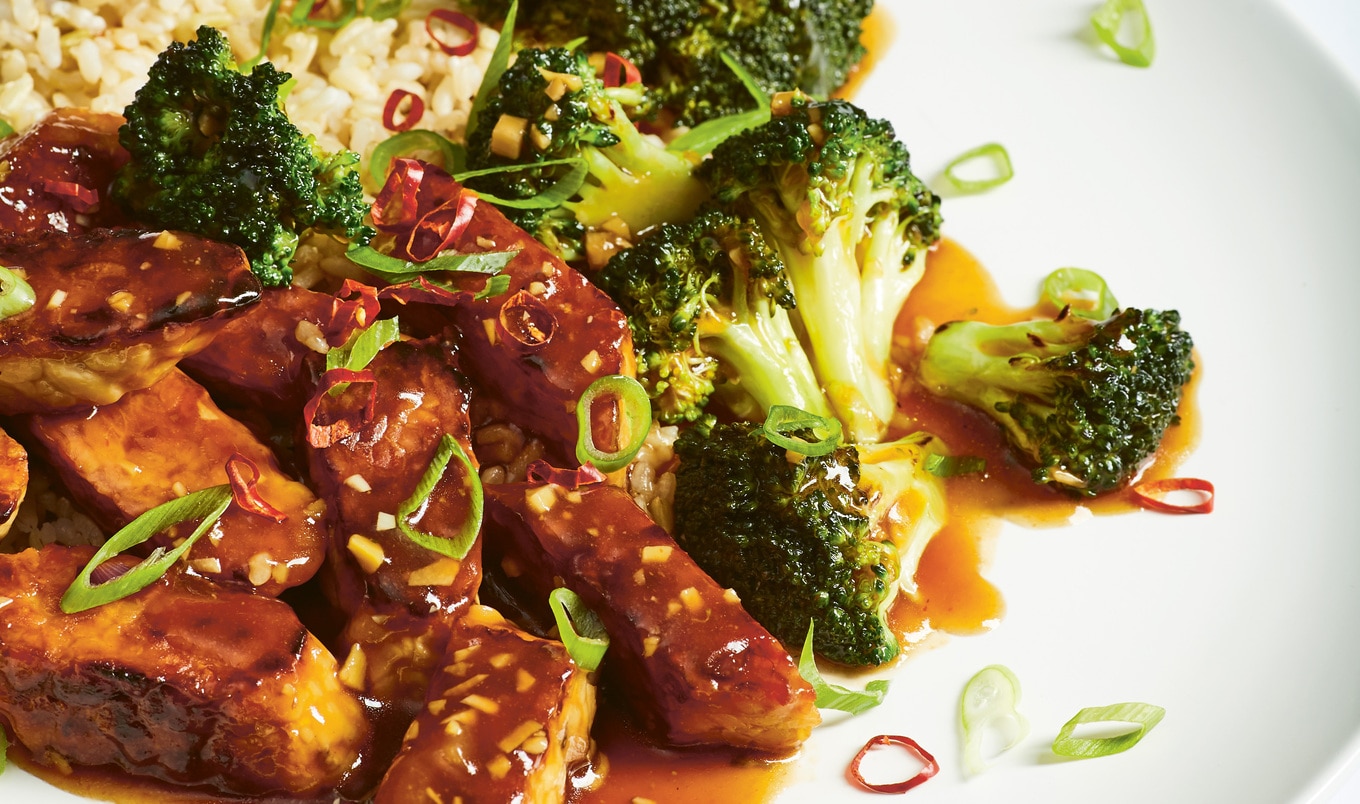 If you miss the beef and broccoli from your local Chinese spot, then this savory ginger- and sesame-infused dish is for you.
August 31, 2021
This quick, vegetable-filled weeknight meal from super-star vegan chef Isa Chandra Moskowitz's newest cookbook I Can Cook Vegan is sure to be a hit with even the pickiest of eaters.
What you need:
½ cup vegetable broth
2 teaspoons cornstarch
¼ cup tamari
3 tablespoons hoisin sauce
2 tablespoons rice wine vinegar
1 tablespoon sriracha
3 tablespoons toasted sesame oil, divided
1 pound tempeh, sliced on a diagonal
1 cup thinly sliced shallots
6 cups broccoli florets
2 tablespoons minced fresh ginger
2 cloves garlic, minced
For serving:
2 cups cooked brown rice
2 tablespoons toasted sesame seeds
¼ cup thinly sliced scallions (white and light green parts only)
2 tablespoons thinly sliced dried hot chile pepper
What you do:
In a mug using a fork, mix broth and cornstarch until dissolved. Add tamari, hoisin, rice wine vinegar, and sriracha. Set sauce aside.
Preheat a large skillet over medium-high heat. Add 1 tablespoon sesame oil and tempeh, and cook until seared on both sides, about 8 minutes. Transfer tempeh to a plate and set aside.
Into same skillet, add 1 tablespoon sesame oil and cook shallots and broccoli, stirring often, until softened, about 5 minutes. Push to side and add ginger and garlic to skillet. Drizzle remaining tablespoon of sesame oil on ginger and garlic and toss for about 30 seconds, just until fragrant, and then toss together with broccoli.
Return tempeh to pan. Pour in reserved sauce, mix everything together, and increase heat to bring to a boil. Let sauce thicken and reduce for about 3 minutes, then lower heat and cook for another 2 minutes. Serve over rice, garnished with sesame seeds, scallions, and sliced dried pepper.
Photo credit: Isa Chandra Moskowitz