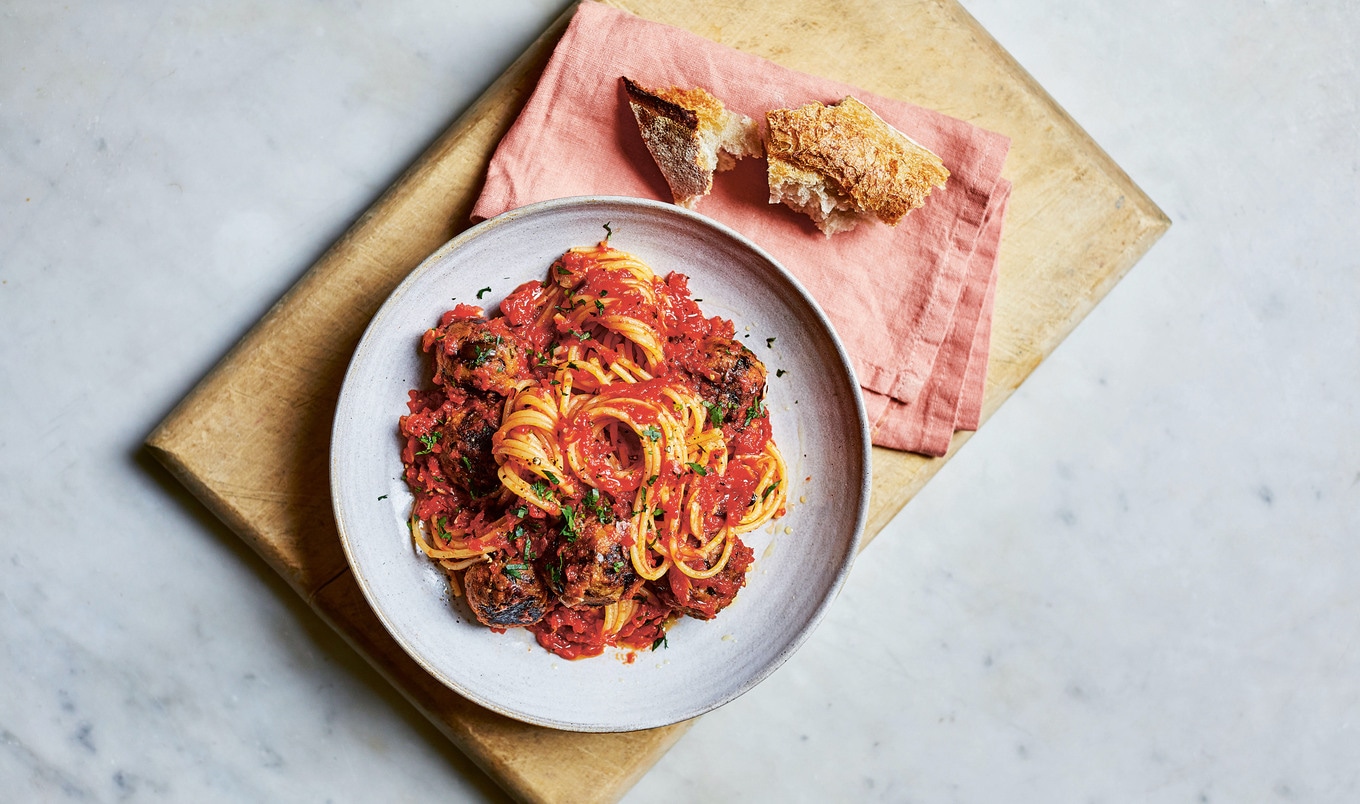 Sautéed eggplant and hearty breadcrumbs make for delicious meat-free meatballs served with a light marinara sauce.
April 21, 2023
Serve these vegetable-forward meatballs from the Vegan Fakeout cookbook with egg-free pasta cooked until al dente, or loaded into sub rolls for the ultimate hot sandwich.
What you need:
For the meatballs:
3 tablespoons sunflower oil
, divided
1 medium eggplant, diced

1 red onion, roughly chopped

1 teaspoon dried oregano

4 thick slices of white bread

½ teaspoon salt
¼ teaspoon black pepper
⅓ cup flat-leaf parsley, finely chopped
For the marinara sauce:
1 tablespoon sunflower oil

2 garlic cloves, crushed

1 (14-ounce) can chopped tomatoes

1 teaspoon sugar
½ cup flat-leaf parsley, finely chopped
½ teaspoon salt
What you do:
In a large skillet over medium-high heat, warm 1 tablespoon oil. Add eggplant, onion, and oregano. Cook for 10 minutes, stirring occasionally, until gently browned.
Into a food processor, add bread and pulse into fine breadcrumbs. Place breadcrumbs in a bowl and set aside.
In the food processor, pulse cooked eggplant mixture until semi-smooth. Add breadcrumbs in three stages, pulsing after each addition, to form a firm mixture. Stir in salt, pepper, and parsley. Allow to cool for three minutes.
In skillet over medium-high heat, warm remaining oil. Roll eggplant mixture into walnut-sized balls and carefully place in oil. Cook for 3 minutes on each side, until golden on top and bottom. Remove from pan, drain on a paper towel-lined plate, and keep warm.
For the marinara sauce, in a pan over medium heat, warm oil and garlic for 2 minutes. Add chopped tomatoes and sugar, and simmer for 8 minutes, stirring often. Remove from heat, stir in parsley and salt. Ladle marinara over meatballs and serve.