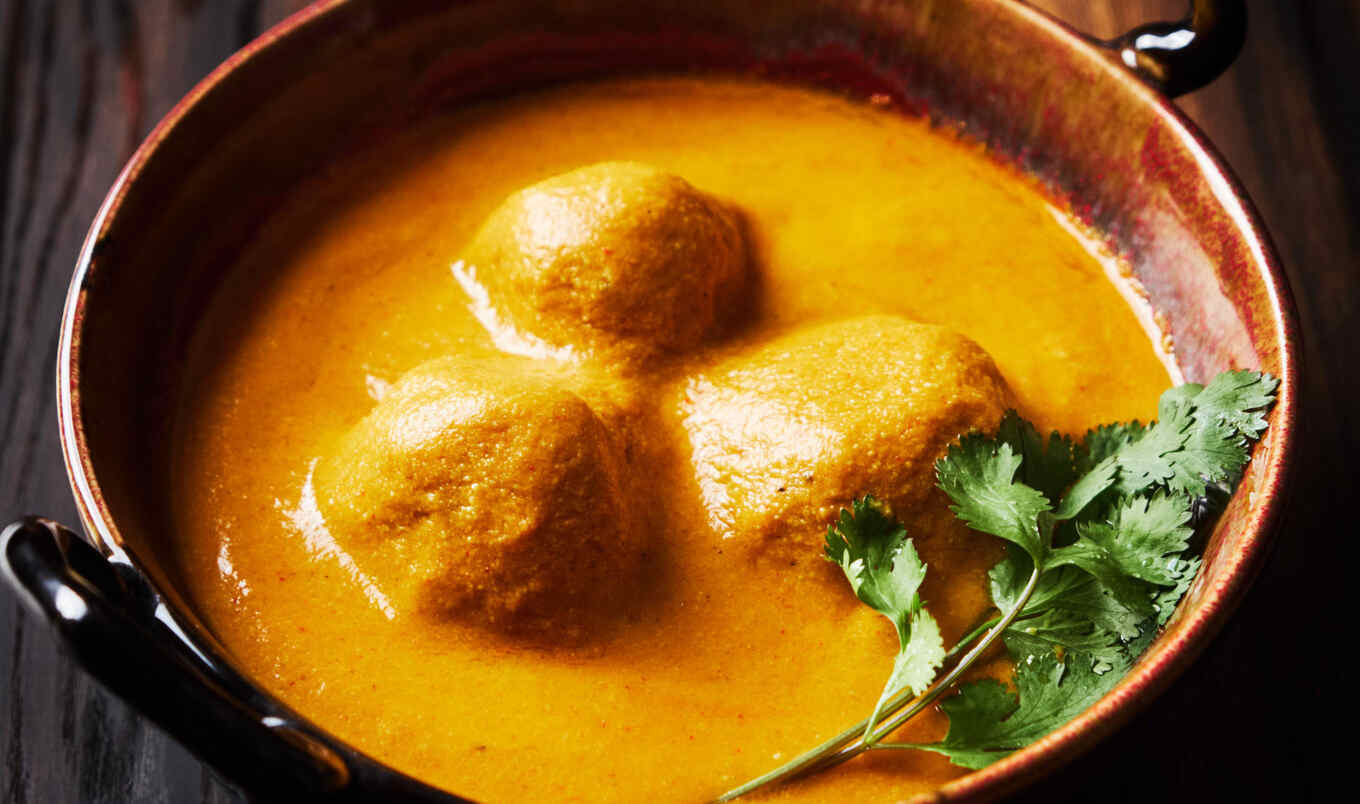 These koftas are made from a savory potato-and-tofu mix that gets fried to crispy perfection before being served with a creamy tomato-onion gravy.
August 6, 2023
While the dumplings in this classic Indian recipe are traditionally meat-based, this recipe from Veganbell's Indian Vegan Cookbook uses tofu and potatoes to replicate the texture and shape of the meatballs.
What you need:
For the gravy:
1½ tablespoons coconut oil
½ teaspoon cumin seeds
1 cinnamon stick
1 bay leaf
3 cloves
1 black cardamom pod
3 green cardamom pods
1 large onion, chopped
1 green chili, chopped
4 garlic cloves, chopped
1-inch ginger, chopped
¼ teaspoon turmeric powder
1 teaspoon Kashmiri red chili powder
1 teaspoon coriander powder
½ teaspoon cumin powder
4 medium tomatoes, chopped
½ cup cashews
½ teaspoon salt
2 cups water
½ teaspoon dried fenugreek leaves
1 tablespoon sugar
¼ cup coconut cream
2 tablespoons freshly chopped cilantro
For the dumplings:
1 cup crumbled tofu
1¾ cup mashed potato
2 tablespoons chopped cilantro
1 tablespoon minced ginger
1 green chili, chopped
1½ tablespoons cornstarch
½ teaspoon salt
2 tablespoons finely chopped cashews
Oil, for frying
What you do:
For the gravy, in a pan over medium heat, warm oil. Once hot, add cumin seeds, cinnamon, bay leaf, cloves, black cardamom, and green cardamom. Stir and sauté for 1 minute. Add onions and green chili and sauté for 3 to 4 minutes, or until onions start to turn golden. Then add garlic and ginger. Stir and cook for 2 more minutes.
Add turmeric powder, red chili powder, coriander powder, and cumin. Stir and sauté for 1 minute. Then add tomatoes, cashews, and salt. Stir and cook for 5 to 6 minutes, or until tomatoes are cooked down. Add water and stir. Cover pan and cook over medium-low heat for 5 minutes.
Turn off heat. Remove lid, and let cool for 8 to 10 minutes.
For the dumplings, in a large bowl, add all ingredients. Mix well using hands. Scoop 2 tablespoons of mixture and roll into a ball. Repeat for remaining mixture.
In a pan over medium heat, warm enough oil to coat pan. Once hot, add dumplings and deep-fry until golden brown. Place on a paper towel lined plate to drain.
Transfer cooled gravy to a blender and blend well. Pour into a pan. For a silky texture, strain mixture using a sieve.
Set pan with gravy over low-medium heat, and sprinkle with fenugreek leaves and sugar. Once gravy starts to simmer, turn off heat, add coconut cream, and stir.
Divide dumplings between 4 serving bowls and pour gravy over dumplings. Sprinkle with freshly chopped cilantro on top and serve hot.
For more recipes like this, check out: