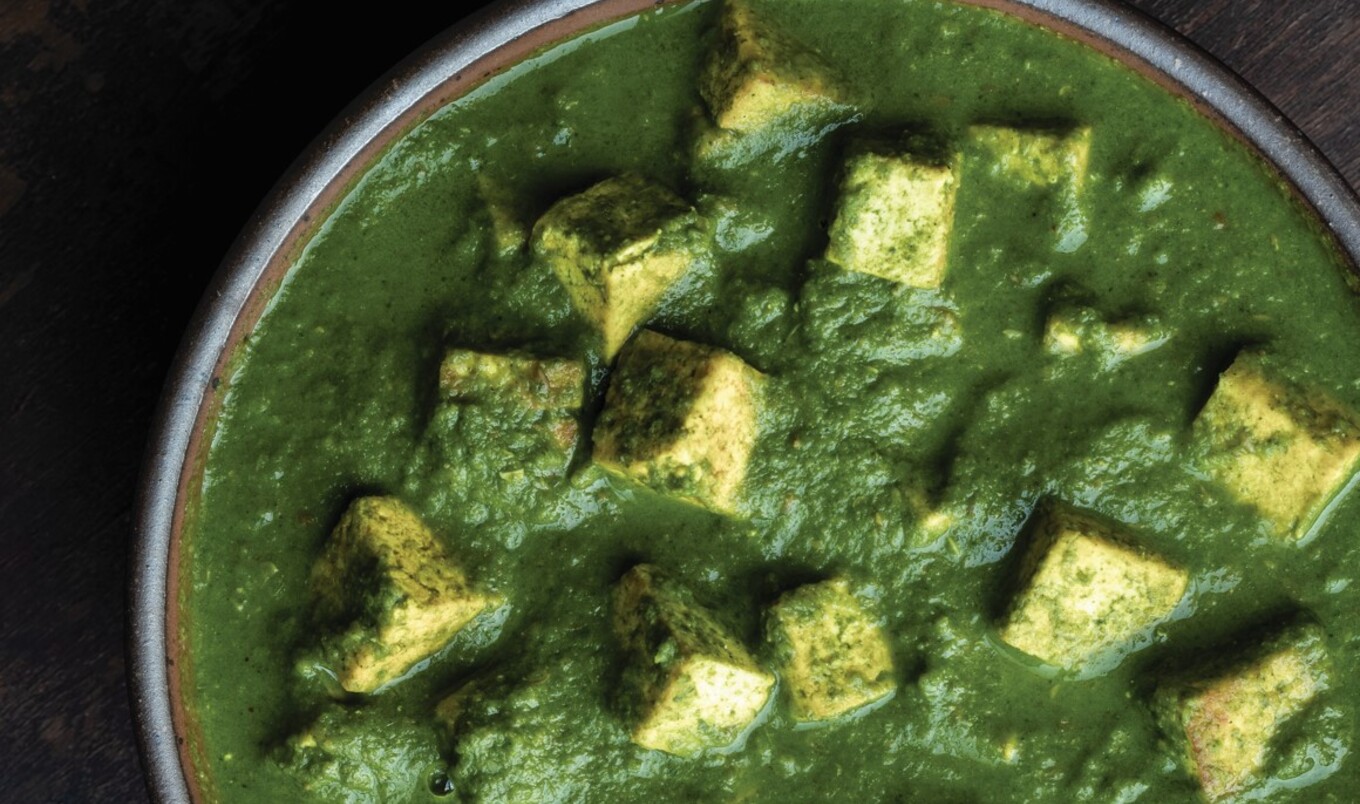 This pālak (spinach)-based Indian gravy is both hearty and refreshing at the same time.
August 16, 2022
Don't be shy with the garlic in this recipe from the Plant-Based India cookbook, a heavy hand wonderfully complements the spinach in this lighter version of an Indian gravy. Prefer a creamier version? Try stirring in some cashew cream.
What you need:
For the gravy:
2 teaspoons olive oil
1 tablespoon coriander seeds
½ teaspoon cumin seeds
½ teaspoon fennel seeds
1 yellow onion, diced
½ teaspoon salt
8 garlic cloves, minced
1 tablespoon minced ginger
1 green chili, minced
3 cups packed, roughly chopped spinach
For the turmeric tofu:
1 tablespoon olive oil
1 (14-ounce) block extra-firm tofu, drained and pressed, and cut into ¾-inch cubes
½ teaspoon salt
½ teaspoon ground turmeric
1 teaspoon garam masala
2 teaspoons lime juice
What you do:
For the gravy, in a wide pan or braising pan over medium heat, warm oil. Add coriander, cumin, and fennel seeds and heat until fragrant, about 1 minute. Add onion and salt, and stir occasionally until softened and starting to brown, 10 minutes. Adjust the heat to medium-low or medium to prevent onions from browning too quickly.
Add garlic, ginger, and green chili, and stir until very fragrant, 2 minutes. Add 1 cup water, increase heat to medium-high, and bring to a simmer.
Add spinach, stir, cover, and continue to cook until just starting to wilt, about 2 minutes. Remove from heat, transfer to a bowl or blender, and stir in 4 to 6 ice cubes to cool quickly.
Blend until smooth, or to your preference. Set aside.
For the turmeric tofu, in a large, wide nonstick pan over medium heat, warm oil. Add tofu and salt, and cook, stirring occasionally until lightly browned on most sides, about 10 minutes. Stir in turmeric until tofu pieces are evenly coated.
Pour spinach gravy into pan. Bring to a brief simmer over medium heat for 1 to 2 minutes, then remove from heat. Stir in garam masala and lime juice and serve.