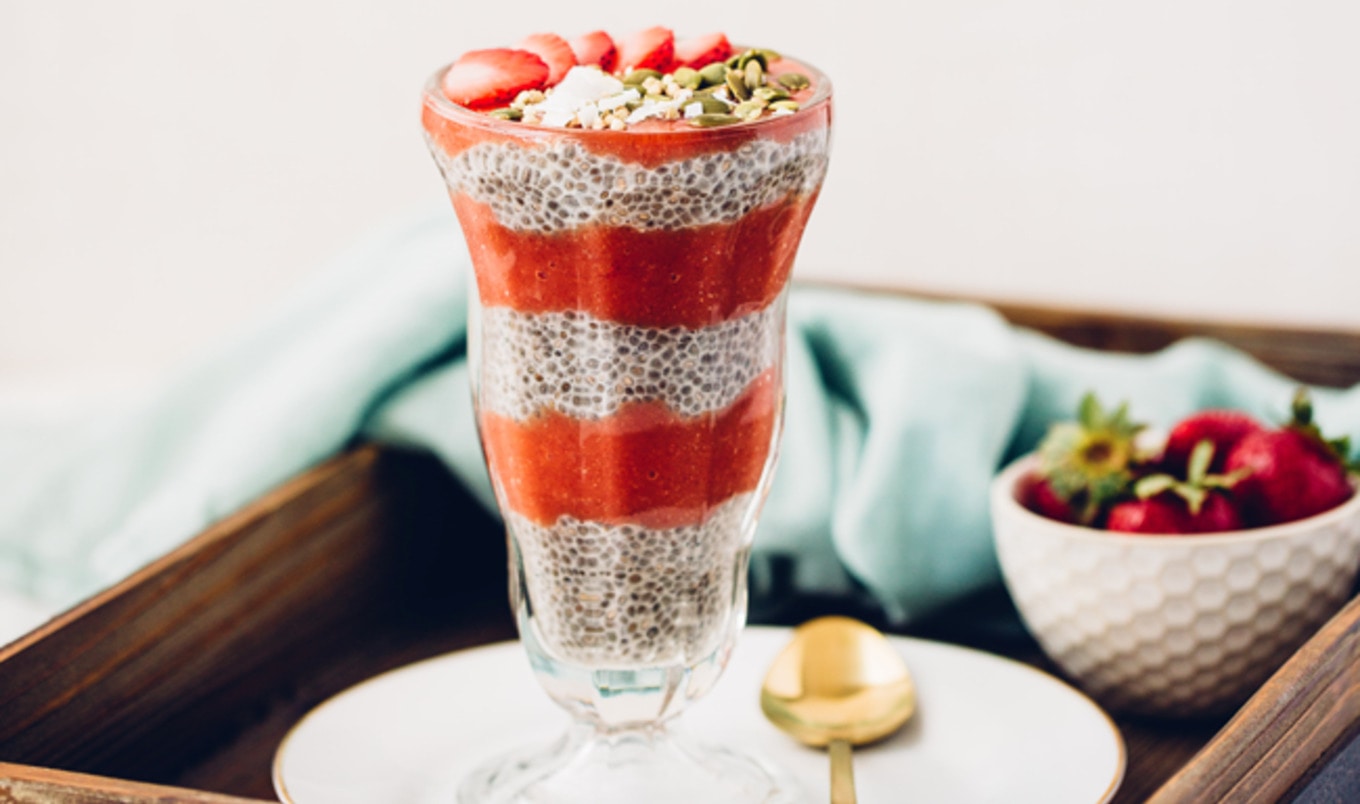 This super-simple, seven-ingredient breakfast-slash-dessert pudding is as vibrant and nutritious as it is tasty.
September 15, 2021
Health-conscious meal preppers, meet your new favorite breakfast. The convenience and added nutritional benefits of this fruit-forward chia pudding from Ashley Melillo's Blissful Basil make this recipe a godsend for commute warriors, busy parents, and students alike. Assemble the pudding on Sunday, and breakfast is ready for the rest of the week, whether you have time to eat at home or you're sprinting out the door.
What you need:
For the chia pudding:
2 cups unsweetened almond milk
½ cup chia seeds
3 tablespoons maple syrup
1½ teaspoons vanilla extract
For the strawberry-mango pureé:
2 cups fresh strawberries, hulled
1 cup diced fresh mango (about 1 large mango)
1 to 2 Medjool dates, pitted
What you do:
1. In an airtight jar or container, whisk together the almond milk, chia seeds, maple syrup, and vanilla until the chia seeds are evenly distributed throughout the liquid. Refrigerate overnight, or for at least 8 hours, to thicken.
2. In the morning, vigorously whisk the pudding to redistribute the chia seeds. If it's too thin, whisk in more chia seeds, 1 tablespoon at a time, to thicken. If it's too thick, whisk in more almond milk, 1 tablespoon at a time, to thin.
3. The night before or just before serving, make the pureé in a high-speed blender by combining the strawberries, mango, and dates and blend until smooth. Refrigerate until ready to assemble.
4. In 4 small bowls or jars, layer chia pudding and purée. Add optional toppings as desired, and serve chilled.