Lucky for the vegan-inclined, there are impossibly tasty chicken sandwiches beyond Popeyes and Chick-fil-A, and no animals were harmed in the making of them. Not only are these 21 vegan twists on the classic chicken sandwich better for you, but they're much kinder choices for the animals and the planet, too. And if you think you'll be sacrificing taste or texture by biting into one of these bad boys, you'd be wrong. Bring a friend and a napkin—your taste buds (and your worldview) will never be the same again.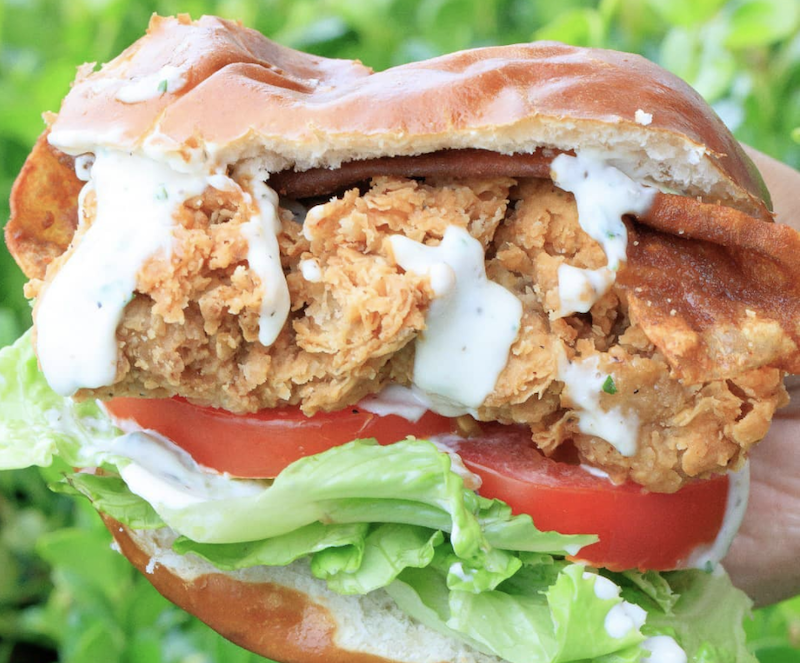 Atlas Monroe
1 Atlas Monroe, multiple locations
This company may have engineered the perfect vegan fried chicken recipe, and it just happens to be plant-based. Not only was it the first vegan chicken producer to enter the competitive National Fried Chicken Festival in New Orleans in 2018, but it was also deemed Best Dish by Extra Crispy editor Ryan Grim. The menu has expanded from buckets to buns—putting its finger-licking, crispy-on-the-outside, juicy-on-the-inside vegan chicken between slices of bread. Plus, Atlas Monroe markets its famous chicken online for nationwide shipping. Cooks, to your dredging stations! There are a lot of orders to fill.
Learn more here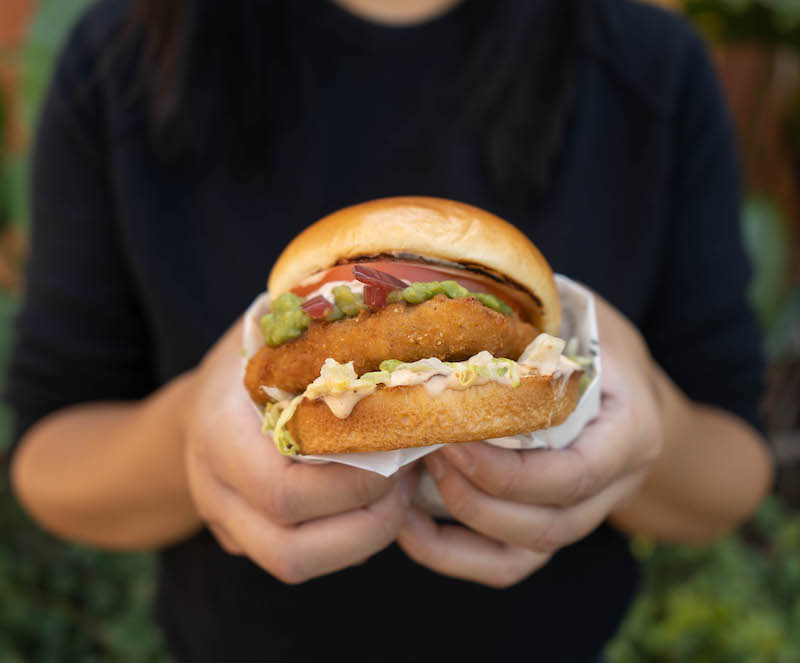 Veggie Grill
2 Veggie Grill, multiple locations
One of the earliest vegan restaurants to compete in the chicken sandwich games, Veggie Grill's signature menu item rivals even the buzzy newcomers. For over a decade, Veggie Grill has been the place where omnivores gently place their hand on their vegan friend's knee, look them in the eye, and say, "This isn't vegan." The chain's new slogan should be, "Veggie Grill: successfully duping omnivores since 2006." The Santa Fe Chick'n is a standout sandwich comprised of a juicy, meaty chick'n patty, romaine, sliced tomato, red onion, mashed avocado, and spicy mayo on a toasted wheat bun. Dare we say it rivals Wendy's chicken sandwich? Yes, yes we do.
Learn more here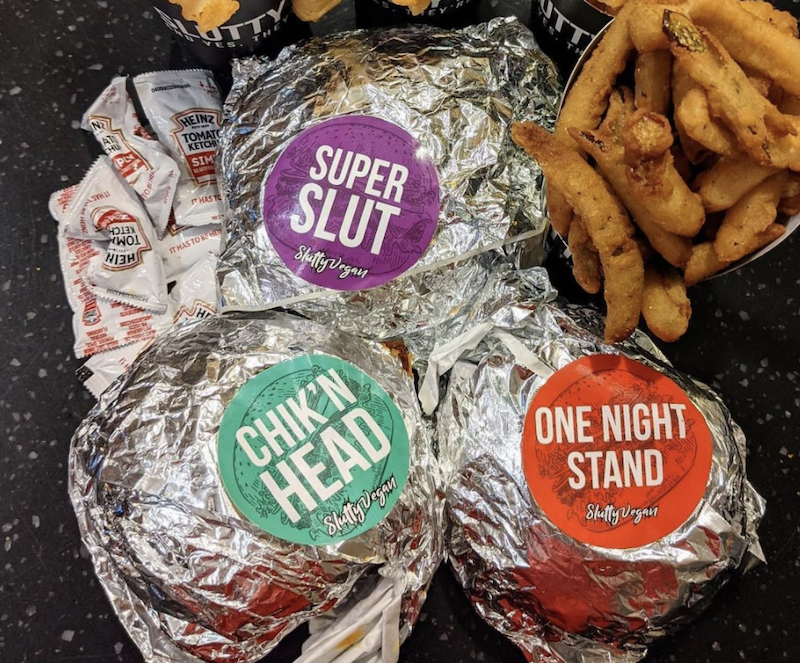 Daniel Burapovong
3 Slutty Vegan, Atlanta, GA
It's more than just the name that attracts attention; the food at this Atlanta fast-food concept is equally headline-grabbing. Opt for the Chik'N Head which offers a sweet and savory sandwich experience—the housemade crispy plant-based chicken is tossed in a spicy buffalo sauce, cooled down with a slather of vegan ranch and coleslaw, balanced with a bit of acid from a few pickles, and held between two slightly sweet and fluffy Hawaiian buns. As with all of its sandwiches, this handhold is served with a side of Slutty Fries.
Learn more here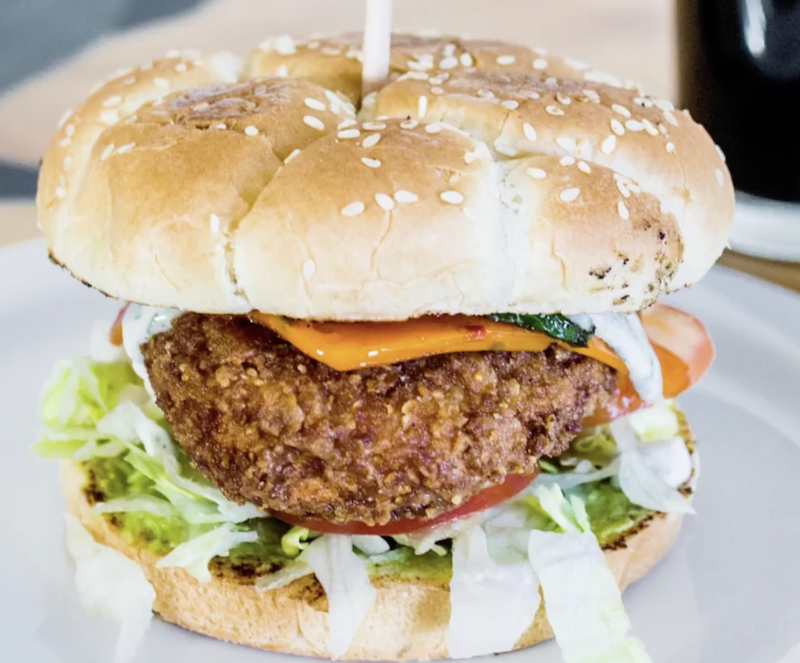 Green New American
4 Green New American Vegetarian, Phoenix, AZ
A play on a certain fast-food chain featuring a red-headed female mascot, the Wendy's Pickle sandwich outshines the original. With only a few pickles, hot sauce, and mayo to accompany it, the southern-style breaded vegan chicken patty is truly the star of the sandwich. The toasted ciabatta bread acts as the perfect serving vessel. Order with one of the unique sides such as the thyme fries, fried brussels sprouts, tahini coleslaw, fruit, or Grandma's Chili.
Learn more here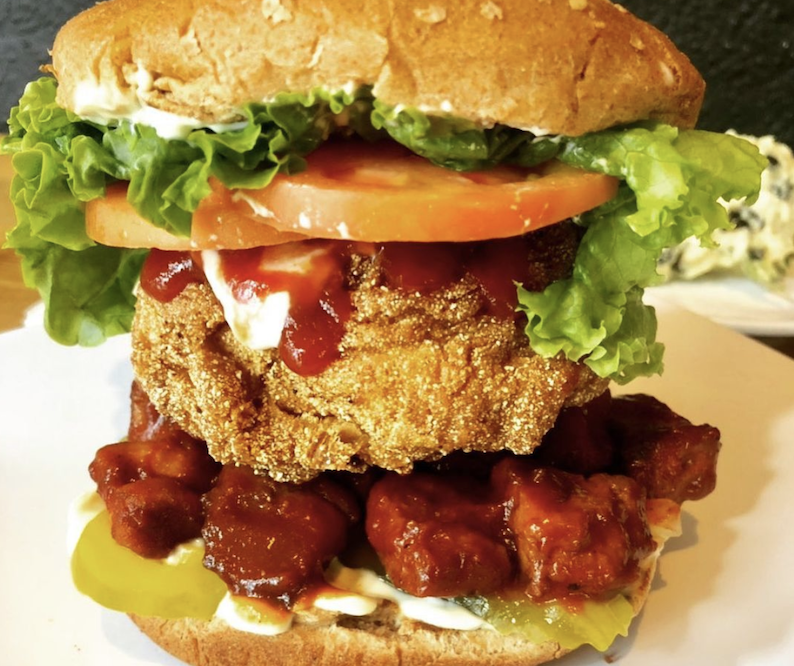 Souley Vegan
5 Souley Vegan, Oakland CA
If plain isn't your game, Souley Vegan's Proud Mary might just suit your style. The sandwich starts off with a plant-based, crackly-yet-tender chicken patty schmeared with special sauce and barbecue sauce then topped with tomato slices and romaine. Ok, fine, nothing too special here. Underneath that chicken, however, is a thick layer of crispy barbecue tofu, pickles, and more special sauce. This monstrosity is barely contained between a soft cracked wheat burger bun. There are two ways to tackle this sandwich: take a knife and fork to it or unhinge your jaw.
Learn more here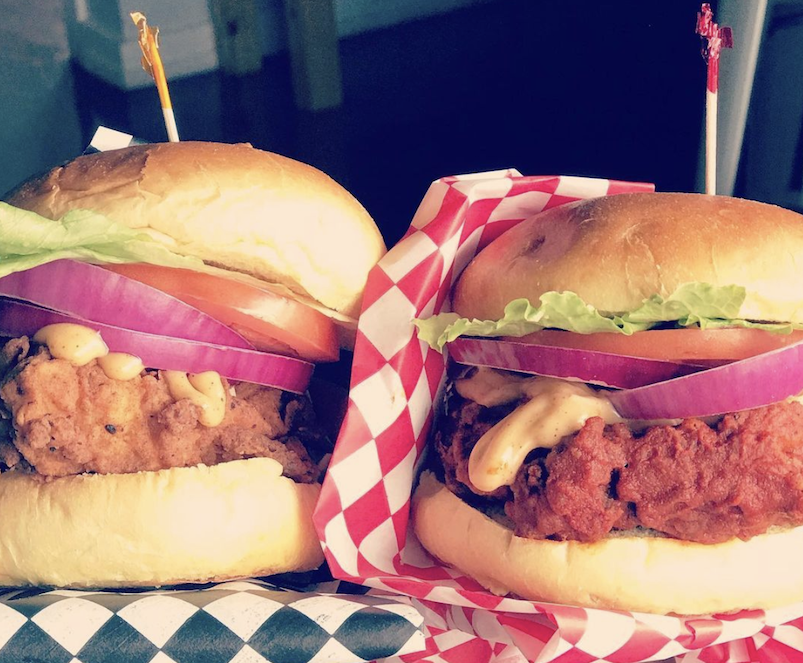 The Southern V
6 The Southern V, Nashville, TN
The country music capital's first vegan restaurant offers a bit of Southern charm along with a great fried chicken sandwich. Diners have two options—the reliable Chick'n Sandwich simply stacked with a seasoned and fried seitan-based chicken cutlet, chipotle mayo, lettuce, tomato, and onion; or the 'Nashville' Hot Chick'n Sandwich that includes all the above with a significantly spicy hot sauce. Pair your sandwich with a complimentary Southern-style side from mac and cheese to turnip greens.
LEARN MORE here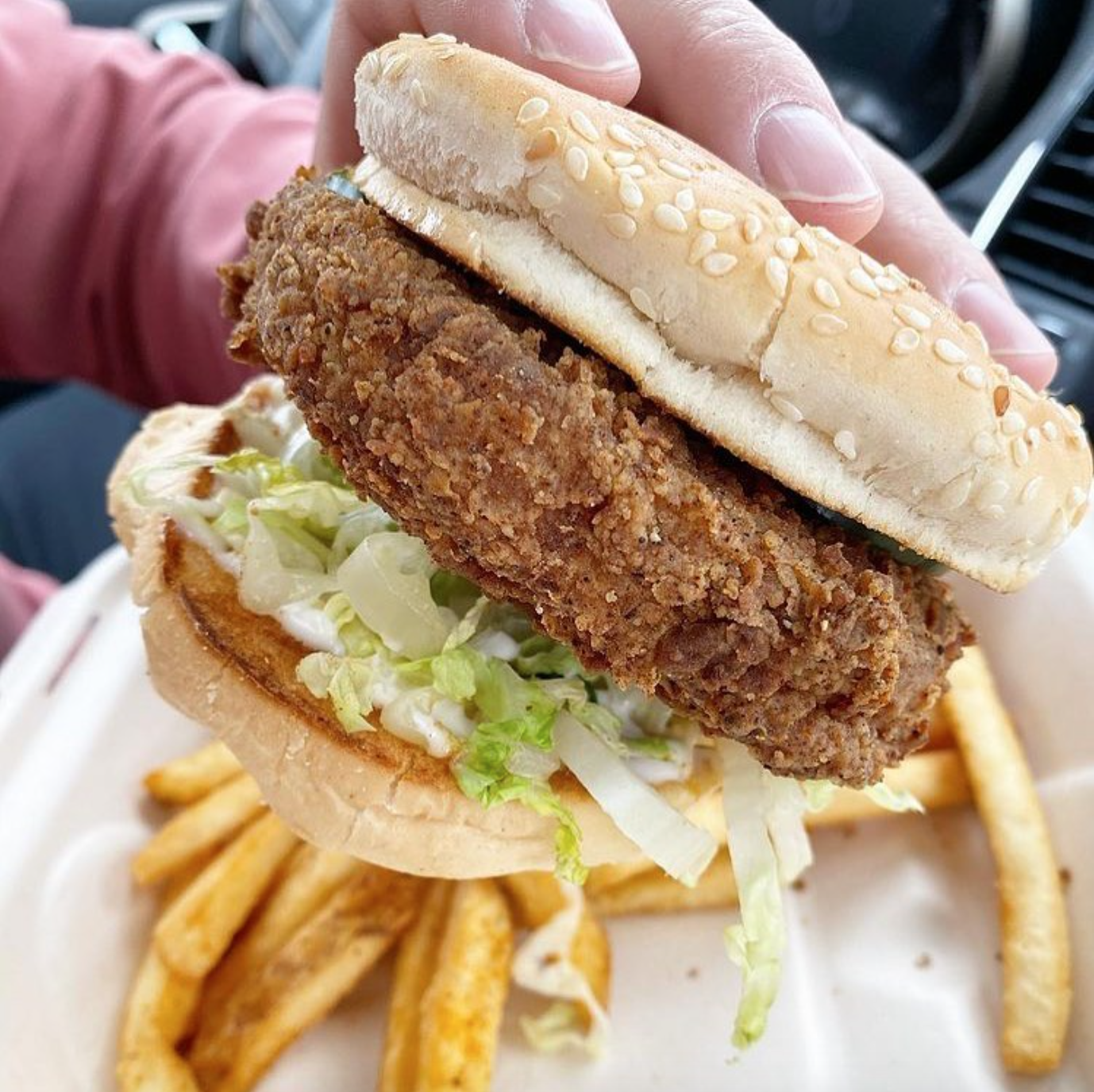 @minneapoldish/Instagram
7J. Selby's, St. Paul, MN
Sometimes you just crave a classic chicken sandwich, and J. Selby's Crispy Chickin' Sandwich will satisfy your tastebuds. This hot handhold consists of a perfectly fried and battered, crispy-on-the-outside-and-moist-on-the-inside plant-based chicken patty topped with lettuce, sweet pickles, and mayo on a whole-grain bun.
Learn more HERE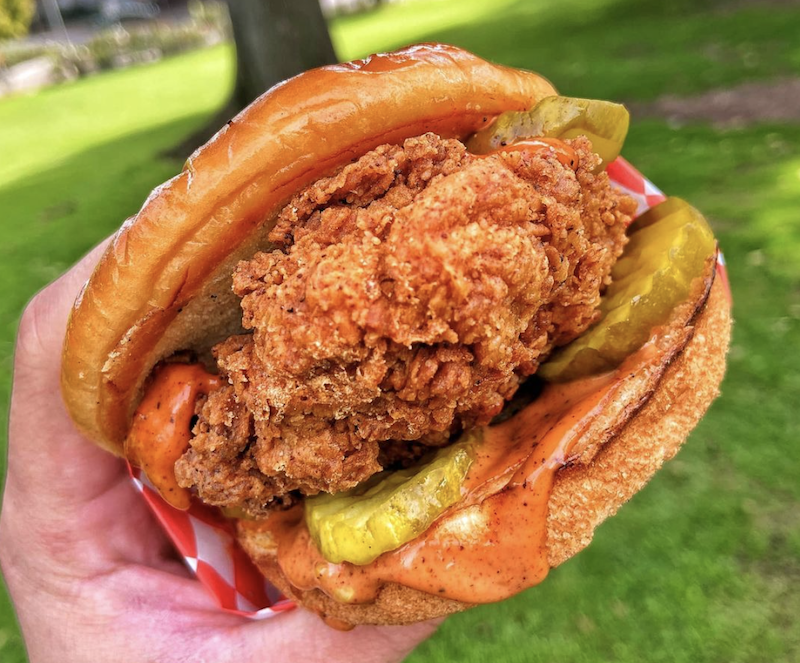 Lettuce Feast
8Lettuce Feast, Los Angeles, CA
Truth be told, this vegan food truck goes relatively light on the lettuce. It's all about that crispy, crackly vegan fried chicken. Wait patiently in line for your Nashville Sando or Classic Sando. Both are made with the company's homemade crispy chicken patty and vegan butter bun—though the OG is paired with lettuce, tomato, and "honey" mustard, while the Nashville comes with slaw, ranch, and your choice of hot sauce. Again, there's no need to be a hero. The OG, Mild, Medium, and Hot Honey sauces are spicy enough. Only true heat-seekers should take on the more advanced hot sauce dipping options.
Learn more here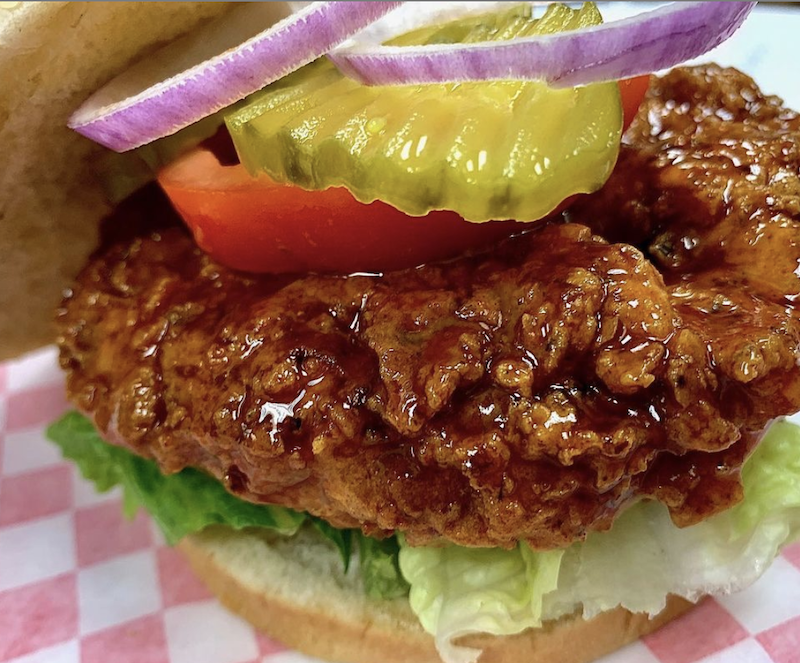 Veltree
9 Veltree, Charlotte, NC
If Chef Velvet and Colonel Sanders squared off in a fried chicken sandwich duel, there's no doubt Chef Velvet's vegan version would reign supreme. Her extra crispy, plant-based fried chicken breast is seasoned to perfection and needs no adornment beyond a simple, squishy bun.
Learn more here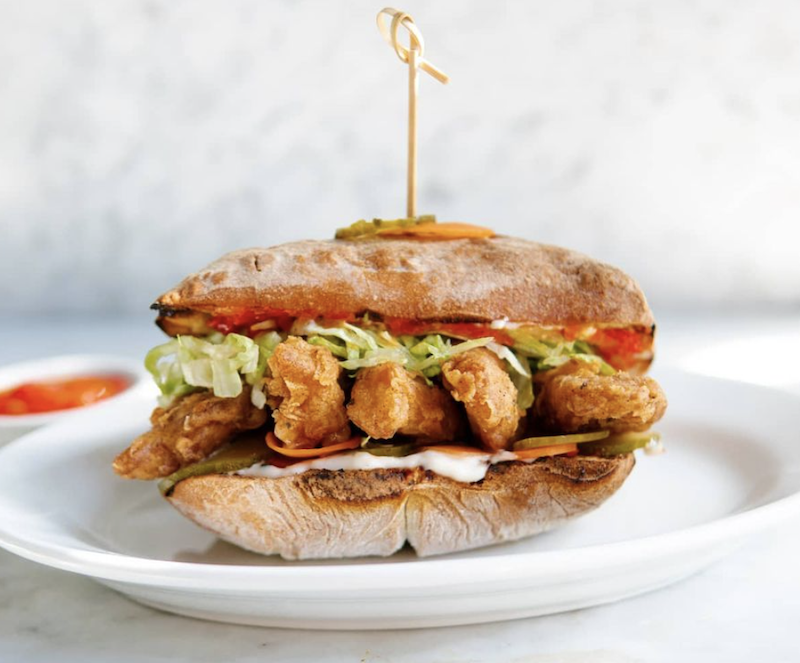 Justin Nelson
10Stefano's Sandwiches, Toronto, Canada
Compliments tend to hold more gravitas when coming from an omnivore, and when that omnivore happens to be a celebrity, you might as well call in the Michelin team to hand out a star. Actor Dan Levy of Schitt's Creek fame gushed over this plant-based fried chicken sandwich co-created by Discovery Channel host Ziya Tong. The restaurant sources its vegan chicken from Barcelona-based company Heura and coats it in Tong's top-secret spice blend. The meaty filling is accompanied by preserved chilies, vegan mayo, shredded lettuce, and pickles all held together by a crusty ciabatta roll. The business plans to open a permanent storefront in 2023.
Learn more here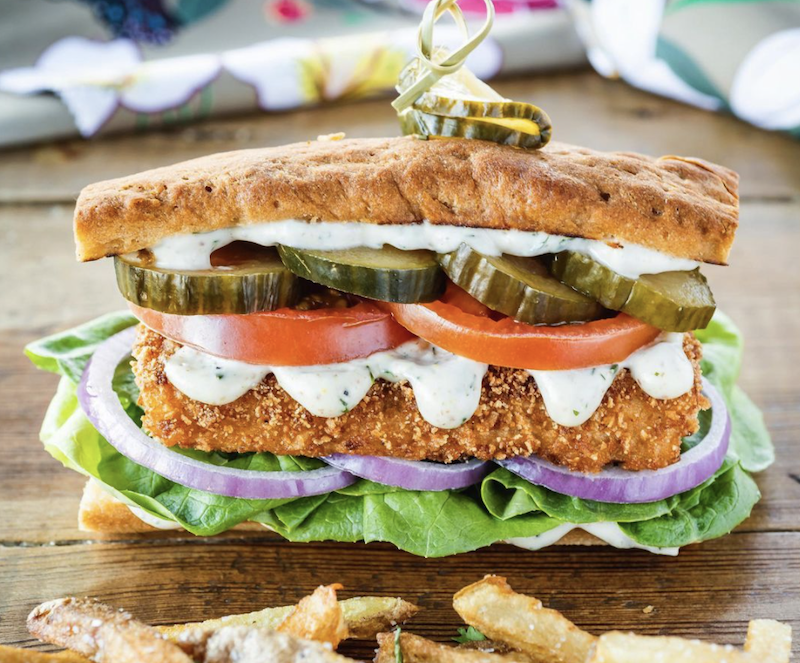 Modern Love Omaha
11Modern Love, Omaha, NE
Tofu is a trickster—you'd never know this succulent, fried patty was soy in disguise. Modern Love's take on the classic pairs fresh ingredients with golden-fried lusciousness. Don't miss the restaurant's other chicken dishes such as the Seitan Honee Garlic Wings.
Learn more here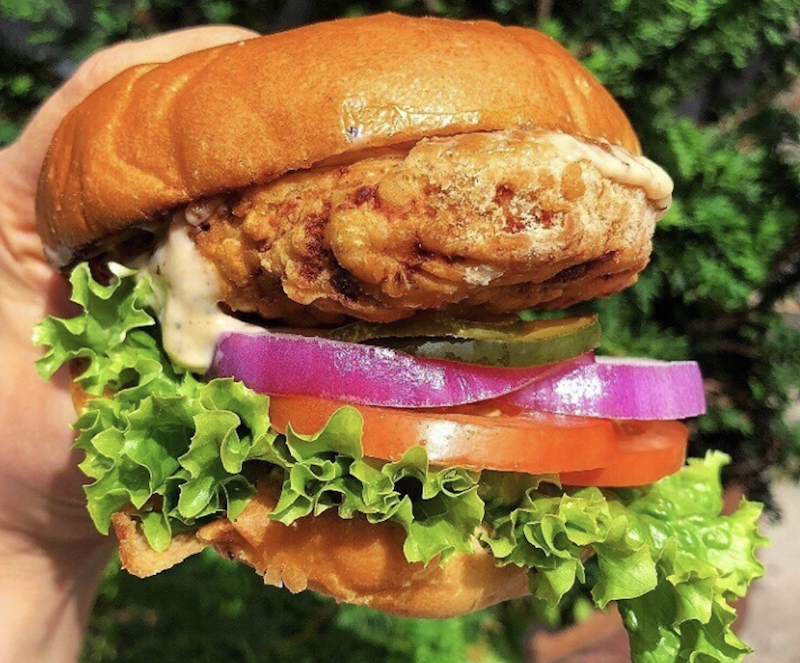 Meatless Molly
12HipCityVeg, multiple locations
Residents of Washington, DC and Philadelphia rejoice: this decadent sando is in your neck of the woods. Sink your teeth into the Crispy HipCity Ranch sandwich. It's got all the classic toppings—lettuce, tomato, onion, and pickles—but the peppercorn ranch offers a pleasant touch of heat without moving into Nashville hot territory. Order the chain's signature Banana Whip for a light, sweet end to your meal.
Learn more here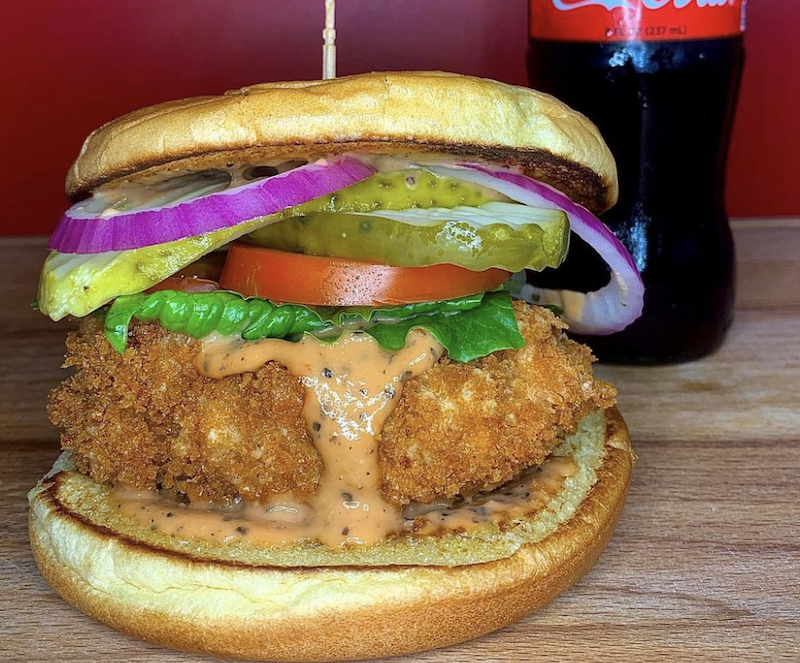 The BeetBox
13The BeetBox, Warr Acres, OK
Initially launched as a food truck by two young vegan entrepreneurs craving comfort in their college town, this middle-of-America kitchen serves the best vegan chicken sandwiches around (and it's not just because they're the only vegan concept around). Their chickenless sandwich menu allows patrons to customize their handhold with a variety of sauces and heat levels. Dare to go spicy or slather on the Eat Mor Chkn sauce that will remind you of a certain non-vegan chain that's closed on Sundays. This vegan chicken sandwich is transforming its community one sandwich at a time.
Learn more here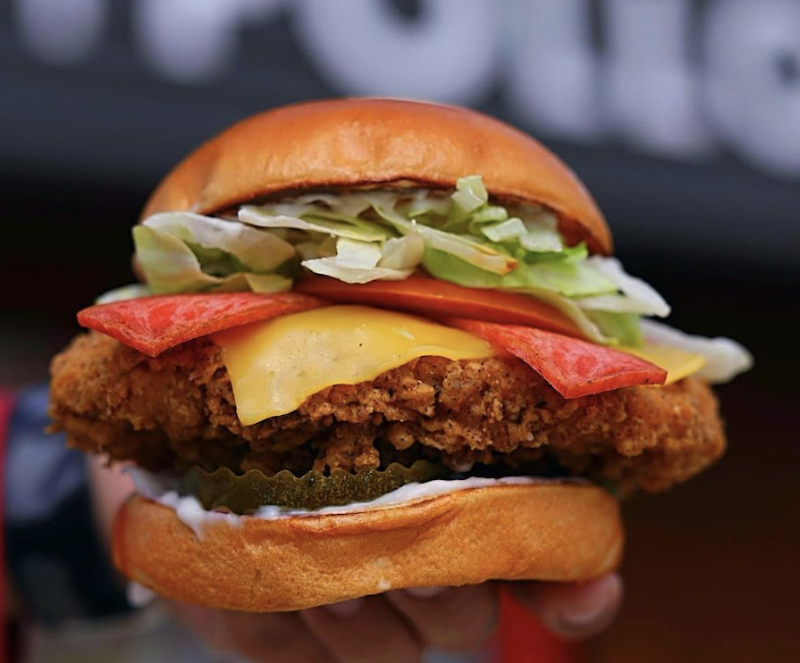 Project Pollo
14Project Pollo, multiple locations, TX
This chickenless chicken chain does one thing, and they do it right. At Project Pollo, each menu item features crispy vegan chicken in one way or another, but we're focusing on the mouthwatering array of sandwiches. Options range from basic (the Original Project) to fiery (Spicy Project) to baconified (The Deluxe). Vegan crispy chicken sandwich with plant-based bacon and melty gouda cheese? Yes, please and thank you.
Learn more here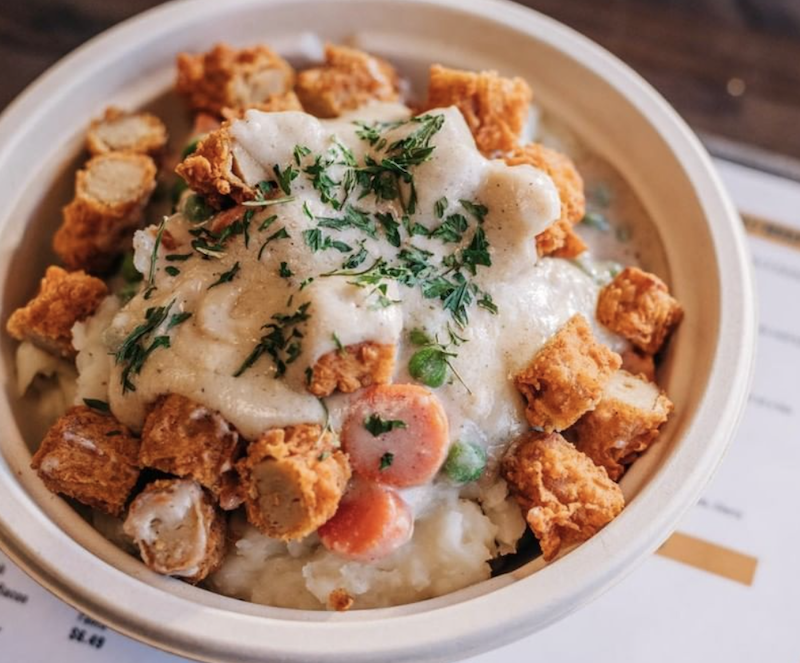 Herbie's
15Herbie Butcher's Fried Chicken, Minneapolis, MN
After five years of success, America's first vegan butchery has expanded. The Herbivorous Butcher co-founders Kale and Aubry Walch didn't open another general butcher shop, though. They jumped into the vegan fried chicken market.
Learn more here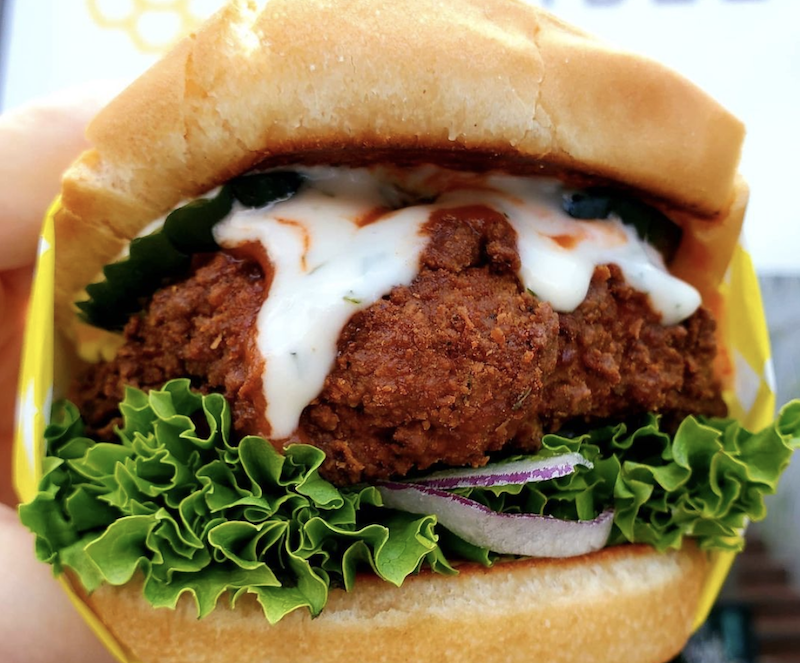 Honeybee Burger
16Honeybee Burger, Los Angeles, CA
Rest easy, no honey is used in the making of this crispy chicken sandwich. This vegan microchain put "burger" in its name, but the Chick-A-Bee sandwich is a point of pride. Whereas the burgers are made with Impossible and/or Beyond Meat patties, the company makes its own vegan chicken for this gem of a handhold. Order your crispy chicken patty plain (Classic) or smothered in Nashville Hot, Buffalo, or Hot Hunny sauce.
Learn more here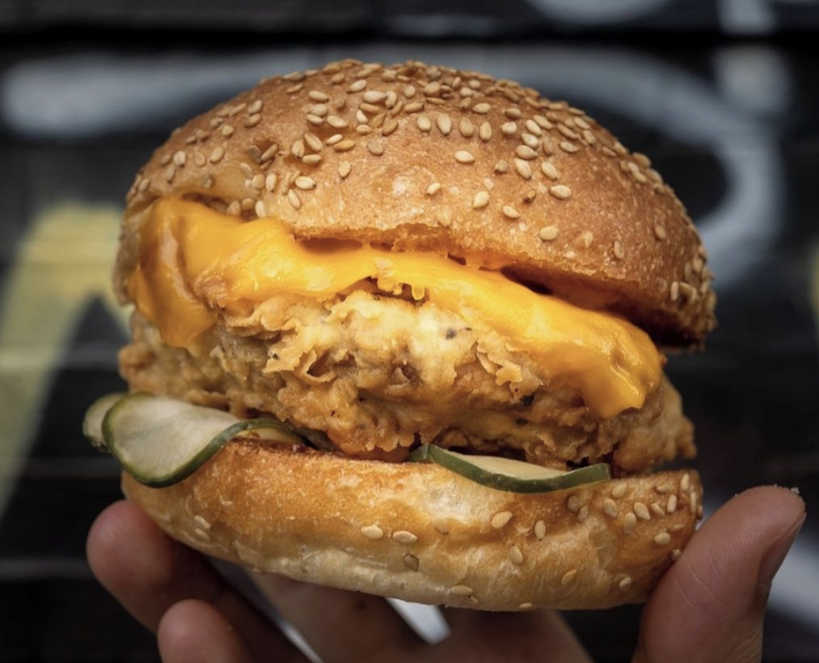 Hartbreakers
17 Hartbreakers, Brooklyn, NY
Fans of Champ's Diner and Screamers Pizza have a new joint to check out. This '70s-themed quick-service spot specializes in vegan fried chicken in all forms—buckets, bowls, tenders, and sandwiches. The namesake Hartbreaker made with fried chik'n, cheese, pickles, sambal mayo, and hot honee will erase any memories of Popeye's or Chick-fil-A.
Learn more here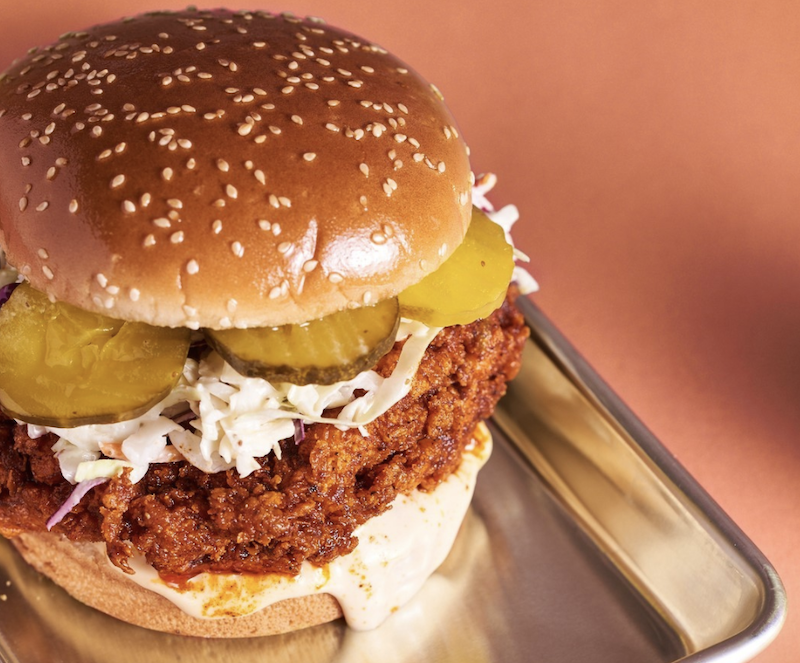 Wolfie's
18Wolfie's, Los Angeles, CA
For those who love to customize, Wolfie's has options. From Nashville to Bourbon Cola BBQ, there's a vegan fried chicken sandwich for every taste and level of spice tolerance. Each handhold features a juicy, crispy chicken patty accompanied with something spicy, something creamy and cool, something fresh and crispy, and something pickled. This combination of flavors and textures will light your dopamine receptors on fire.
Learn more here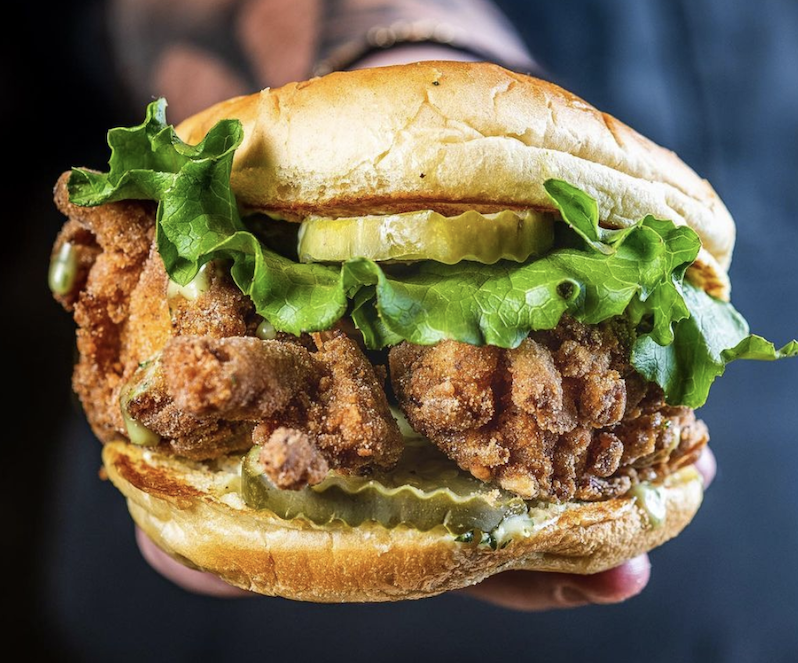 PLNT Burger
19PLNT Burger
Beyond a reputable vegan fried chicken sandwich, PLNT Burger has something Popeye's doesn't have—soft serve. Choose from the original Crispy Chick'n Sandwich or add some heat with the Spicy Chick'n Sandwich.
Learn more here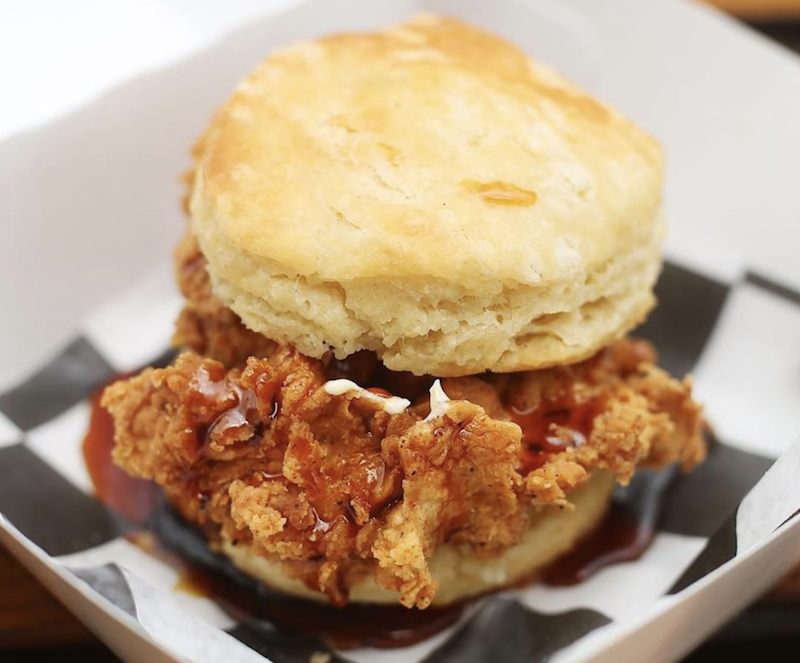 Winter Park Biscuit Co.
20Winter Park Biscuit Co., Orlando, FL
Come for the vegan biscuits, return for the succulent vegan fried chicken stuffed in between. The OG is plain and simple—biscuits, chicken, and hot sauce on the side. You can order a fried chicken sandwich on a plant-based brioche bun, but when "biscuit" is in the name, why would you?
Learn more HERE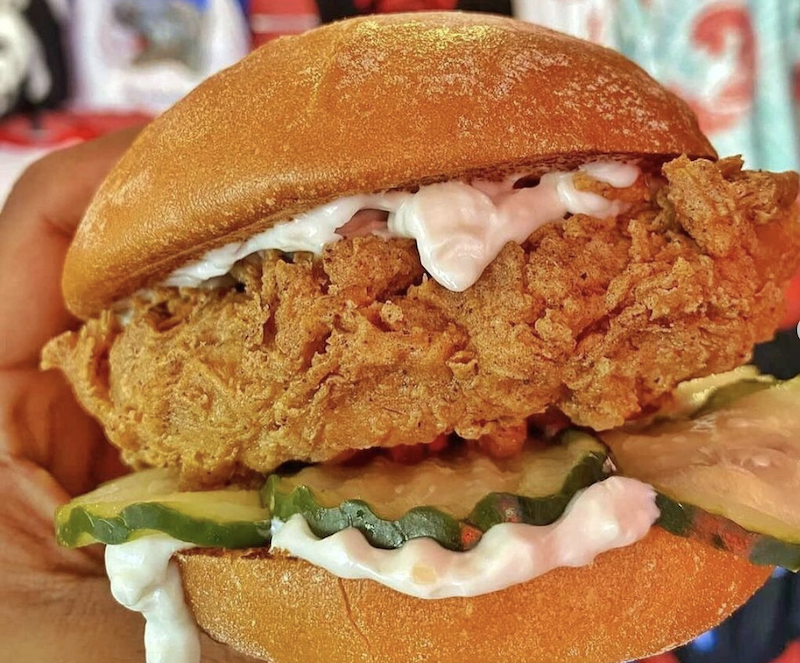 Monty's Good Burger
21 Monty's Good Burger
The vegan equivalent of In-N-Out has entered the vegan fried chicken sandwich wars. Coined Charlie's Chicken Sandwich, the house-made fried chicken is a departure from the chain's menu which has formerly relied on Impossible Foods patties to create its addictively good burgers. The crispy chicken sandwich has little to detract from the main feature—the only condiments include in-house pickles and vegan mayonnaise. Beyond the seasonal rotation of specialty dairy-free milkshakes, Charlie's Chicken Sandwich is the first new menu item since Monty's first opened its original Los Angeles location in 2018.
Learn more here
For more tasty vegan sandwiches, read: