A love of food not does necessitate a love for cooking. If the idea of Thanksgiving dinner fills you with equal parts excitement and dread, Thanksgiving delivery may help assuage some of that anxiety around the act of making the meal.
If you have the means to outsource and you know it will relieve some stress, check out the five companies below that will deliver everything you need for a satisfying Thanksgiving feast—pies, sides, and all.
Vegan meal delivery
Pop-ups used to be one of the main ways vegan food entrepreneurs got their start, but in the height of food delivery, delivery and direct-to-consumer businesses began to take over. From 'DM to order' to national, full-scale delivery options, purchasing food online is now de rigueur.
We've seen city-specific pop-ups transform into pickup and delivery options, such as the now iconic Cena Vegan in Los Angeles, and regional chains have taken to Goldbelly to ship full meals across the country, like New York City's Taim.
In addition to shipping specialty items such as full-sized Piecakes and Chicago deep-dish pizzas (if you didn't know about that already, you're welcome), everyday eats are also available. For those without the time or desire to cook, there are over a dozen vegan-friendly meal kit subscriptions that ship nationwide. Whether you're looking for just groceries or something you can conveniently heat and heat, brands like Hungryroot, Simple Feast, Veestro, and Daily Harvest are here to help.
Vegan Thanksgiving food, delivered
Given the vast diversity of food being shipped on a daily basis, why shouldn't one be able to order a full Thanksgiving feast with a credit card and a few taps on your phone? Here now are the five vegan options that will deliver Thanksgiving dinner right to your door. Let the festivities begin.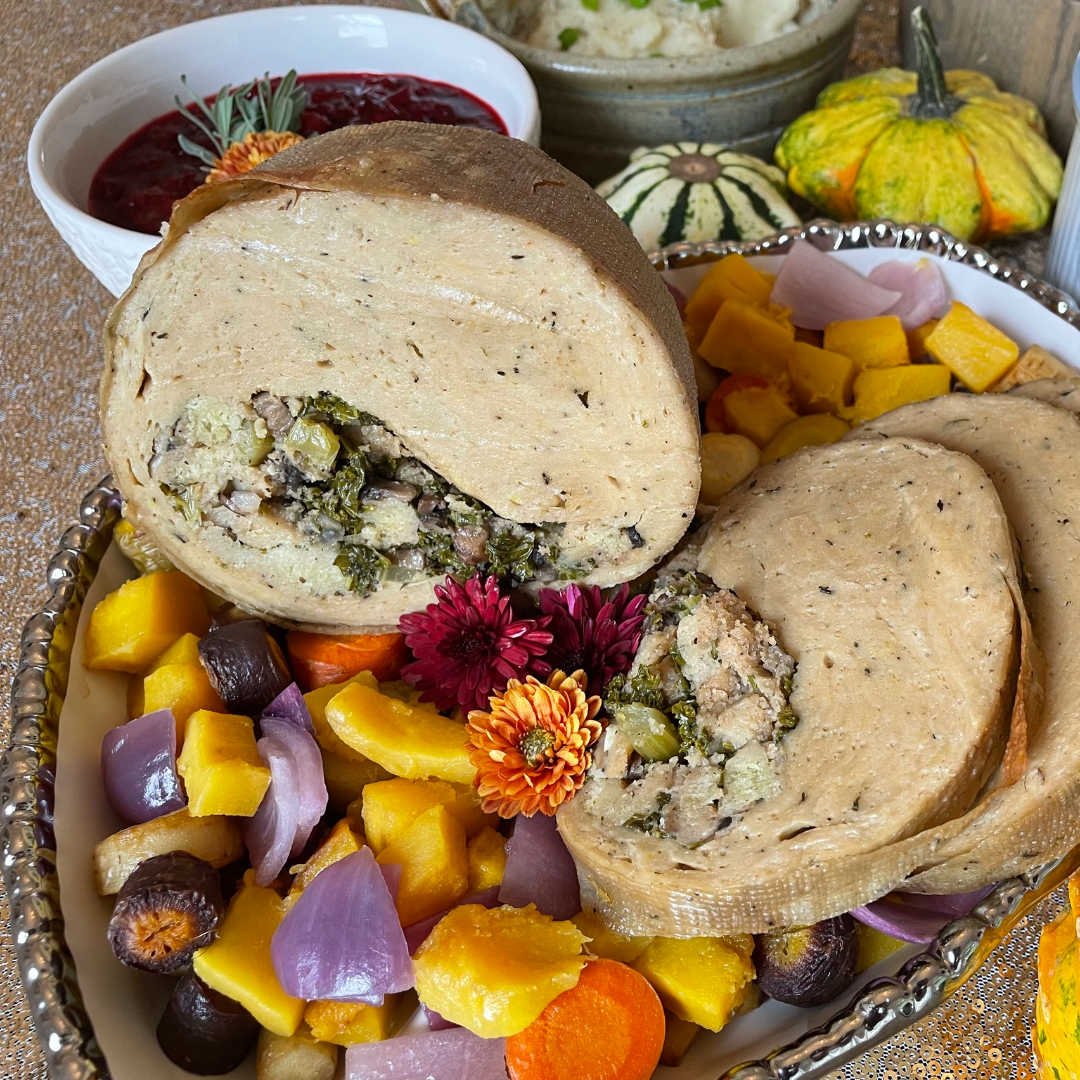 The Herbivorous Butcher
1The Herbivorous Butcher
This Minneapolis-based vegan butchery and deli is first on the list for a reason—they sell out fast! The epic Turkey-Fee feast is now sold out, but the butchery's holiday star, the Unstuffed Turkey Roast, is still available à la carte in one and two pound options. Order now, and get ready to feast.
Find it here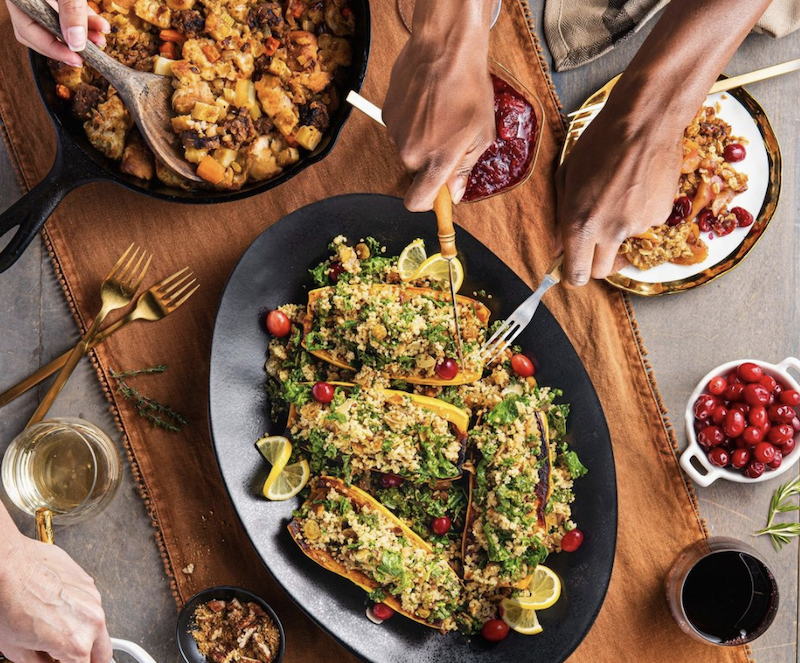 Purple Carrot
2 Purple Carrot
Purple Carrot provides everything you need for a show-stopping Thanksgiving meal and empowers home cooks to pull it off. The menu is set, the ingredients are pre-measured, and the instructions are clear. Order before Tuesday, November 14, and you can whip up an impressive meal for four including Cashew Cheese Stuffed Sweet Potatoes, Rustic Ciabatta Stuffing, gravy, cranberry sauce, roasted Brussels sprouts, and Pear Cranberry Crisp. We are here for the crisp!
FIND IT HERE
3 MamaSezz
MamaSezz is looking out for everyone who follows a special diet—even on Thanksgiving. The oil- and gluten-free Holiday Bundle includes a fully prepared feast for three to four people or about five days' worth of holiday-themed meals for one. The hefty, 10-item box includes classics from cranberry sauce to cornbread and scalloped potatoes to a sumptuous Veggie Loaf. We're always pleasantly surprised when healthy food tastes this good.
FIND IT HERE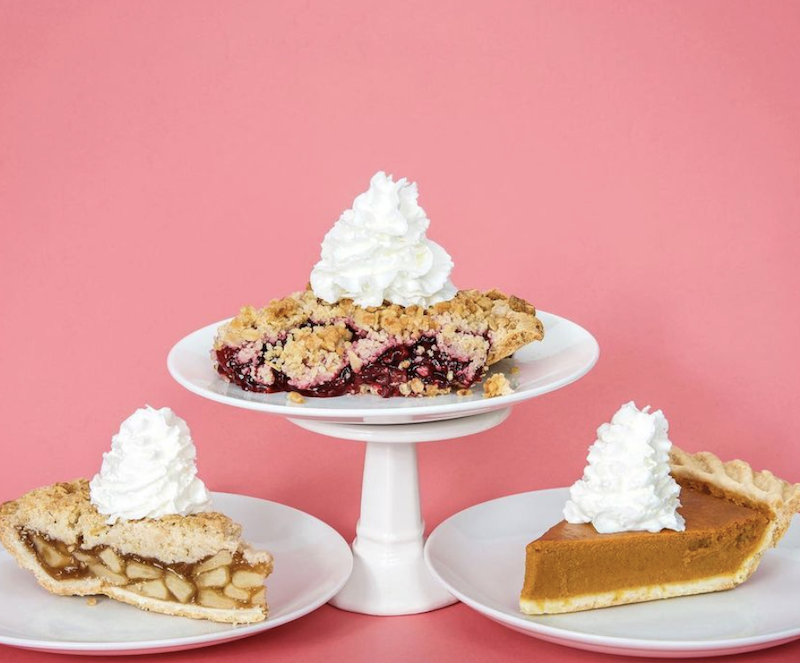 Giselle's Vegan Kitchen
4 GTFO It's Vegan
This vegan online grocer offers the most variety of any option on this list. Mix and match your favorite store-bought brands to create a celebratory dinner without venturing into a crowded store. Choose from a selection of Vegetarian Plus vegan meats, Abe's cornbread muffins and sweet pound cakes, Field Roast holiday stuffed roasts, Immaculate Baking biscuits, Simply Layered pies, and more. You can also find specialty products not available at most retailers such as sweet treats by Giselle's Vegan Kitchen. When shopping is this easy, you can have Thanksgiving dinner every day of the week.
FIND IT HERE
5 Goldbelly
Think of Goldbelly as the virtual smorgasbord of deliciously endless possibilities. The digital platform offers eats from local concepts across the US, meaning you can pick and choose exactly what you want. Grab a cinnamon streusel-topped crumb cake from dedicated vegan and gluten-free bakery Erin Mckenna's, a savory ratatouille pie from DC-based Dangerously Delicious Pies, and a dozen spinach knishes from the legendary Yonah Schimmel Knish bakery in Manhattan's Lower East Side, because why not?
Find it here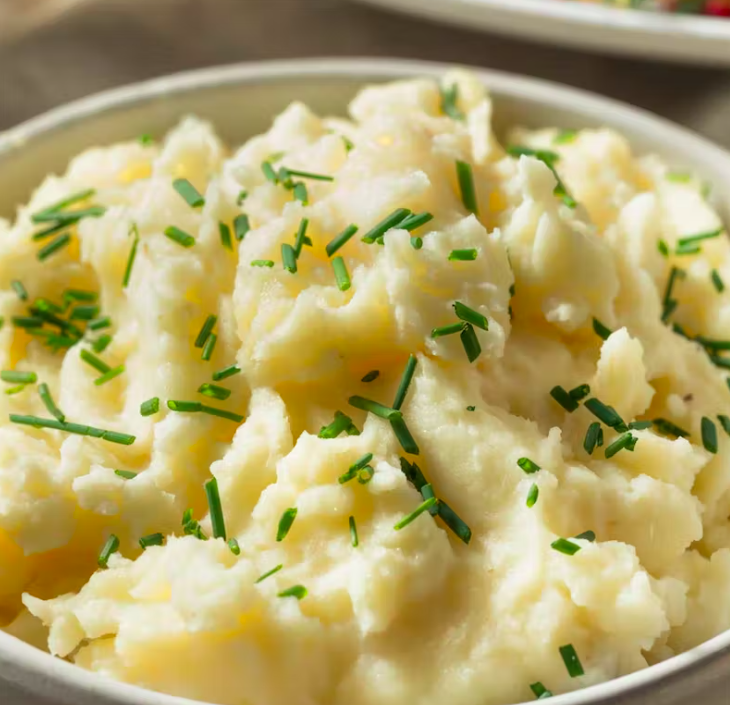 The Goddess and Grocer
6 The Goddess and Grocer
While this Chicago-based business focuses on cakes, it makes a stunner of a vegan Thanksgiving feast. The Vegan Holiday Acorn Squash dinner for two sidesteps the somewhat traditional vegan loaf or roast and focuses on the bounty of seasonal produce. Expect a hearty roasted acorn squash filled with quinoa, nuts, and veggies; rosemary and caramelized shallot Brussels sprouts, green beans (not in casserole form), mashed potatoes, stuffing and gravy, and a delightful apple crisp. Note: the individual items come vacuum sealed, which looks a bit odd, but once heated and plated, the foods look just as appetizing as if you made them yourself.
Find it here
For more vegan Thanksgiving tips, read: