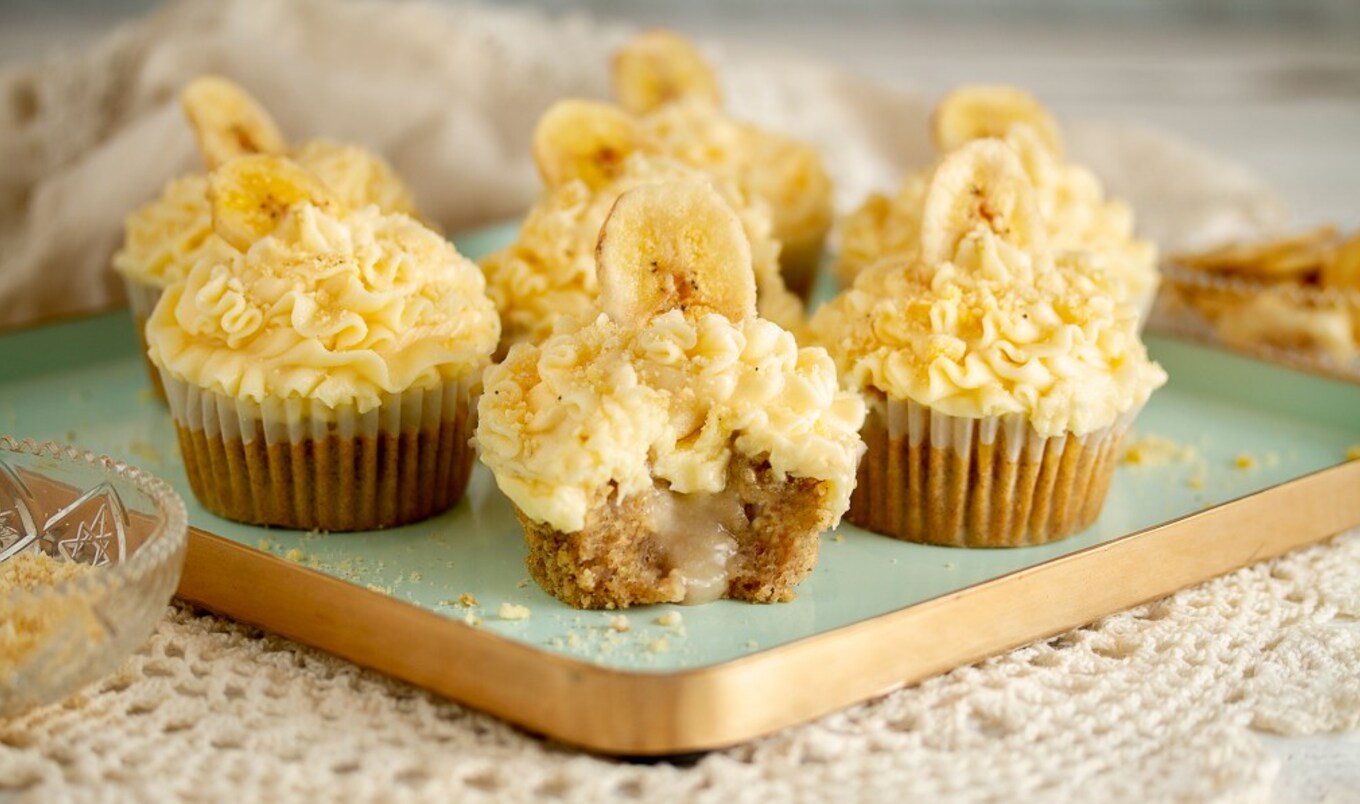 These cupcakes have a light and moist texture, and every bite is filled with an explosion of flavor thanks to the cream filling and fluffy buttercream frosting.
April 27, 2023
Wow your gluten-free loved ones with these mouthwatering cupcakes from the vegan blog Happy As a Yam. The banana flavor is compounded with crunchy banana chip crumbles over a mountain of melt-in-your-mouth buttercream frosting atop these springy, gluten-free cupcakes.
What you need:
For the banana cupcakes:
⅓ cup vegan butter, room temperature
¾ cup sugar
1½ cups almond milk
½ cup mashed, over-ripe banana
1 teaspoon vanilla extract
1½ cups gluten-free flour
1½ teaspoon baking powder
¼ teaspoon salt
For the cream filling:
1½ tablespoons cornstarch
2½ tablespoons sugar
1 cup almond milk
½ teaspoon vanilla extract
For the frosting:
½ cup vegan butter
½ cup vegan shortening (or additional ½ cup vegan butter)
4½ cups powdered sugar, sifted
1 teaspoon vanilla extract
5 tablespoons almond milk
½ cup crumbled banana chips, for garnish
½ cup whole banana chips, for garnish
What you do:
For the cupcakes, preheat oven to 350 degrees and prepare a cupcake pan with cupcake liners.
In a large bowl, add butter and sugar and beat with an electric mixer until light in color and fluffy, about 3 minutes. Add milk, banana, and vanilla and mix until combined.
In a separate large bowl, combine flour, baking powder, and salt and mix well. Add half of dry ingredients to wet mix and stir until well incorporated. Once combined, continue adding dry ingredients and mix until all is incorporated.
Fill cupcake liners about two-thirds full and tap tin on counter to flatten batter. Bake for 30 minutes, or until a knife inserted comes out clean.
Remove cupcakes from oven and allow to cool on a cooling rack for 3 minutes, then store in the refrigerator.
For the cream filling, in a small saucepan, combine cornstarch and sugar and slowly whisk in almond milk to avoid clumps.
Place over medium heat and cook until a rolling simmer is achieved, reduce heat, stirring frequently. Cook for another 5 minutes, using a rubber spatula to scrape sides and bottom constantly.
When a pudding consistency is achieved, remove from heat, whisk in vanilla, and let cool 10 minutes. Then transfer to a bowl and cover with plastic wrap, making sure it is touching surface so that filling doesn't form a skin. Refrigerate for 2 hours, or until set.
For the frosting, in a medium bowl, beat butter and shortening together until well combined. Add half of powdered sugar, sifting out any clumps, and mix until smooth. Add vanilla extract and milk and mix again. Stir in remaining powdered sugar until well incorporated.
Remove cupcakes from refrigerator. Cut core of cupcakes out with a sharp knife and spoon, or use a cupcake corer, then fill holes with prepared filling.
Pipe frosting onto cupcakes, starting at center and working outward. Sprinkle on banana chip crumbs and top with a whole banana chip. Store in an airtight container in refrigerator for up to 3 days.
Here at VegNews, we live and breathe the vegan lifestyle, and only recommend products we feel make our lives amazing. Occasionally, articles may include shopping links where we might earn a small commission. In no way does this effect the editorial integrity of VegNews.