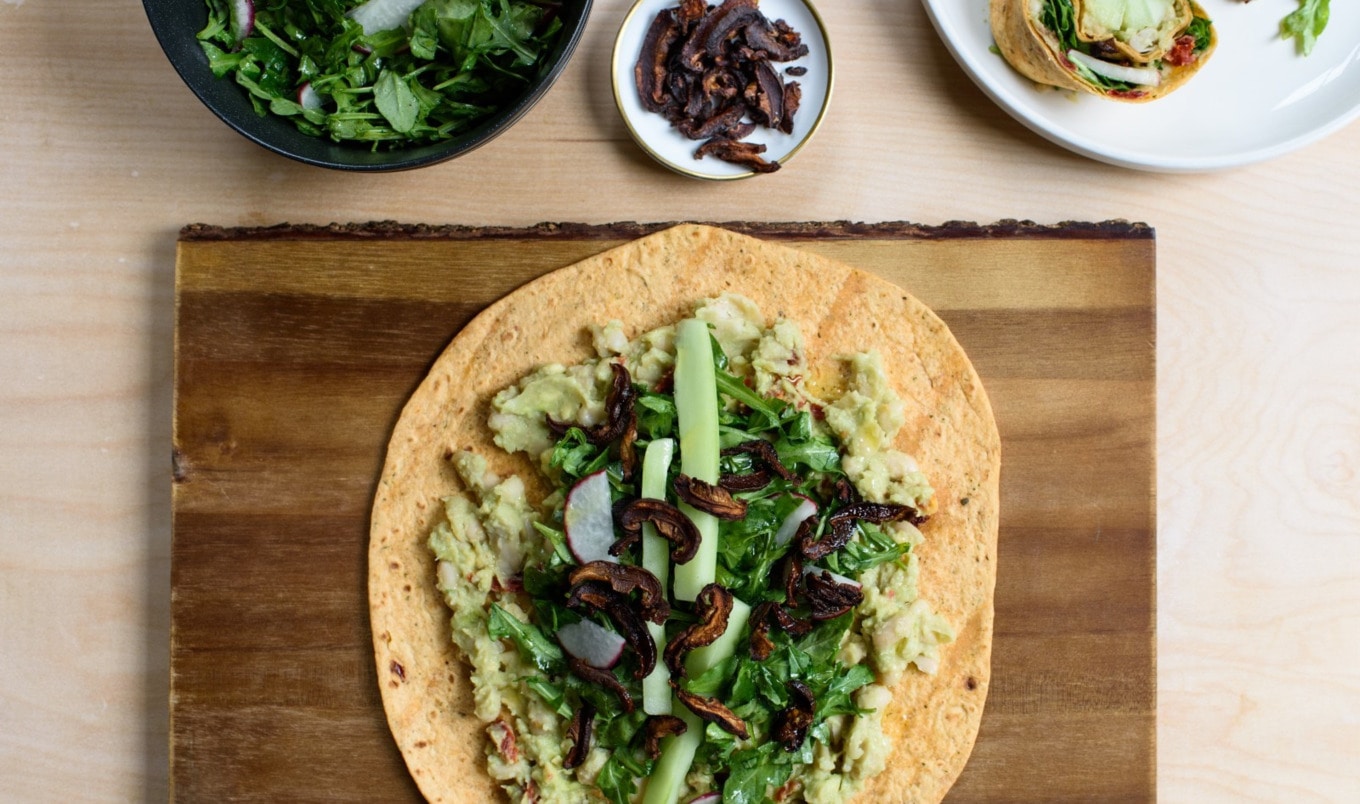 Instead of a ho-hum lunch, make up a batch of these delicious vegan wraps and just try to wait until noon to dig in.
September 8, 2021
Creamy avocado, nutritious white beans, and tangy sun-dried tomatoes join forces with fresh, peppery arugula for a nutritious lunch in this recipe from the Compassionate Cuisine vegan cooking program.
What you need:
For the shiitake crisps:
8 ounces shiitake mushrooms, stemmed and thinly sliced
3 tablespoons olive oil
1 teaspoon salt
For the filling:
2 avocados, pitted
1 (15.5-ounce) can white beans, drained and rinsed
2 tablespoons oil- or dry-packed sun-dried tomatoes, chopped
1 teaspoon salt, divided
2 tablespoons lemon juice
1 tablespoon olive oil
¼ teaspoon crushed red pepper flakes
4 cups arugula, lightly chopped
2 small radishes, thinly sliced
½ large cucumber, peeled, seeded, and cut lengthwise into thin spears
4 (10-inch) tortillas
What you do:
For the shiitake crisps, preheat oven to 375 degrees and line a baking tray with parchment paper. Place mushrooms on baking tray in a pile. Drizzle with olive oil and toss. Arrange in a single layer on tray and sprinkle with salt. Place in oven and roast for 25 minutes, or until dark and crispy, but not burnt.
For the wraps, scoop out avocado flesh into a medium bowl. Add white beans, sun dried tomatoes, ½ teaspoon of salt, and crushed red pepper flakes. Mash with a fork into a chunky mixture. In a separate bowl, whisk lemon juice, oil, and remaining salt. Add arugula and radishes and toss to coat with dressing.
To assemble wraps, divide white bean mixture evenly between tortillas and spread, leaving about ½-inch border. Arrange 1 cup of arugula on top. Lay 1 or 2 cucumbers across horizontally. Sprinkle shiitake crisps on top. Roll, while tucking in ends. Cut wraps in half on diagonal to serve.
For more recipes like this, check out: