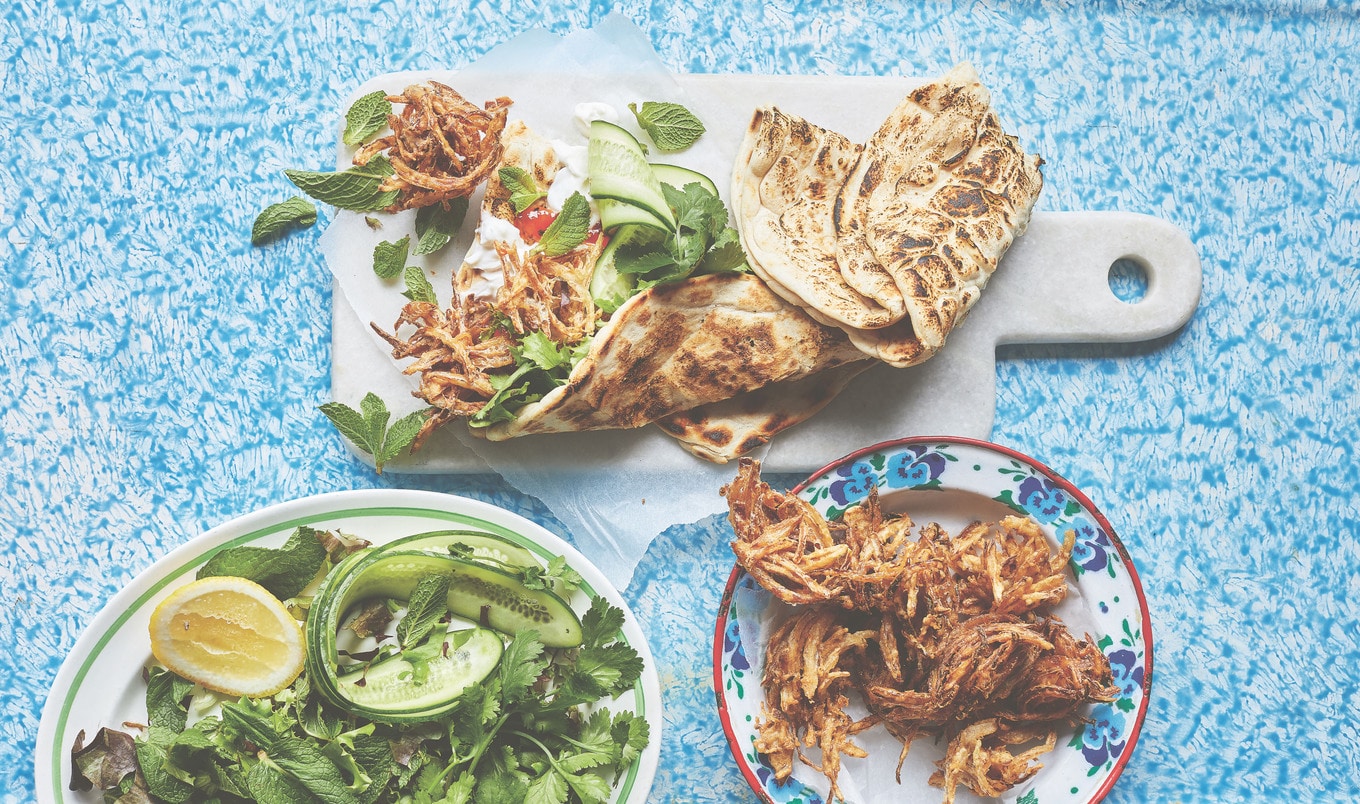 Pillowy Indian naan loaded with spiced onion bhajis, minty yogurt, and mango chutney are an aromatic match made in heaven.
May 8, 2023
Onion bhajis are worth making from scratch, as they are full of flavor (and easier to make than you'd think). These wraps from the Easy Speedy Vegan cookbook make them the star of the show instead of just a simple side dish.
What you need:
5 tablespoons all-purpose flour
1 teaspoon cumin seeds
1 teaspoon garam masala
¼ teaspoon dried chili flakes
1 teaspoon salt
2 onions, thinly sliced
2 cups sunflower oil, for frying
2 rounded tablespoons thick coconut yogurt
¼ cup finely chopped mint leaves
2 vegan naan breads
¼ cup shredded lettuce
¼ cucumber, thinly sliced lengthwise
¼ cup roughly torn cilantro
4 teaspoons mango chutney
What you do:
Preheat oven to 320 degrees. Into a bowl, add flour, cumin, garam masala, chili flakes, and salt. Add onions and thoroughly. Stir in 3 tablespoons cold water to create a thick, even mixture.
In a large, heavy-based pan over medium-high heat, warm oil. Test if oil is hot enough by dripping a small amount of bhaji batter into pan. It should sizzle, rise to surface, and become golden. Carefully spoon tablespoon-sized amounts of mixture into hot oil, working in batches of 3 to 4 at a time to avoid overcrowding and sticking. Cook 4 minutes until golden. Drain on paper towels and keep warm while repeating with remaining batter.
Into a small bowl, stir yogurt and mint leaves. Set aside.
Place naan bread in oven and warm 3 to 4 minutes. Remove and place on serving plates.
On top of each naan, add lettuce, cucumber, and cilantro. Top with a spoonful of mint yogurt. Add onion bhajis, then spoon over with mango chutney. Wrap, and enjoy hot.