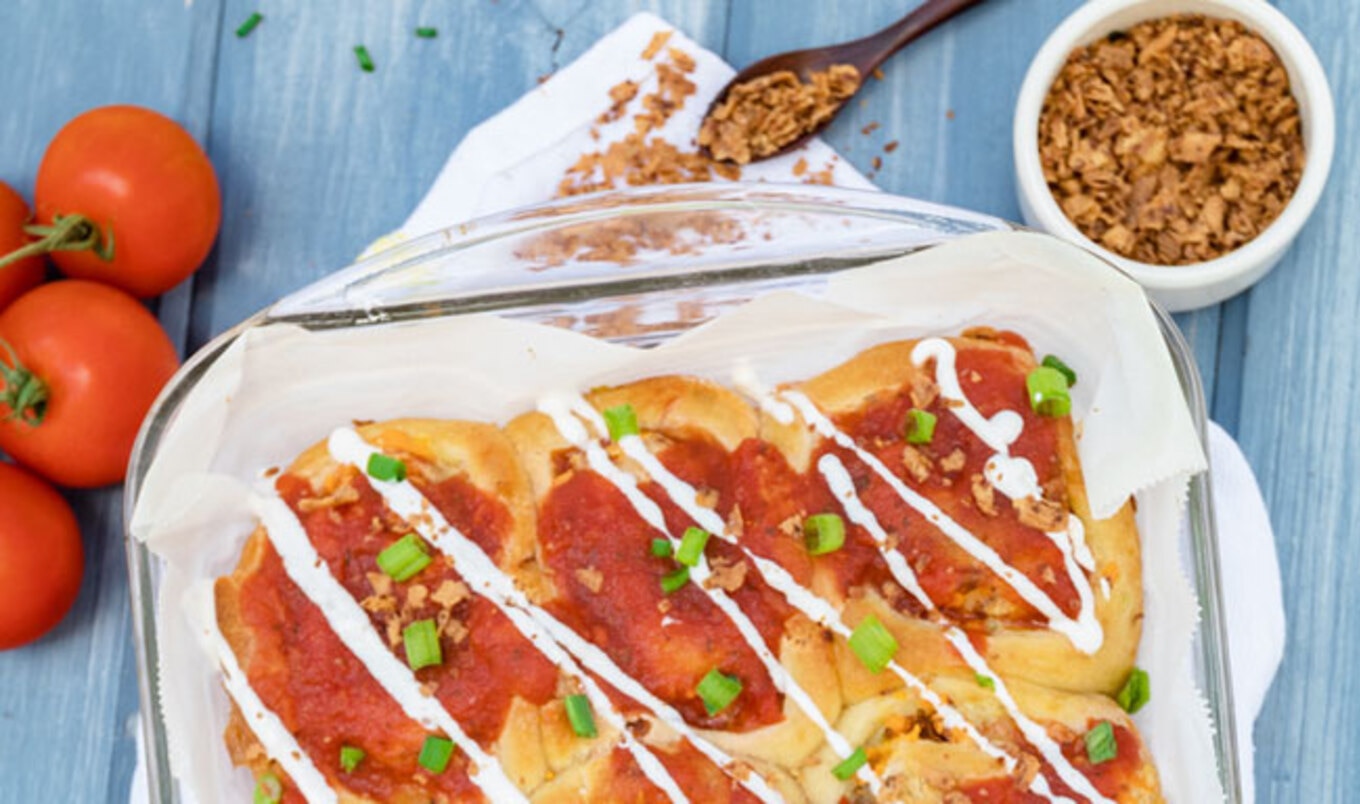 These baked potato rolls are what dreams are made of.
November 22, 2022
Fully loaded baked potatoes—complete with sour cream, vegan bacon bits, cheddar cheese, and butter—are a wonder to behold. Creamy yet soft and fluffy with the additional crunch of the bacon, a loaded baked potato can't get any better … or can it? We asked ourselves this question and decided that, yes, they can, which is why we've created a baked potato roll. A pillow of deliciousness that looks like a cinnamon roll but tastes like a sweet potato, we're pretty sure this is soon to be your new favorite meal.
What you need:
For the rolls:
½ package (1 ⅛ teaspoon) active dry yeast
¼ cup warm water
1 tablespoon apple cider vinegar
¾ cup + 2 tablespoons almond milk, room temperature
2¾ cups unbleached all-purpose flour
1½ tablespoon sugar
½ teaspoon salt
½ teaspoon baking soda
½ teaspoon baking powder
⅓ cup vegan butter, roughly chopped
1 cup marinara sauce
¼ cup sliced green onions
¼ cup vegan sour cream
For the filling:
1½ pounds Russet potatoes
2 tablespoons almond milk
2 tablespoons chopped fresh chives
2 tablespoons nutritional yeast
½ teaspoon salt
⅛ teaspoon black pepper
¾ cup vegan cheddar cheese
2 tablespoons vegan bacon bits
What you do:
1. For the rolls, add yeast and warm water to a bowl and set aside for 10 minutes to foam. Mix the vinegar with the almond milk and set aside.
2. In a large bowl, combine flour, sugar, salt, baking soda, and baking powder. Once uniform, cut in the vegan margarine bits using a pastry blender or two knives (move the knives in opposite directions white cutting the margarine) until pea-like. Add yeast-and-almond-milk-mixture and combine until uniform. Knead bread in bowl, then cover dough with towel and set aside to rise for 2 hours.
3. For the filling, preheat oven to 350 degrees and line a baking sheet. Wash potatoes, then poke each several times with a fork. Place on baking sheet and bake for 1 hour, or until very soft. Allow potatoes to cool, then remove skin and place flesh into a food processor with all ingredients except cheese and bacon. Store in the refrigerator overnight, or until ready to use.
4. To assemble, prepare a 9 x 13-inch baking dish with parchment paper or cooking spray. Turn dough onto a floured surface and roll each half into a ⅛-inch thick and approximately 10 x 12-inch rectangle. Spread filling evenly over top of each rectangle and sprinkle bacon bits and cheese onto each.
5. Roll dough into a spiral and cut it into rolls. Place rolls close together into prepared baking dish (top with more cheese and bacon if desired). Cover with a dishtowel to rise in a warm area until doubled in size, or approximately 90 minutes.
6. Once dough has risen, preheat oven to 400 degrees. Bake rolls for 20 minutes, or until browned. Remove from oven and cool before topping with marinara sauce, green onions, and sour cream.