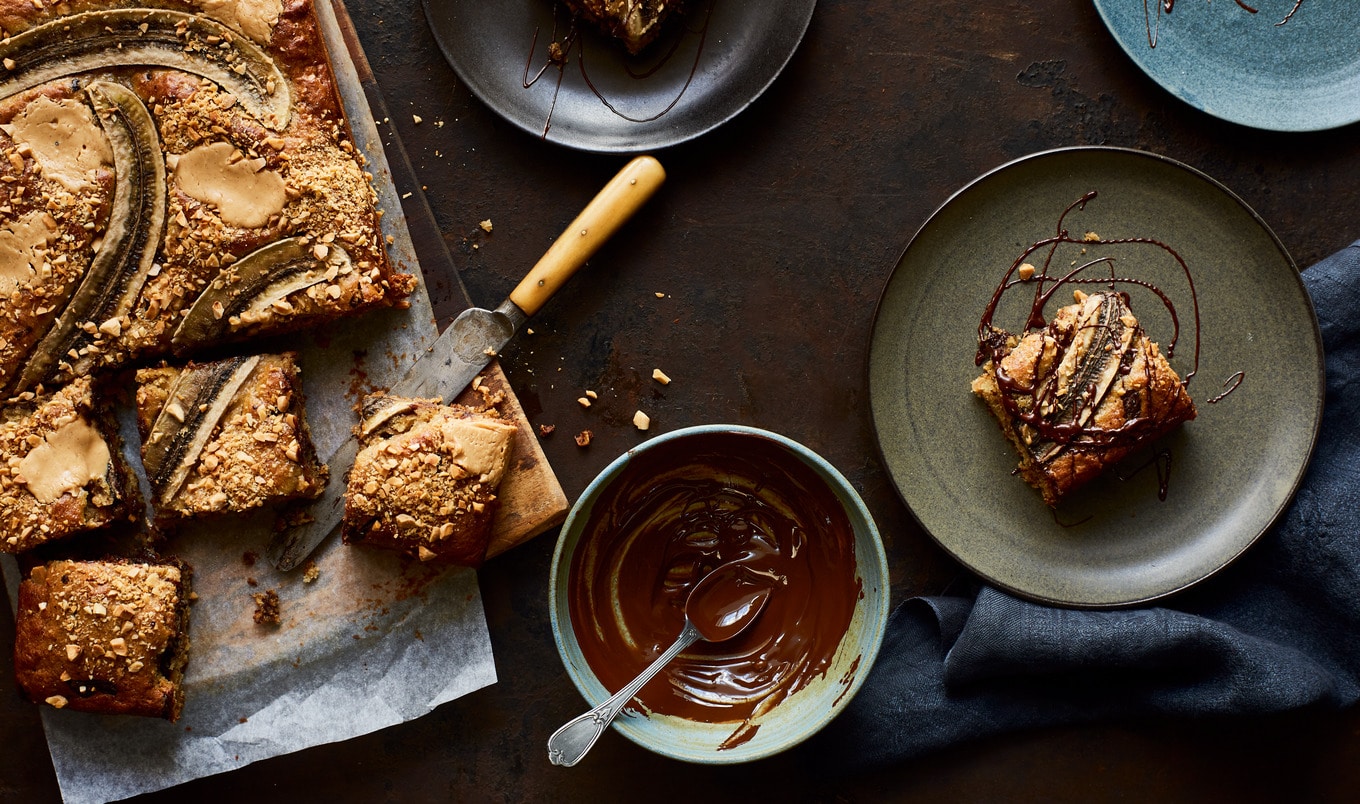 These aren't your average vegan blondies. Each bite is packed with roasted almonds, caramelized bananas, and chocolate chunks.
April 6, 2023
Each bite of these chunky, chocolate-filled blondies from Bish Bash BOSH! is packed with buttery, rich flavor that will leave you wanting more. Pair with a tall glass of oat milk and you've got yourself a winning combo.
What you need:
1 cup almonds
4 bananas, 2 ripe and 2 firm
⅔ cup peanut butter
6 tablespoons maple syrup
4 tablespoons vegetable oil
⅓ cup plus 1 tablespoon unsweetened vegan milk
1 tablespoon vanilla extract
2 cups plain flour
⅓ cup plus 1 tablespoon sugar
1 teaspoon baking powder
½ teaspoon baking soda
¼ teaspoon sea salt
4.5 ounce dark chocolate bar
1 tablespoon brown sugar
What you do:
Preheat oven to 350 degrees and line a 8 x 11 inch baking dish with parchment paper. Spread almonds out on baking dish and place in oven for 8 to 10 minutes, until almonds are deeply golden. Remove and set aside to cool.
In a mixing bowl, place ripe bananas and mash with a fork. Add ½ cup of peanut butter, maple syrup, oil, milk, and vanilla, and stir until combined.
In a separate mixing bowl, whisk flour, sugar, baking powder, baking soda, and salt. Pour dry ingredients into wet ingredients, and fold together to form a smooth batter.
Roughly chop roasted almonds and chocolate. Add ¾ cup of almonds and ¾ of chocolate chunks to batter. Transfer batter to baking dish and smooth top with a spatula. Dollop remaining peanut butter over top, as well as remaining almonds. Peel firm bananas, cut in half lengthways, gently press slices into top of cake seed side up and sprinkle with brown sugar. Place in oven and bake for 35 minutes, until golden brown on top.
Melt remaining chocolate in a double boiler and drizzle over cake. Cut into 12 pieces and serve.