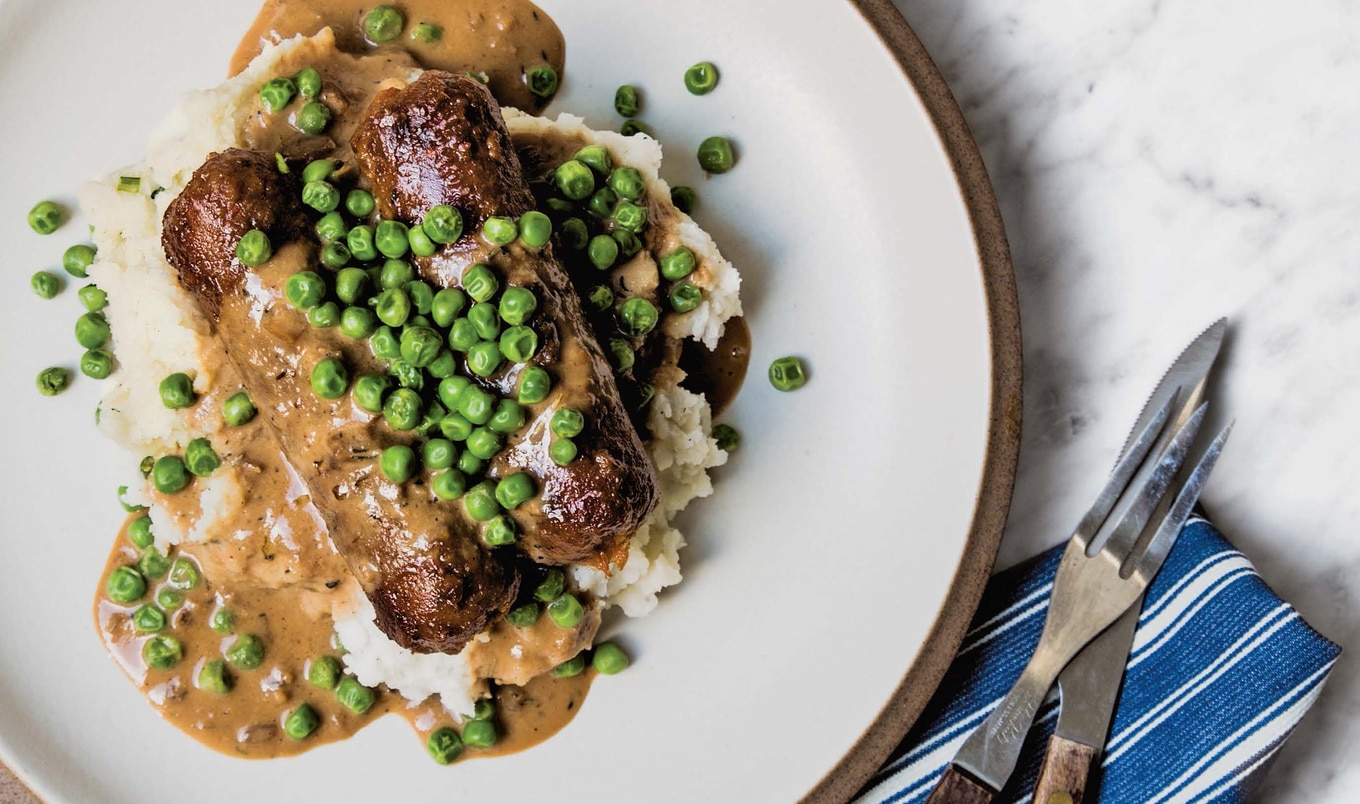 This traditional, meaty English menu gets a plant-based makeover with homemade, seasoned seitan sausages.
November 4, 2022
Garlicky mashed potatoes, homemade meaty sausages, and herbed gravy? That's our definition of comfort food. Make this warming dish from popular YouTuber Lauren Toyota's Hot For Food Vegan Comfort Classics cookbook for a cozy night in.
What you need:
For the vegan bangers:
1 cup sliced onion
2 garlic cloves, minced
1 teaspoon fennel seeds
1⁄2 teaspoon red pepper flakes
4 tablespoons vegetable oil
2 cups vital wheat gluten
1 cup crumbled firm tofu
1⁄4 cup nutritional yeast
1 teaspoon salt
1 teaspoon pepper
1 teaspoon smoked paprika
1 teaspoon ground mustard
1 tablespoon maple syrup
2 tablespoons tamari
1 tablespoon tomato paste
1⁄2 teaspoon liquid smoke

For the mashed potatoes:
3 pounds potatoes, peeled and cubed
1⁄4 cup vegan butter
1⁄2 cup unsweetened vegan milk
1 teaspoon salt
1 teaspoon black pepper
2 tablespoons finely chopped chives

For the gravy:
1⁄4 cup finely minced shallot
3 garlic cloves, minced
1⁄4 cup vegan butter
1⁄2 teaspoon dried thyme
1⁄2 teaspoon dried rosemary
1⁄2 teaspoon ground nutmeg
1⁄2 teaspoon celery salt
2⁄3 cup tahini
1⁄2 cup tamari
1⁄4 cup maple syrup
1⁄4 cup low-sodium vegetable stock
2 tablespoons vegan Worcestershire

For serving:
1½ cups frozen peas
What you do:
For the bangers, preheat oven to 350 degrees. In a skillet over medium heat, warm 1 tablespoon oil and sauté onion, garlic, fennel seeds, and red pepper flakes until onions are soft and translucent, about 5 minutes.
Into a food processor, add onion mixture, 2 tablespoons vegetable oil, 1 cup vital wheat gluten, and all remaining ingredients. Process until mostly combined. Add remaining 1 cup vital wheat gluten and process until dough forms a ball and is mostly combined. Place dough on a work surface and knead 10 to 15 times until well-combined.
Cut 8 pieces of aluminum foil approximately 10 by 12 inches. Place a portion of sausage dough in the center of each piece of foil and form into a log shape approximately 1½-inches wide and 4½-inches long. Wrap tightly, twisting ends in opposite directions to seal foil firmly around dough and shape it into a sausage. Place all wrapped sausages on a baking sheet spaced an inch apart and bake for 30 minutes until very firm to touch. Let cool for 20 to 30 minutes at room temperature, then transfer to refrigerator to chill overnight. Refrigeration is necessary to ensure gluten activates and creates a chewy texture.
For the mashed potatoes, into a large pot of cold water, add potatoes. Bring to a boil and cook until tender, about 12 minutes. Drain and mash in pot with butter, vegan milk, salt, pepper, and chives.
For the gravy, in a saucepan, sauté shallot and garlic in butter for 2 minutes. Add thyme, rosemary, nutmeg, and celery salt and sauté for 2 more minutes. Stir in tahini, tamari, maple syrup, stock, and Worcestershire and simmer over low heat for 3 minutes. Add more stock as necessary to thin out gravy to desired consistency.
Remove sausages from fridge. Heat a skillet over medium heat with remaining 1 tablespoon of oil and fry sausages for 6 minutes until browned on all sides. Add 1⁄4 cup of gravy to pan to coat sausages and cook for 1 more minute. Add peas to pan to cook through. Plate by adding a heaping mound of potatoes, 2 sausages, peas, and more gravy on top to each dish.