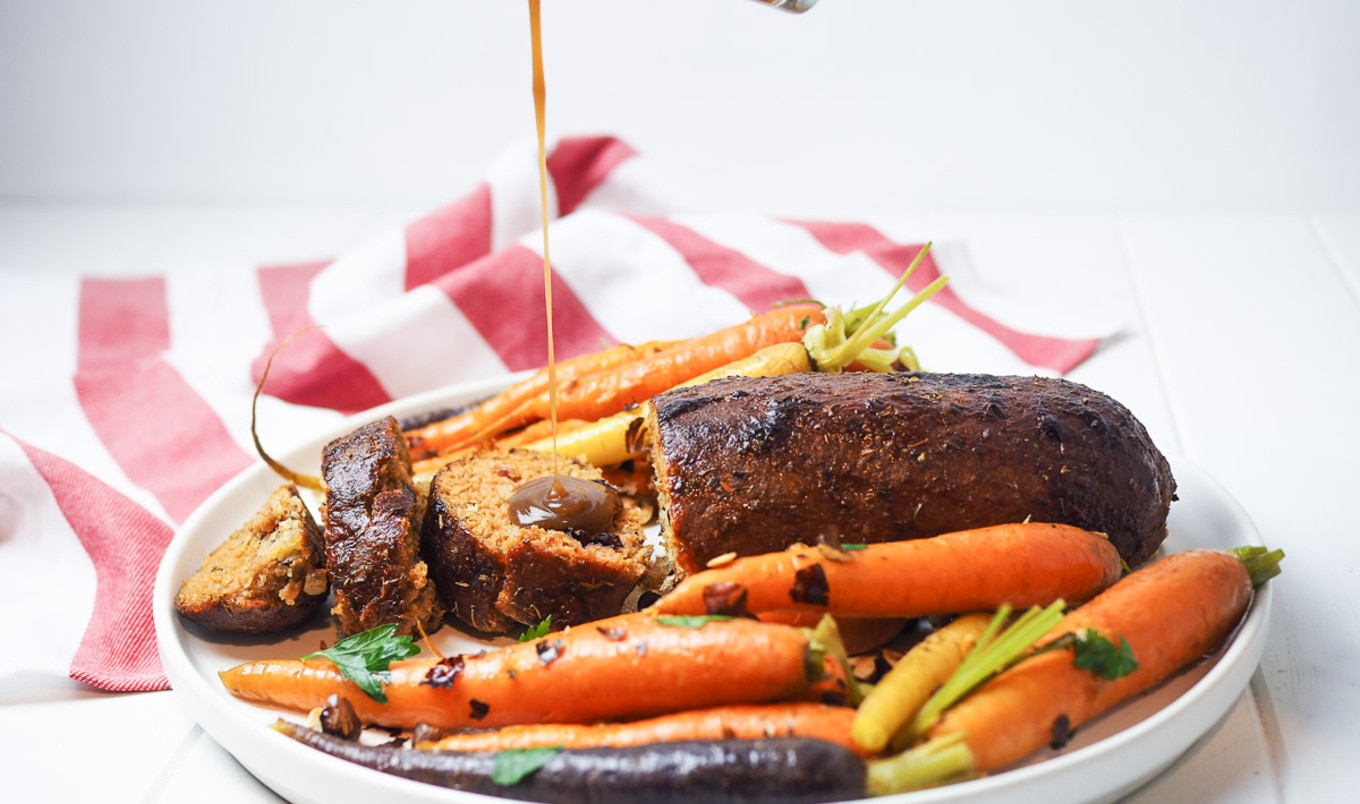 Skip the store-bought roasts and make your own with hazelnut-cranberry stuffing and a tangy-sweet glaze.
November 18, 2023
This impressive centerpiece from Like A Vegan blogger Chelsey Johns will take center stage at your dinner table. Serve it with roasted Brussels sprouts, fluffy mashed potatoes, and a savory mushroom gravy for a classic holiday meal.
What you need:
For the loaf:
4 cups vegan beef grounds
3 cloves garlic, minced
1 tablespoon dried mixed herbs
1 teaspoon onion powder
1 teaspoon white pepper
1 teaspoon salt
½ cup breadcrumbs
For the stuffing:
6 slices white bread
1 small onion, finely chopped
2 teaspoons Italian seasoning
½ teaspoon salt
½ cup hazelnuts, roughly chopped
¼ cup soy milk
¼ teaspoon apple cider vinegar
¼ cup vegan butter
¼ cup dried cranberries
For the glaze:
¼ cup tomato sauce
1 teaspoon apple cider vinegar
1 tablespoon maple syrup
½ teaspoon white pepper
1 teaspoon no-salt seasoning
¼ teaspoon salt
What you do:
For the loaf, in a large bowl, add all ingredients and mix until combined. Lay out a large piece of cling wrap and spread loaf mixture out to make a flat, even rectangle, pressing down gently until smooth and approximately ½-inch high.
For the stuffing, into a food processor, place white bread slices and pulse until breadcrumb texture is achieved. In a large bowl, mix breadcrumbs, onion, seasoning, salt, and hazelnuts.
In a small bowl, combine soy milk and apple cider vinegar and set aside.
In a saucepan over medium heat, melt butter. Add breadcrumb mixture, toss, and cook until bread starts to brown before adding soy milk mixture and stirring. Allow to cook for 5 minutes, stirring occasionally before taking off heat and adding dried cranberries.
Take one firmly packed cup of stuffing, and form it into a line down the middle of the short edge of the meat rectangle, leaving a 1-inch gap at top and bottom. Using cling wrap, gently lift left side to cover stuffing. Press down gently and peel back cling wrap. Gently lift right side over and press down gently to form a log shape. Carefully press down around log until as firm and smooth as possible, before carefully and firmly sealing log with cling wrap and placing in refrigerator for two hours.
For the glaze, combine all ingredients in a small bowl. Place in refrigerator along with roast.
Preheat oven to 350 degrees. Line a loaf pan with aluminum foil.
Remove roast from refrigerator and remove cling wrap from roast. Place in prepared pan and brush roast liberally with glaze. Place in oven to cook for 20 minutes. Remove and brush with any remaining glaze before returning to oven for 40 minutes more. Allow to sit for 10 minutes before slicing and serving.
For more recipes like this, check out: