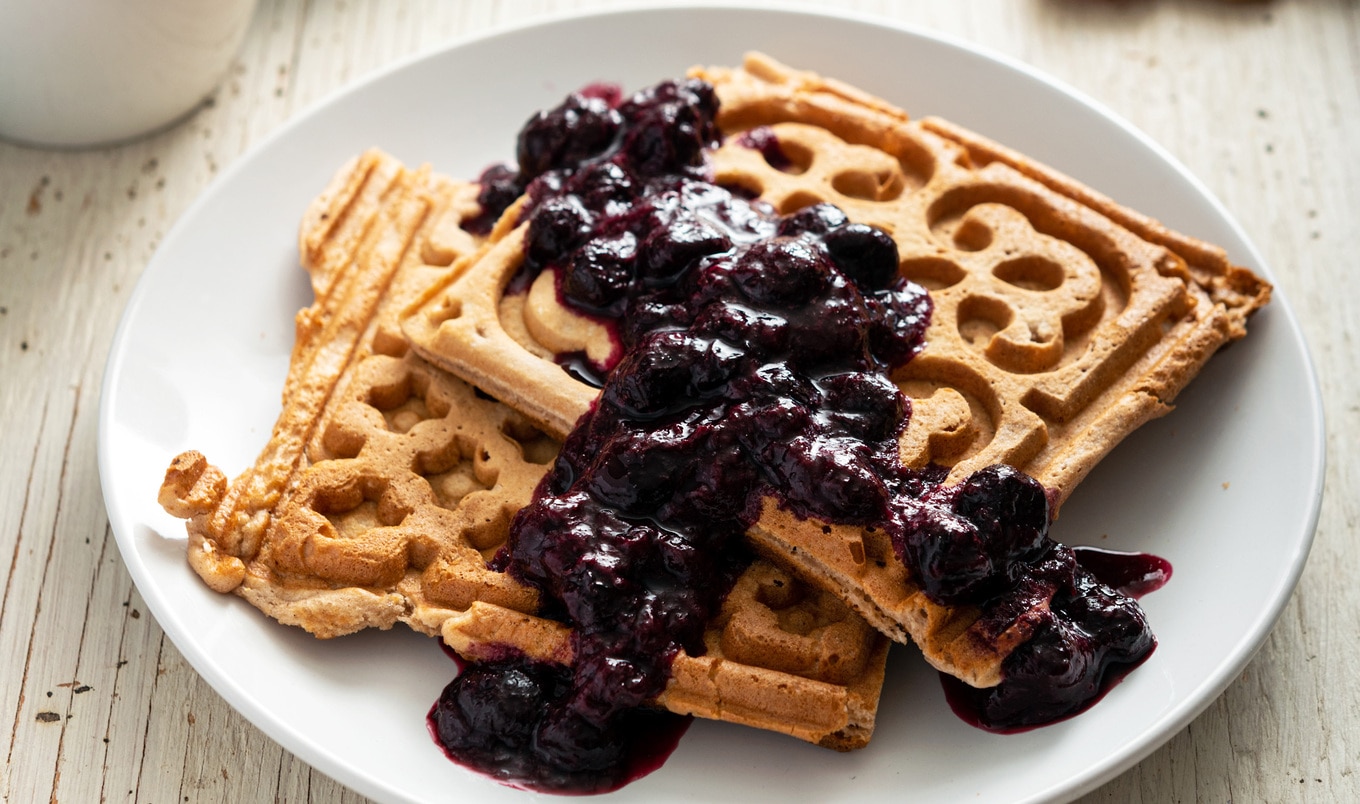 Pair these citrus-infused waffles with a frothy oat milk latte for the ultimate on-the-go breakfast.
September 15, 2021
Bright, tangy blood orange juice and zest gives these waffles from VegNews food columnist' Jackie Sobon's Vegan Yack Attack's Plant-Based Meal Prep cookbook a dose of citrusy-sweet flavor. Our tip? Top with whipped coconut cream and chocolate shavings for even more decadence.
What you need:
For the waffles:
¾ cup blood orange juice
1 teaspoon blood orange zest
¾ cup plain, unsweetened vegan milk
1¼ cups all-purpose flour
½ cup rolled oats
3 tablespoons sugar
2 tablespoons olive oil
2 teaspoons baking powder
2 teaspoons vanilla extract
¼ teaspoon salt
⅛ teaspoon ground cinnamon
For the compote:
1½ cups blueberries
1 cup raspberries
2 tablespoons sugar
1 tablespoon lemon juice
What you do:
For the waffles, preheat a standard waffle maker (not a Belgian waffle maker). Into a blender, pour juice, zest, milk, flour, oats, sugar, olive oil, baking powder, vanilla, salt, and cinnamon. Purée until smooth and allow to rest for 5 minutes to thicken. Cook waffles.
For compote, in a small saucepan, combine all ingredients and cook over medium heat until simmering. Adjust heat to medium-low, cover, and simmer, stirring occasionally, until fruit has softened, about 5 minutes. Mash gently with a spoon and simmer for another 2 minutes, uncovered, then set aside.
Serve waffles warm, topped with berry compote, or allow to cool to room temperature, transfer to a zip-top bag, and freeze for up to 3 months.