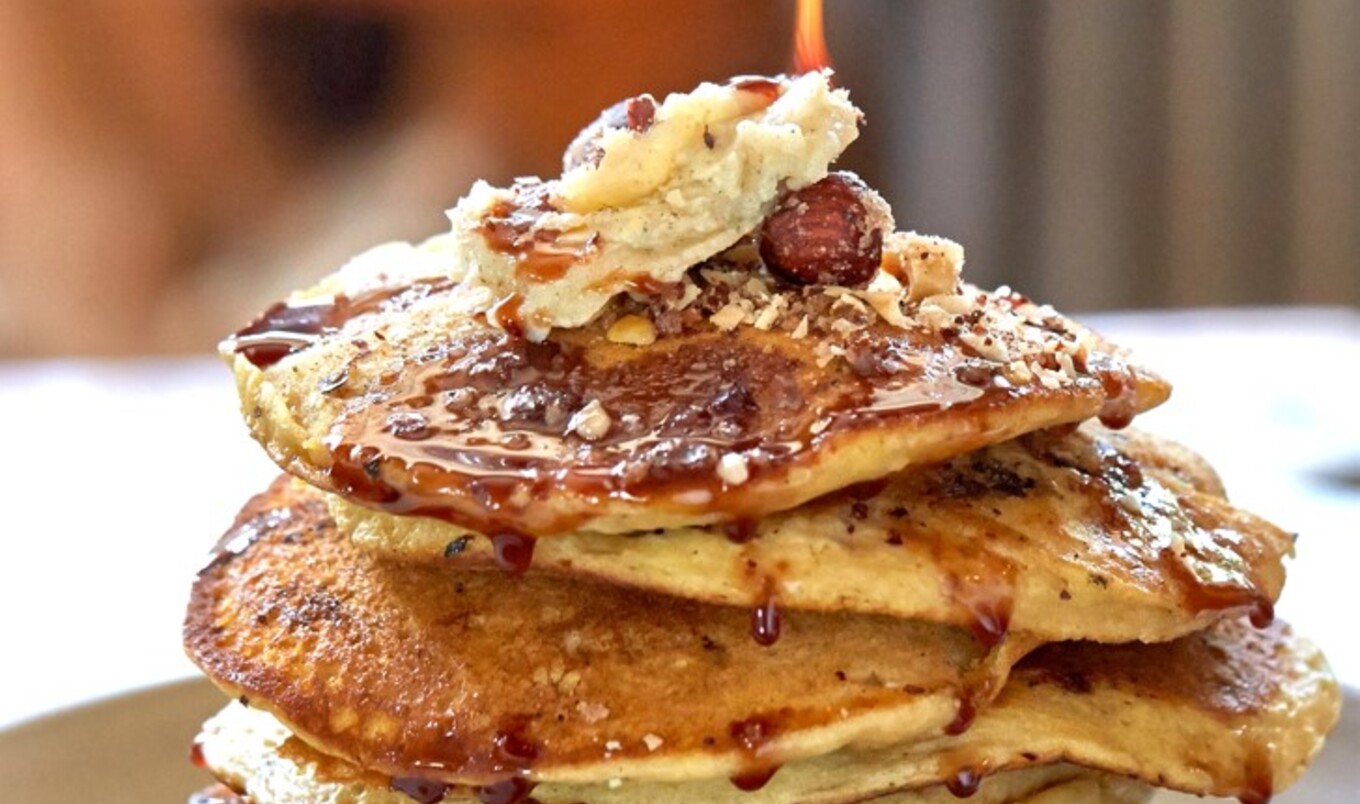 A pat of cardamom-infused brown butter and a sprinkle of sweet, lightly spiced hazelnuts makes these fluffy pancakes absolutely decadent.
February 21, 2023
Why would you serve yourself boring plain pancakes, when you can make your kitchen smell like freshly roasted hazelnuts infused with bourbon and spices? This is classic, all-around versatile pancake recipe from the Street Vegan cookbook and chefs behind the former Cinnamon Snail food truck that will always yield stacks of tasty fluffy pancakes, ready for layering with whatever your heart desires.
What you need:
For the homemade cardamom butter:
¼ cup unsweetened soy milk
½ teaspoon rice vinegar
4 teaspoons maple syrup
¼ teaspoon salt
¼ teaspoon ground cardamom
¼ teaspoon ground cloves
½ cup refined coconut oil, melted
2 tablespoons olive oil
¼ teaspoon xanthan gum
For the bourbon candied hazelnuts:
2 cups hazelnuts
½ cup evaporated cane juice
¼ cup bourbon
½ teaspoon salt
1 teaspoon ground cinnamon
2 tablespoons canola oil
For the pancakes:
1½ cups flour
2 teaspoons baking powder
2 teaspoons baking soda
½ teaspoon salt
¼ cup maple syrup
1⅔ cups unsweetened soy milk
3 tablespoons canola oil, plus more for frying
1 teaspoon vanilla extract
Ground cinnamon, for garnish
Powdered sugar, for garnish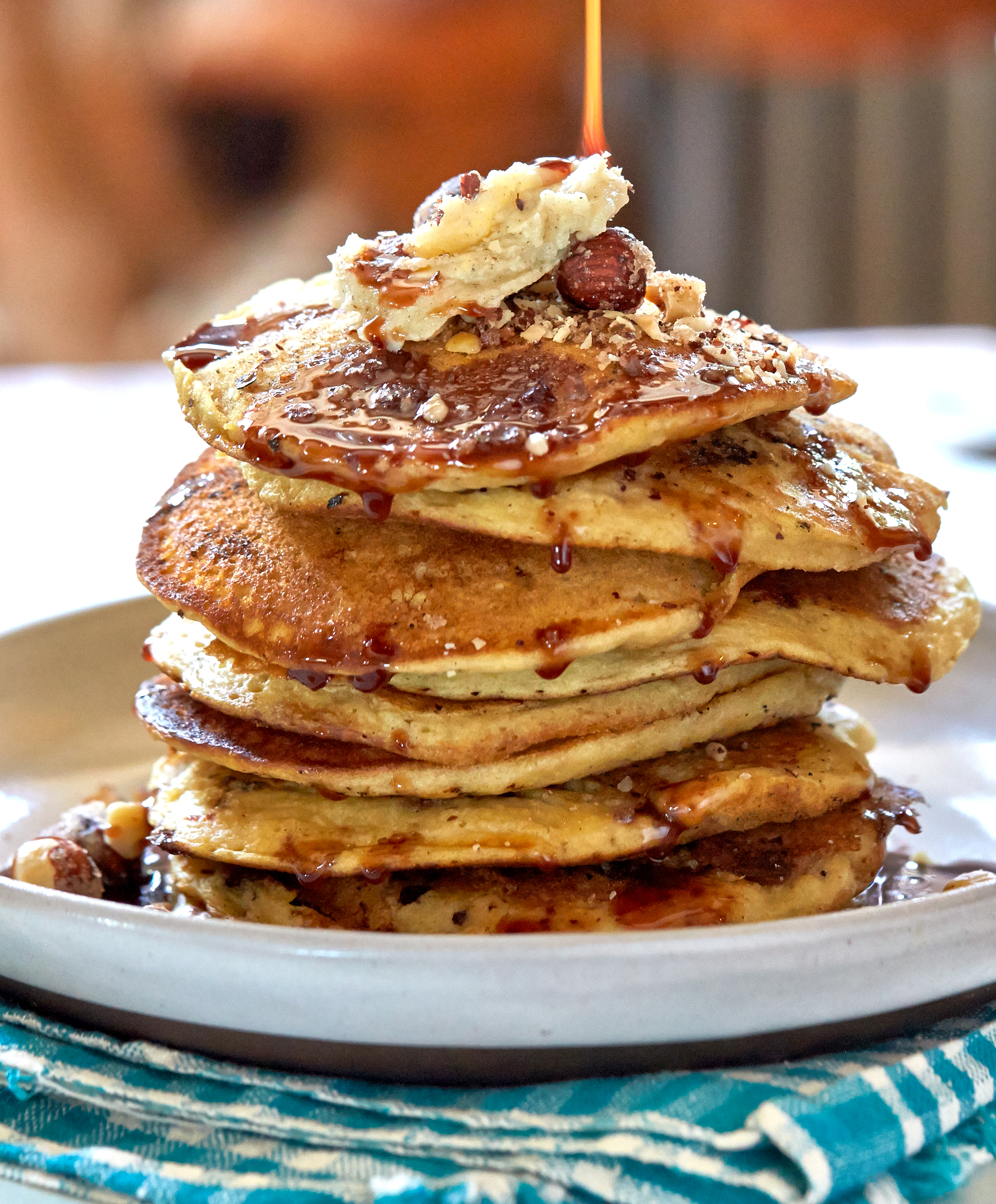 Cinnamon Snail
What you do:
For the cardamom butter, into a high-speed blender, add milk, rice vinegar, maple syrup, salt, cardamom, and cloves and blend on high for 10 seconds. Let sit for 1 minute to allow mixture to curdle. Add melted coconut oil, olive oil, and xanthan gum. Blend on high speed for 60 seconds to thoroughly emulsify. Pour into an airtight container, and chill in freezer for an hour. Transfer to refrigerator until ready to use.
For the candied hazelnuts, preheat oven to 350 degrees. Line a rimmed baking sheet with parchment paper. Into a food processor, add hazelnuts and pulse a few times. In a medium bowl, mix nuts and remaining ingredients.
On prepared baking sheet, evenly spread mixture. Bake for 12 minutes, flipping halfway through to ensure even baking. Allow to cool, and break up any large clusters; store in an airtight container at room temperature.
For the pancakes, in a mixing bowl, whisk flour, baking powder, baking soda, and salt. Make a well in center, and add maple syrup, milk, oil, and vanilla. Whisk until smooth.
Heat a skillet or griddle over medium heat. Lightly oil pan and ladle ¼ cup of pancake batter onto pan. Sprinkle 1 to 2 tablespoons of bourbon hazelnuts onto each circle of batter and let cook for about 2 minutes. Carefully flip pancakes when bubbles appear in center and edges start to brown lightly. Flip and allow to cook for an additional 2 minutes before removing from pan.
Repeat with remaining batter. Place 3 or 4 pancakes on each serving plate. Top with cardamom butter, bourbon hazelnuts, and a sprinkle of cinnamon and powdered sugar.