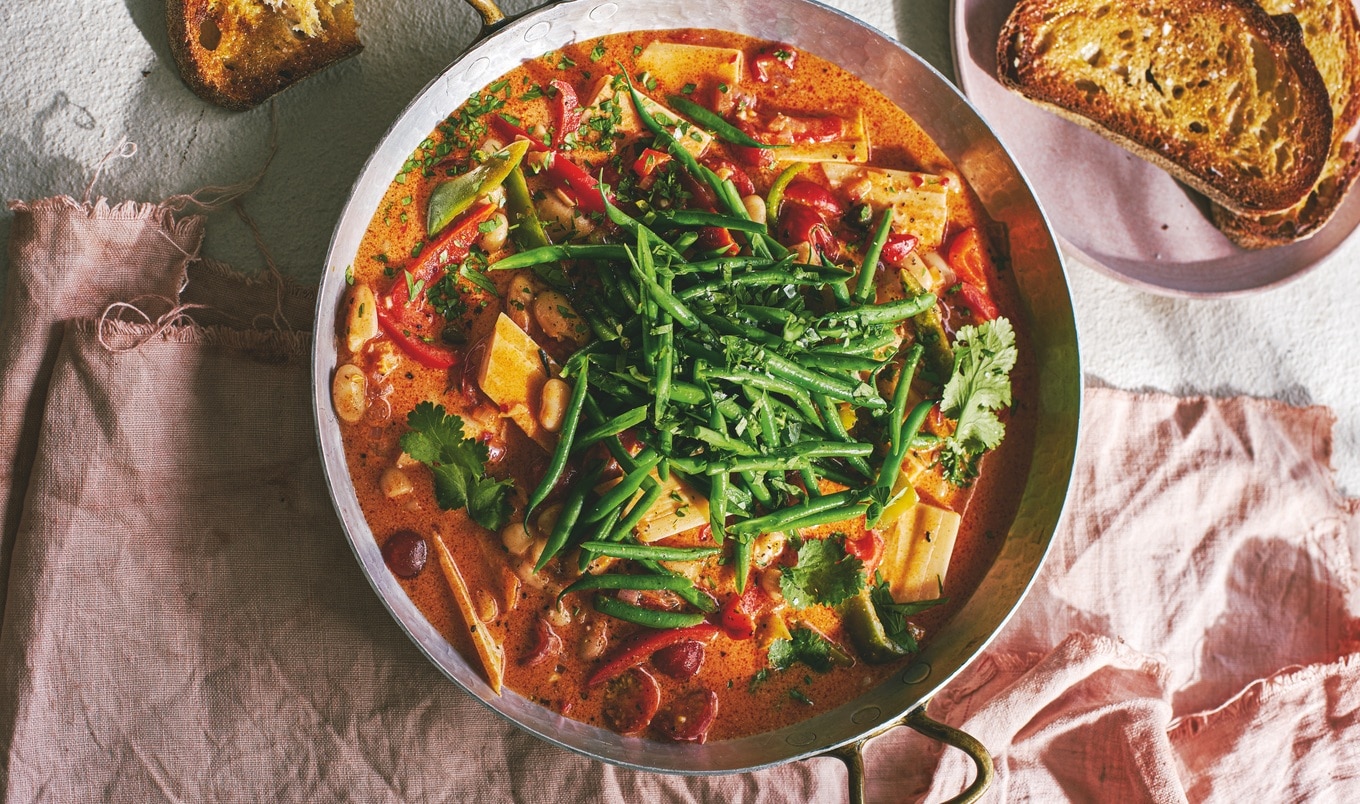 This light and citrusy stew is known for its creamy coconut-tomato base, pops of brightness from fresh herbs and lime, and fishy proteins, which get a plant-based swap in this recipe.
August 3, 2023
This Bahia-style moqueca from the One Pot: Three Ways cookbook by popular London-based blogger and recipe developer Rachel Ama swaps seafood for tender hearts of palm. But jackfruit, vegan chicken, or even white beans can be used as well.
What you need:
1 tablespoon coconut oil
1 red onion, finely diced
1 red bell pepper, sliced
1 green bell pepper, sliced
2 teaspoons sweet smoked paprika
1 tablespoon chilli flakes
1 tablespoon tomato purée
4 garlic cloves, minced
1 (14-ounce) can coconut milk
1 cup vegetable stock
1 (14-ounce) can hearts of palm, sliced lengthways and chopped into 1-inch diagonal chunks
1¼ cup cherry tomatoes, halved
1 tablespoon capers
½ teaspoon salt
¼ teaspoon black pepper
Juice of 2 limes, divided
¾ cup parsley
¾ cup cilantro
What you do:
In a large saucepan over medium heat, warm oil. Add onion and peppers and cook for 5 minutes. Add paprika, chili flakes, tomato purée, and garlic and cook for another 2 minutes. Stir in coconut milk, vegetable stock, hearts of palm, tomatoes, and capers. Add salt and pepper, bring to a simmer, then reduce heat to low and cook for 30 minutes.
To pan, add half of lime juice and cook for another 5 minutes. Turn off heat and stir in parsley and cilantro. Serve warm.
For more recipes like this, check out: