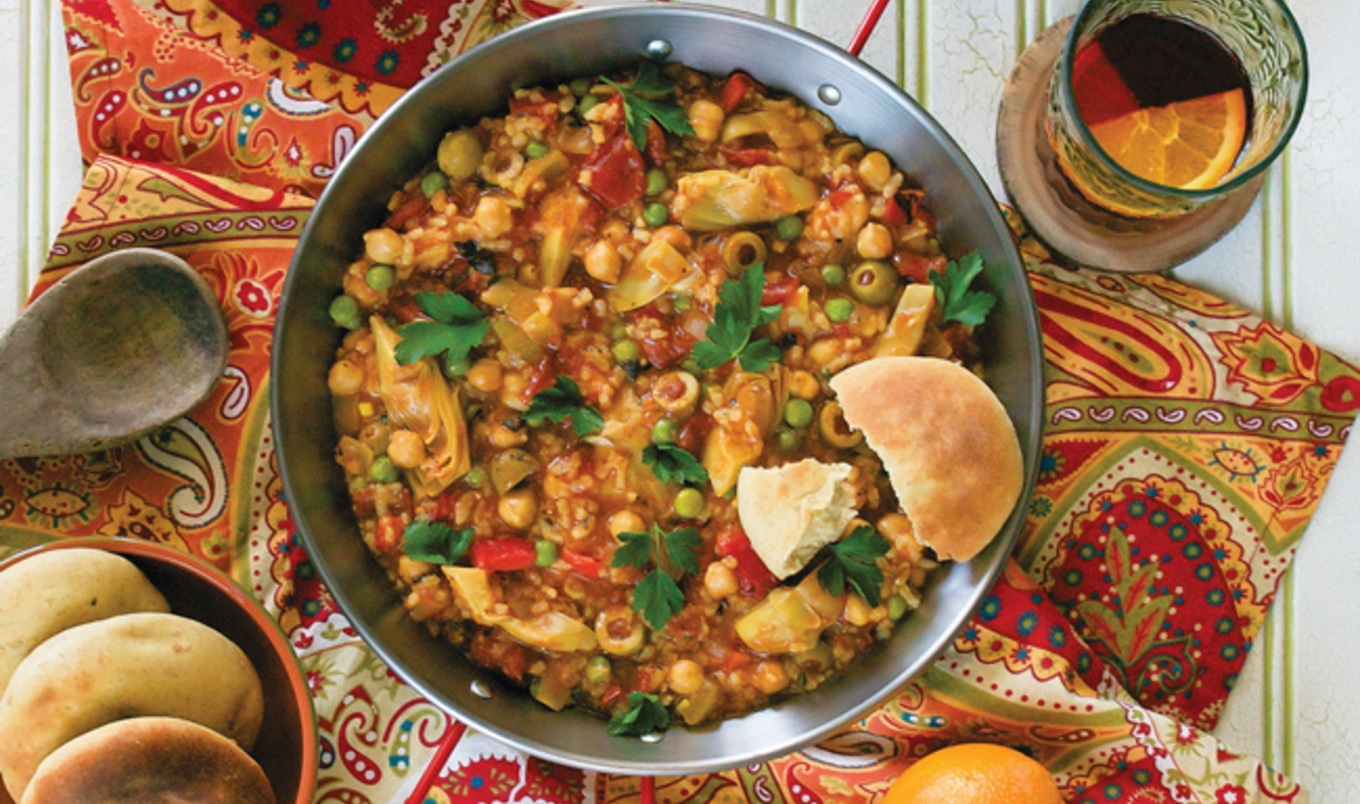 We love this vegan version of the traditionally meat- and seafood-packed Spanish rice dish.
May 25, 2016
Serves 4
What you need:
1 tablespoon olive oil
1 large yellow onion, chopped
3 garlic cloves, minced
1 cup vegetable broth
1 pinch saffron threads or ground turmeric (for color)
1 teaspoon smoked paprika
1 teaspoon dried oregano
1/2 teaspoon red pepper flakes
1 (28-ounce) can diced fire-roasted tomatoes, undrained
Salt and pepper
1 cup frozen green peas, thawed
1 (15.5-ounce) can chickpeas, drained and rinsed
2-1/2 to 3 cups cooked rice
1 (6-ounce) jar marinated artichoke hearts, drained and chopped
1 (6-ounce) jar roasted red bell pepper, drained and chopped
1/2 cup sliced pimiento-stuffed green olives
2 tablespoons chopped fresh parsley
What you do:
1. In a large saucepan or Dutch Oven over medium heat, heat oil. Add onion and cook for 5 minutes to soften. Add garlic and cook 1 minute longer. Stir in broth, saffron, paprika, oregano, red pepper flakes, tomatoes, and tomato juice.
2. Bring to a boil, then lower heat to medium. Season with salt and pepper to taste, cover, and simmer for 8 minutes. Stir in the peas, chickpeas, rice, artichoke hearts, roasted red bell pepper, olives, and parsley. Cook 3 to 5 minutes longer, stirring gently, to heat through. Taste and adjust the seasonings, if needed. Serve hot.
Photo courtesy of Annie Oliverio