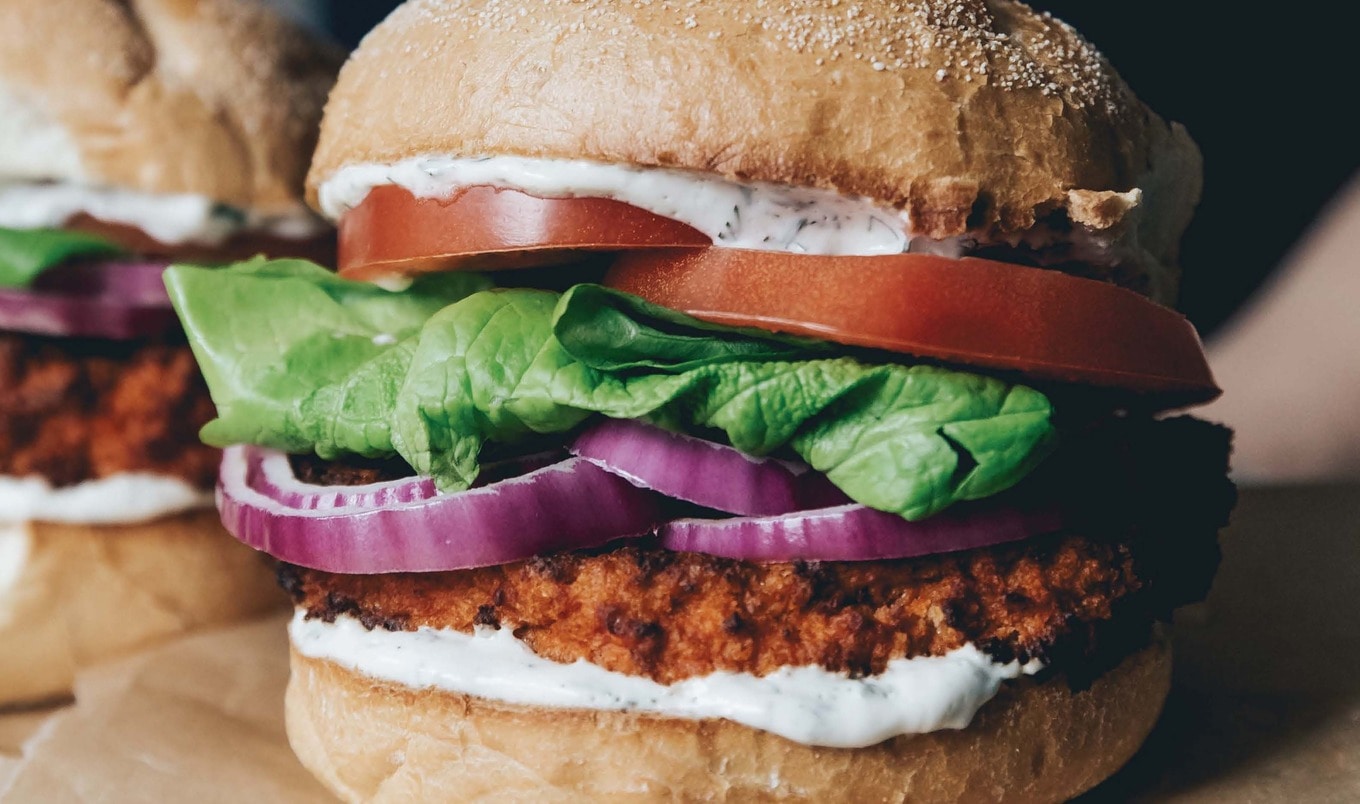 Panko bread crumbs make the cauliflower crispy, crunchy, and totally irresistible in this impressive homemade take on a buffalo chicken sandwich.
July 23, 2023
You can swap the Buffalo sauce for BBQ sauce in this recipe from the Hot For Food Comfort Classics for a milder version of this mouthwateringly good sandwich.
What you need:
For the buffalo cauliflower:
2 heads cauliflower
1½ cups all-purpose flour
4 teaspoons garlic powder
4 teaspoons onion powder
2 teaspoons ground cumin
2 teaspoons paprika
½ teaspoon salt
½ teaspoon black pepper
¾ cup unsweetened vegan milk
¾ cup water
3 cups panko-style bread crumbs
¼ cup vegan butter
1½ cups buffalo-style hot sauce
For the sandwiches:
4 kaiser-style rolls
Vegan ranch
1 cup thinly sliced red onion
2 cups shredded leaf lettuce
2 tomatoes, thinly sliced
What you do:
Preheat oven to 450 degrees. Line a baking sheet with parchment paper.
For the cauliflower, remove leafy parts, being careful not to cut off any florets. Slice each head in half from top. From inside of each half, cut a slice ¾-inch to 1-inch thick, resulting in 4 large cauliflower steaks.
In a large bowl, mix flour, garlic powder, onion powder, cumin, paprika, salt, pepper, milk, and water until well combined. Transfer batter to a wide, shallow dish that will fit cauliflower steaks. Into a large bowl, add bread crumbs.
Immerse each steak in batter, using one hand to coat all crevices and letting some excess drip back into dish. Coat all sides of steaks in bread crumbs. Place breaded cauliflower steaks on baking sheet.
Bake for 25 minutes, until crispy, flipping halfway through bake time.
Melt butter. Into a shallow dish, add melted butter and hot sauce, and whisk.
Remove cauliflower from oven. Let cool for five minutes. Coat breaded cauliflower steaks evenly on all sides in buffalo sauce. Reserve excess sauce to baste cauliflower before serving. Bake again for 25 minutes, flipping steaks halfway through bake time.
To assemble sandwiches, cut rolls in half and toast. Spread a generous amount of ranch dressing on cut sides of each roll. Place a buffalo cauliflower steak on bottom half of each roll. Add red onion slices, lettuce, tomato slices, and top half of roll.
For more recipes like this, check out: