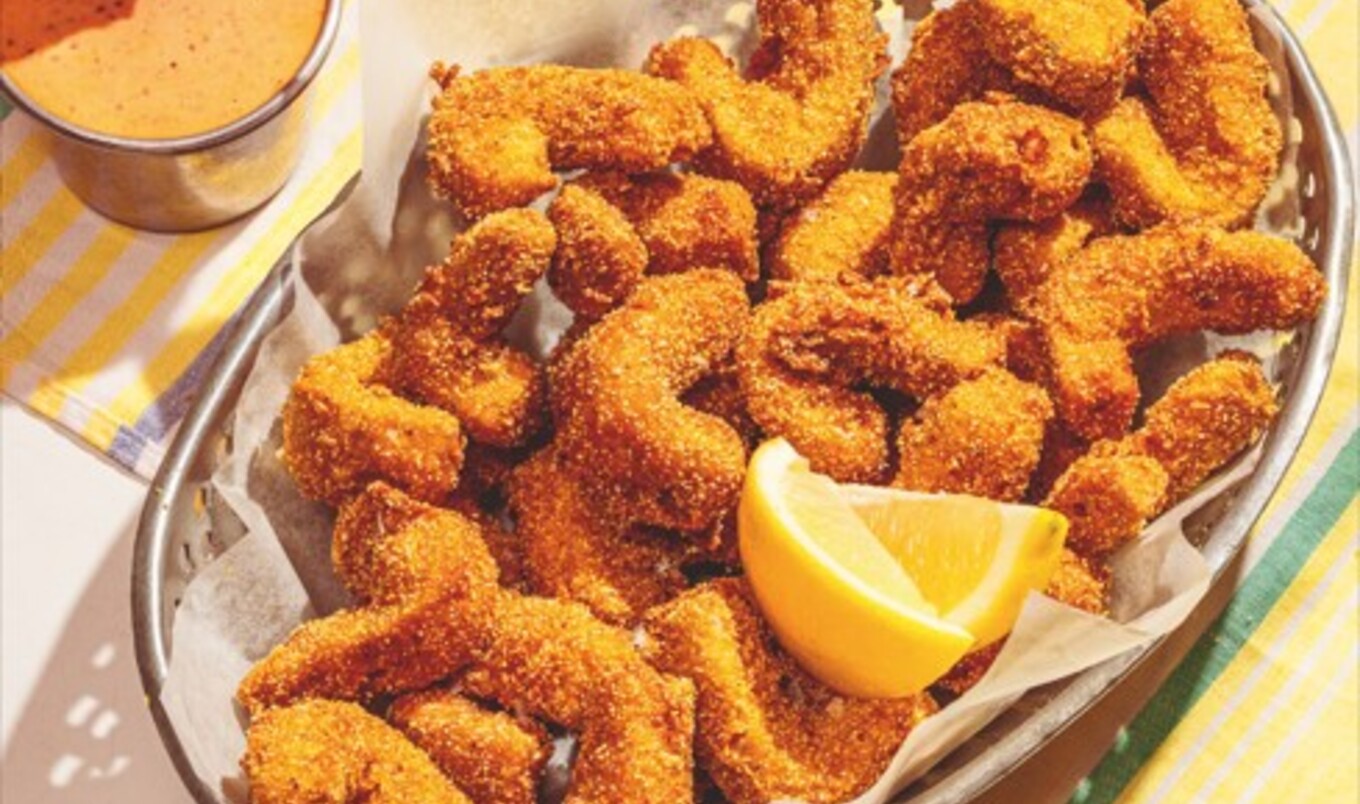 Picture this: plump, succulent "shrimp" that are entirely plant-based yet carry the bold Cajun flavors that make your palate dance with delight.
June 20, 2023
If you've been on the lookout for a dish that will transport your taste buds to the vibrant streets of New Orleans, look no further. We're about to embark on a culinary journey that promises to ignite your senses and satisfy your cravings with a twist—vegan Cajun shrimp with remoulade from the Anything You Can Cook, I Can Cook Vegan cookbook.
What you need:
For the rémoulade:
½ cup vegan mayonnaise
1 tablespoon ketchup
1 tablespoon wholegrain mustard
1 teaspoon lemon juice
1 garlic clove, crushed or finely grated
1 tablespoon vegan horseradish cream
1 teaspoon hot sauce
1 teaspoon vegan Worcestershire sauce
¼ teaspoon Cajun seasoning
For the shrimp:
5 king oyster mushrooms
1 cup all-purpose flour
Sunflower oil, for deep-frying
Lemon wedges, to serve
For the batter:
1 tablespoon chickpea flour
1 teaspoon grapeseed oil
⅓ cup soy milk
1 tablespoon hot sauce
1 tablespoon English mustard
2 teaspoons Cajun seasoning
For the dry coating:
¾ cup cornmeal
1 cup all-purpose flour
2 teaspoons Cajun seasoning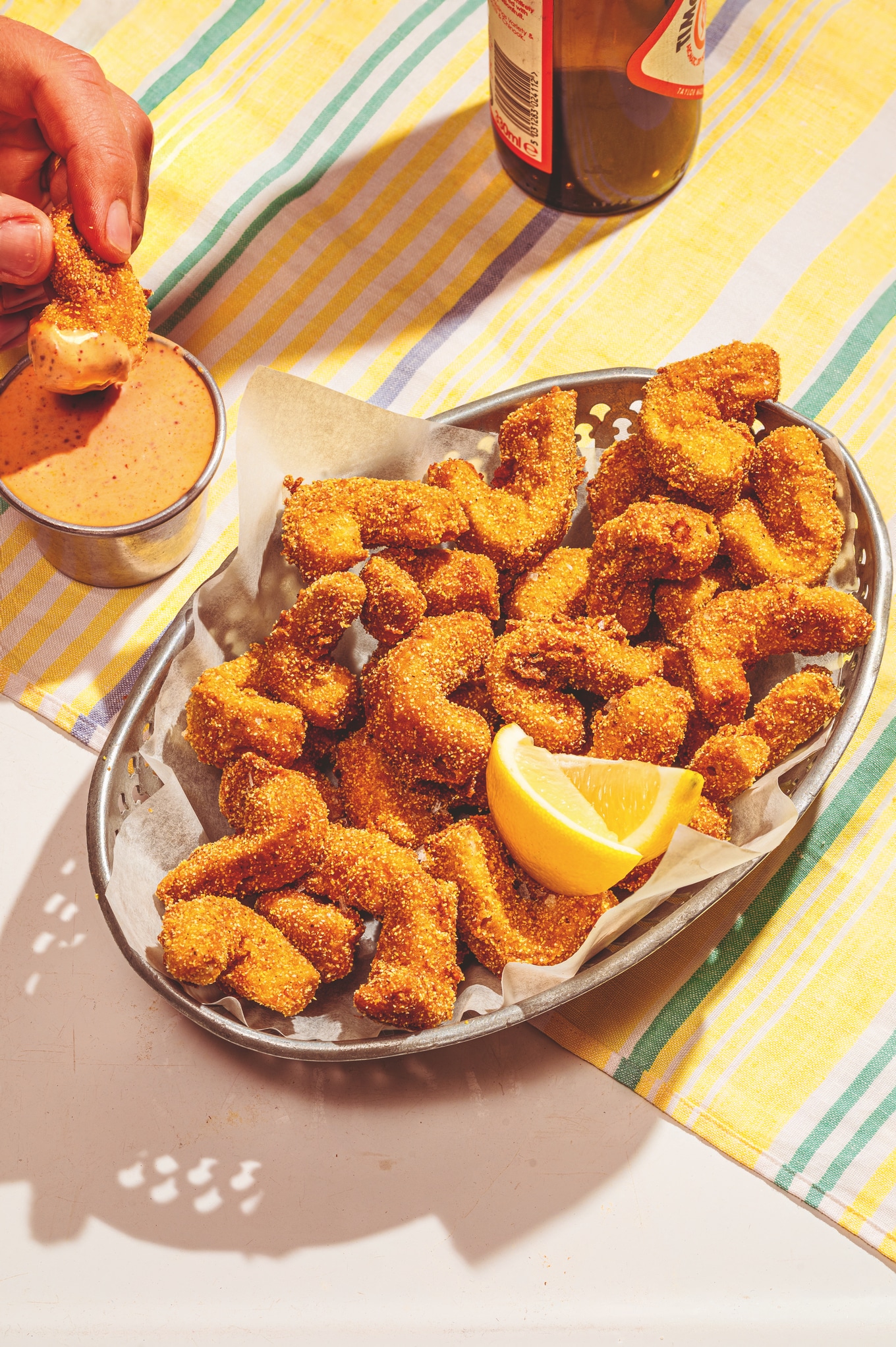 Anything You Can Cook, I Can Cook Vegan
What you do:
1. For the rémoulade, into an empty jar add all ingredients and mix well. Seal with lid and refrigerate until needed.
2. For the shrimp, cut flat tops and bottoms off king oyster mushrooms. Trim each stem to a 3-inch long cylinder, then slice into quarters lengthwise. Place in a heatproof bowl and cover with just-boiled water. Cover with a plate and let soften for 5 minutes.
3. Drain mushrooms and let cool for a few minutes, then return to a dry bowl. Add flour and toss to coat all sides of mushrooms. Bend a strip of mushroom into a shrimp shape, threading a toothpick through to keep it in place. Repeat with remaining pieces of mushroom until there are 20 shrimps on toothpicks.
4. Fill a medium saucepan with 2-3 inches of sunflower oil and place over medium heat until it reaches 340 degrees.
5. For the batter, in a bowl, whisk all ingredients. Set aside.
6. For the dry coating, in a separate bowl, mix all ingredients.
7. Carefully dip shrimp into batter, then transfer to dry mixture to coat. Carefully lower into hot oil in batches of 5. Remove
from oil when crispy and lightly browned and drain on paper towels. Repeat with remaining shrimp. Carefully remove skewers.
8. Serve hot with rémoulade and lemon wedges for squeezing.
For more recipes like this, check out:
Here at VegNews, we live and breathe the vegan lifestyle, and only recommend products we feel make our lives amazing. Occasionally, articles may include shopping links where we might earn a small commission. In no way does this effect the editorial integrity of VegNews.