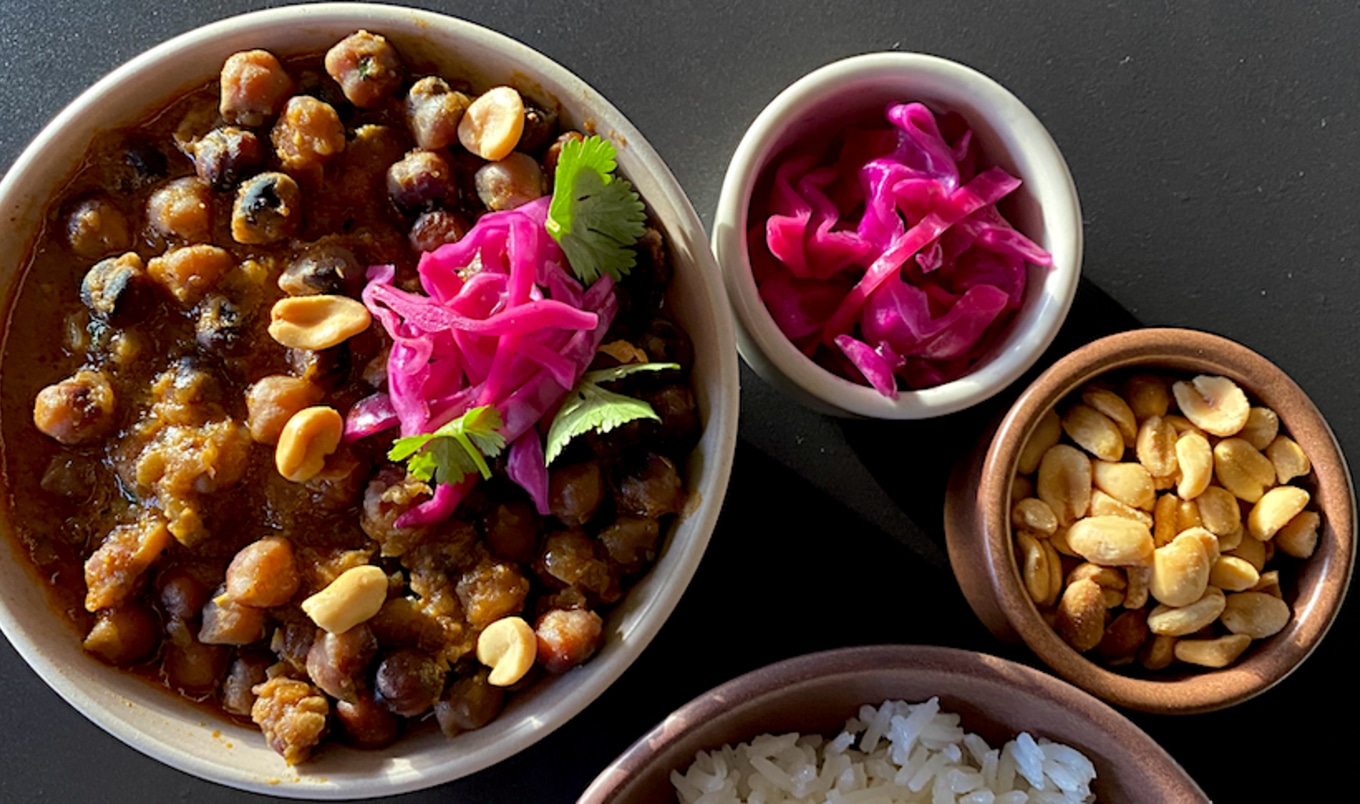 This spicy and creamy chickpea stew is inspired by the rich soul food of Peru.
February 10, 2021
Toasted dry chickpeas add smoky flavor and crunchy texture, native Peruvian hot peppers give heat, and five spice infuses aromatics into this recipe from The Vegan Peruvian Kitchen cookbook. Peanut butter makes the stew creamy, while agave and red wine provide balance and depth.
What you need:
For the pickled purple cabbage:
2 cups julienned purple cabbage
2 teaspoons lime juice
1 teaspoon white wine vinegar
¼ teaspoon salt
For the chickpea stew:
1 cup dry chickpeas
4 tablespoons peanut oil
1 cup diced red onion
2 cloves garlic, minced
2 teaspoons aji panca hot pepper paste
2 teaspoons aji amarillo hot pepper paste
½ teaspoon salt
½ teaspoon pepper
½ teaspoon cumin
½ teaspoon oregano
1 teaspoon Chinese five spice powder
2 cups vegan beef stock
1 tablespoon creamy peanut butter
4 tablespoons agave
3 tablespoons red wine
Cilantro leaves and roasted peanuts, for garnish
What you do:
For the pickled purple cabbage, in a sealable container, combine purple cabbage, lime juice, vinegar, and salt. Seal and shake well to mix. Refrigerate for 1 hour before using.
For the chickpea stew, in a dry skillet over medium heat, toast chickpeas. Stir often until begin to brown, about 8 minutes. Transfer toasted chickpeas to a large pot and cover with 1-inch water (about 4 cups). Bring to a boil, turn off heat, cover, and let soak for 2 hours. Strain before using.
In a 2-quart pot over medium heat, warm oil and sauté red onion with garlic until onion becomes translucent, about 5 minutes. Add aji panca, aji amarillo, salt, pepper, cumin, oregano, and five spice. Sauté, stirring occasionally, for 5 more minutes.
Add toasted chickpeas plus stock, stirring well. Bring to a simmer and cook until liquid reduces to level of chickpeas, about 30 minutes. Remove from heat and add peanut butter, agave, and wine. Let rest for 10 minutes before serving.
In four serving bowls, divide stew and top with pickled cabbage, cilantro leaves, and roasted peanuts. Accompany with a side of steamed rice.