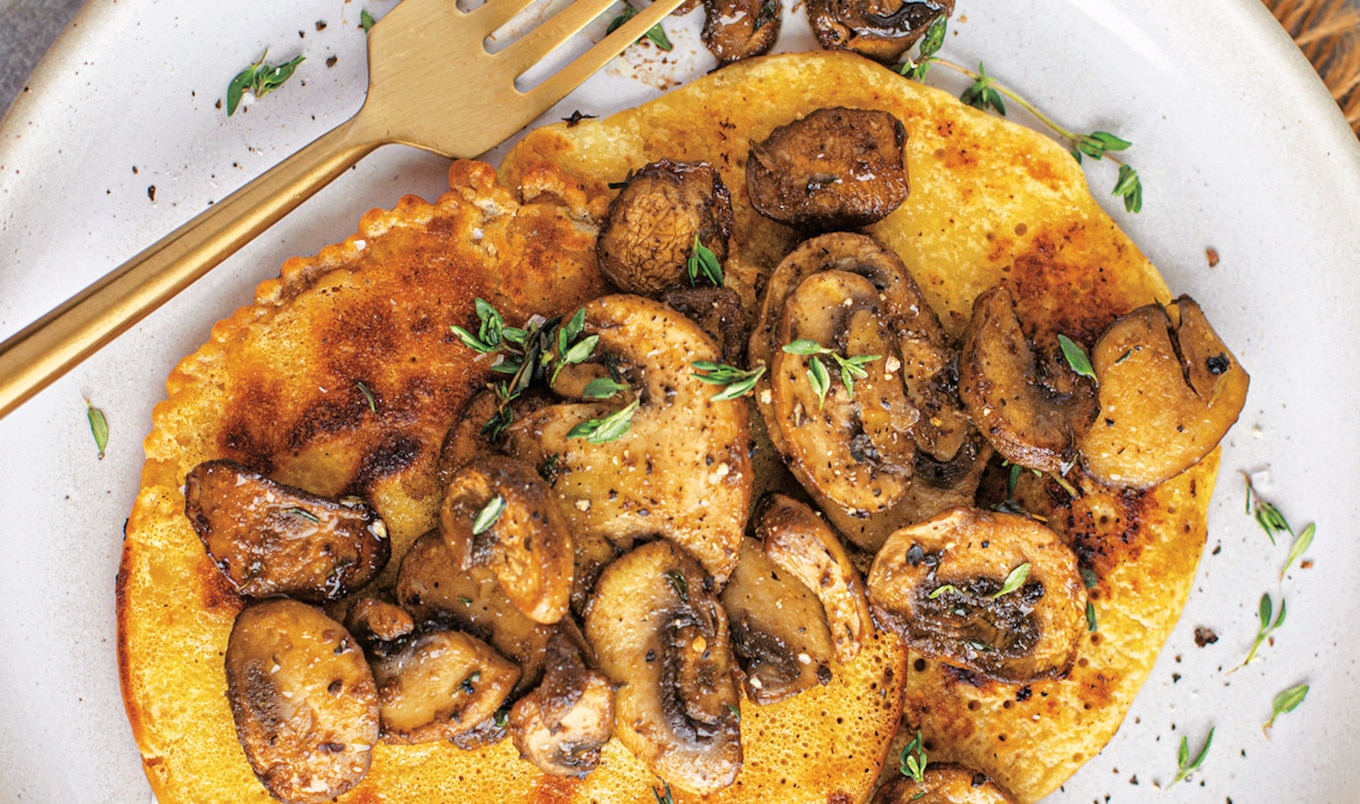 Balsamic-glazed mushrooms are quick-cooked and then wrapped up in a simple chickpea flour pancake.
July 18, 2021
This filling and tasty brunch or lunch dish from the Effortless Vegan comes together in no time and will make you feel like you're having a restaurant quality meal in the comfort of your own home.
What you need:
½ cup chickpea flour
½ cup water
1 teaspoon salt, divided
3 tablespoons olive oil, divided
2 cups cremini mushrooms, sliced
1 tablespoon balsamic vinegar
½ teaspoon garlic powder
1 tablespoon fresh thyme, plus more for garnish
Vegan parmesan, for garnish
What you do:
For the pancake batter, in a medium-sized bowl, whisk chickpea flour, water, ¼ teaspoon of salt, and 1 tablespoon olive oil until smooth. Set aside.
For the balsamic mushrooms, warm a large, non-stick skillet over high heat and add 1 tablespoon olive oil. When oil is hot, add mushrooms, vinegar, garlic powder, thyme, and remaining salt to skillet. Stir and continue to sauté over high heat for 5 minutes as mushrooms caramelize. Reduce heat to low and cook for 4 to 5 minutes.
Remove mushrooms from skillet and set aside. Wipe down skillet and add remaining 1 tablespoon olive oil. When oil is hot, pour batter into hot skillet, about 3 tablespoons at a time. There should be 4 pancakes, about 4 inches in diameter, in skillet. If skillet isn't large enough to fit all four, cook two at a time.
Let pancakes cook for about 5 minutes until edges begin to brown. Carefully flip over and cook for 4 to 5 minutes, until golden. Once pancakes are done, divide between two plates and top with sautéed mushrooms, fresh thyme, and vegan parmesan.
Photo credit: Sarah Nevins