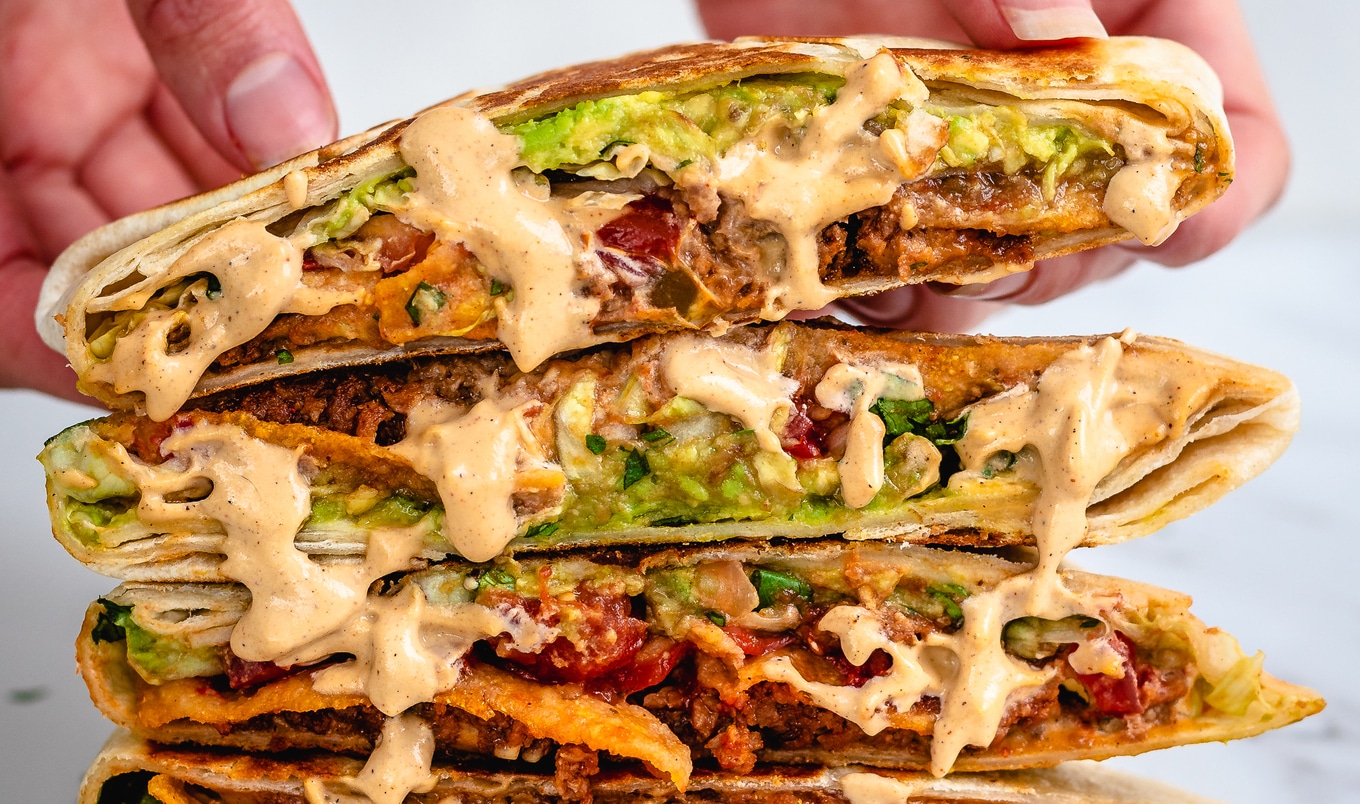 Spicy, homemade cashew-based queso is layered into this plant-based meaty, crunchy take on the fast food classic.
January 1, 2023
Skip the drive-thru line and make your own delicious crunchwrap supreme in the comfort of your own home. You can use store-bought queso, but this cashew version, from Two Spoons food blogger Hannah Sunderani, takes this already mouthwatering dish to the next level.
What you need:
For the Cashew Queso:
1 cup raw cashews
¾ cup hot water
2 tablespoons nutritional yeast
1 clove garlic
1 teaspoon chili powder
½ teaspoon onion powder
½ teaspoon cumin
½ teaspoon salt
2 teaspoon hot sauce
For the Crunchwrap Supreme:
1 cup Cashew Queso
1 tablespoon coconut oil
1 (12-ounce) package plant-based ground beef
4 teaspoons taco seasoning
6 large 10-inch tortillas
2 cups tortilla chips
½ cup salsa
½ cup chopped tomatoes
1 cup grated iceberg lettuce
¼ cup chopped cilantro
2 avocados, mashed
6 small 5-inch tortillas
Olive oil, for drizzling
What you do:
For the Cashew Queso, into a high-speed blender, add all ingredients and blend until smooth. Set aside.
For the Crunchwrap Supreme, in a large skillet over medium-heat, warm coconut oil and add plant-based beef and taco seasoning. Cook until browned, about 5 to 7 mins. Transfer to a bowl and side aside.
In the center of a large tortilla, spread 2 tablespoons Cashew Queso leaving a 2-inch barrier around edges for folding. Top with plant-based ground beef and arrange tortilla chips placed side-by-side with tips facing inwards to make a circle shape. Add salsa, tomatoes, lettuce, cilantro, and smashed avocado.
Top with small tortilla and fold in edges of large tortilla to close. Repeat with remaining tortillas and ingredients.
In a large skillet over medium heat, warm olive oil and place Crunchwrap seam-side down. Cook for 2 to 3 minutes until exterior is firm and golden brown, flip and cook other side until golden. Set aside and repeat with remaining Crunchwraps. Cut and serve.