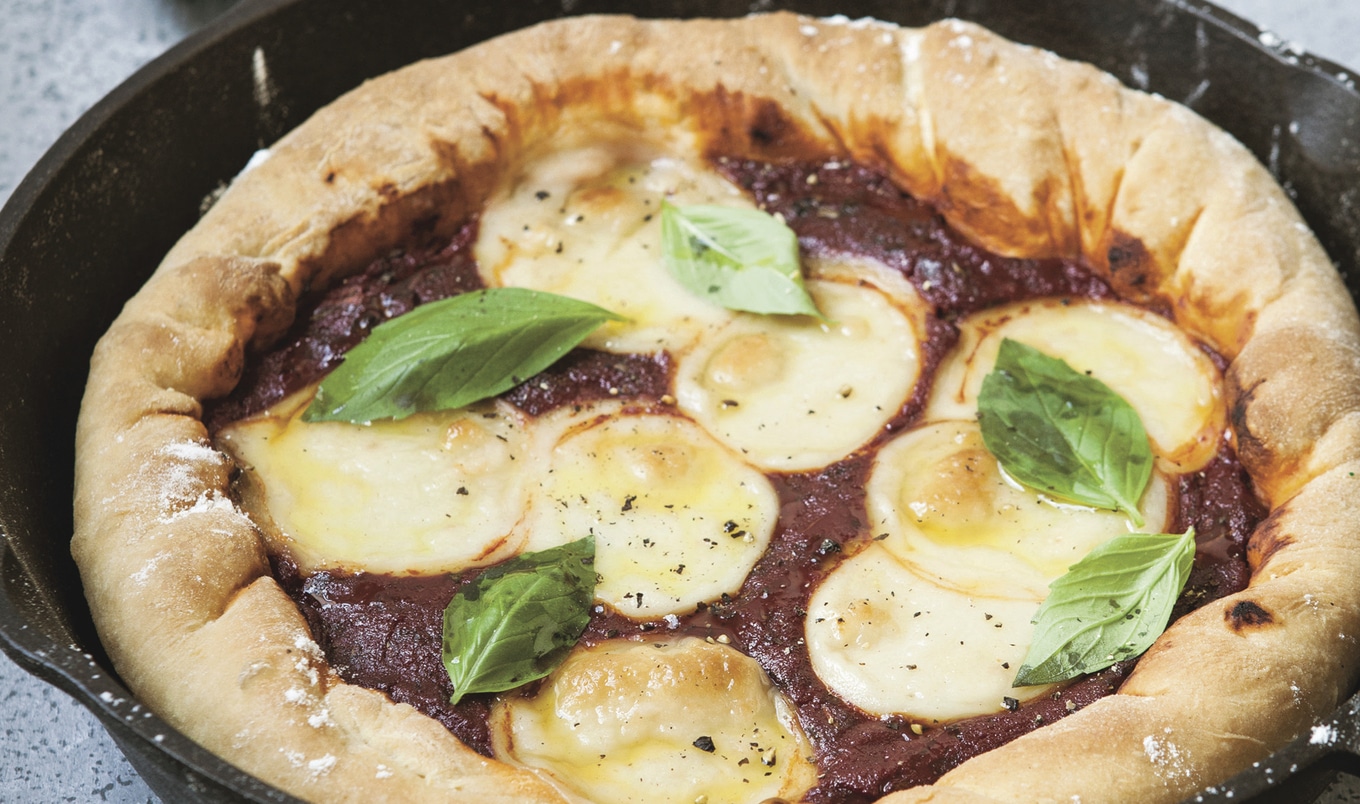 This classic deep-dish pie is indulgent and comes together with just a few ingredients.
May 10, 2020
You can easily switch up this deep-dish pizza, from the So Vegan in 5 cookbook, by adding your favorite vegan meats, additional cheeses, or roasted vegetables.
What you need:
2 cups all-purpose flour, plus extra for dusting
1 teaspoon instant dry yeast
1 teaspoon salt, divided
⅔ cup lukewarm water
1 tablespoon olive oil, plus more for garnish
½ cup fresh basil, roughly chopped, plus extra to garnish
1 cup tomato paste
⅓ cup cold water
2 teaspoons apple cider vinegar
½ teaspoon black pepper, plus more for garnish
⅔ cup vegan mozzarella
What you do:
In a large mixing bowl, combine flour, yeast, and ½ teaspoon of salt and create a well in middle. Pour lukewarm water into well, followed by oil, then use a spoon to mix into a sticky ball.
Transfer dough to a floured surface and knead for 5 minutes, adding flour to prevent dough from sticking to hands or surface.
Place dough into a lightly greased mixing bowl, cover with a clean kitchen towel, and leave to proof somewhere warm for at least an hour until dough has doubled in size.
Preheat the oven to 475 degrees. Gently punch dough a few times to knock air out and transfer to a floured surface. Roll dough out into a round shape, roughly 14 inches in diameter. Lightly grease a 10-inch oven-proof frying pan, then add pizza dough to pan so it covers the bottom and falls slightly over edges.
To a medium bowl, add basil, tomato paste, cold water, apple cider vinegar, ½ teaspoon of salt, and pepper. Stir to combine, then spoon over dough. Trim any excess dough that is hanging over edge of pan, then fold sides in on themselves to create a thick crust.
Add vegan mozzarella and spread evenly on top of sauce. Bake in oven for 20 minutes, or until crust turns light brown.
To finish, drizzle pizza with olive oil, top with more black pepper, and garnish with basil leaves.