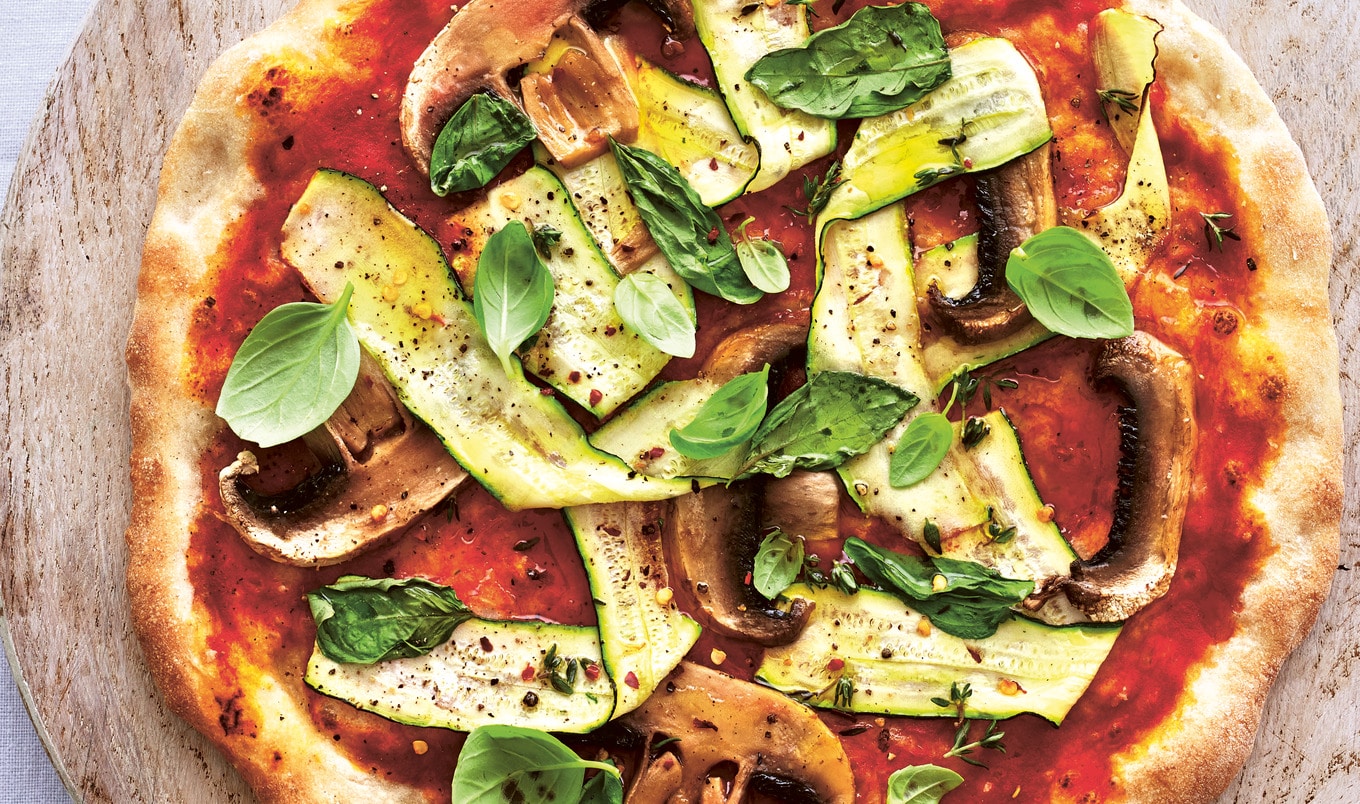 Ribbons of zucchini, meaty portobellos, and fragrant truffle oil makes skipping the meat and cheese easy as dish.
March 31, 2021
Pizza can be healthful and mouthwatering all at the same time, and this veg-forward, flavor-packed pie from Heather Whinney's Virtually Vegan proves it. Pro tip: sprinkle with a bit of vegan cheese for a more classic take on pizza.
What you need:
4 cups '00' flour or strong white flour, sifted, plus extra for dusting
1 sachet instant active dried yeast
⅛ teaspoon sea salt
1½ cups warm water
4 tablespoons olive oil, plus extra for greasing
For the toppings:
8 tablespoons tomato purée
2 ounces portobello mushrooms, finely sliced
4 zucchinis, sliced into ribbons
⅛ teaspoon chili flakes
¼ cup truffle oil
1 handful basil leaves, to garnish
A few oregano leaves, to garnish
What you do:
For the pizza dough, into a stand mixer, add flour, yeast, and salt. Make a well in the middle and slowly pour in water. Using the dough beaters, beat until mixture comes together, then add 4 tablespoons of olive oil and continue to mix until a dough is formed. Transfer to a lightly floured surface and knead for about 10 minutes until dough softens and becomes spongy.
Place dough in a medium bowl, cover with plastic wrap or a dish towel and leave in a warm place for 30 to 40 minutes or until doubled in size.
Preheat oven to its highest setting and place a baking sheet in oven.
On a lightly floured surface, place dough and knead for three minutes, then divide into four equal balls.
Using your hands, roll and stretch 1 ball to 10 inches in diameter. Lightly oil the hot baking sheet and carefully place dough on to sheet. Add 2 tablespoons of tomato purée, spreading to cover evenly. Top with a quarter of mushrooms and zucchini, sprinkle with chili flakes, and drizzle with 1 tablespoon truffle oil. Bake for 10 minutes until golden. Remove and continue with remaining 3 pizza dough balls and toppings. Garnish with basil and oregano, slice into triangles, and serve.