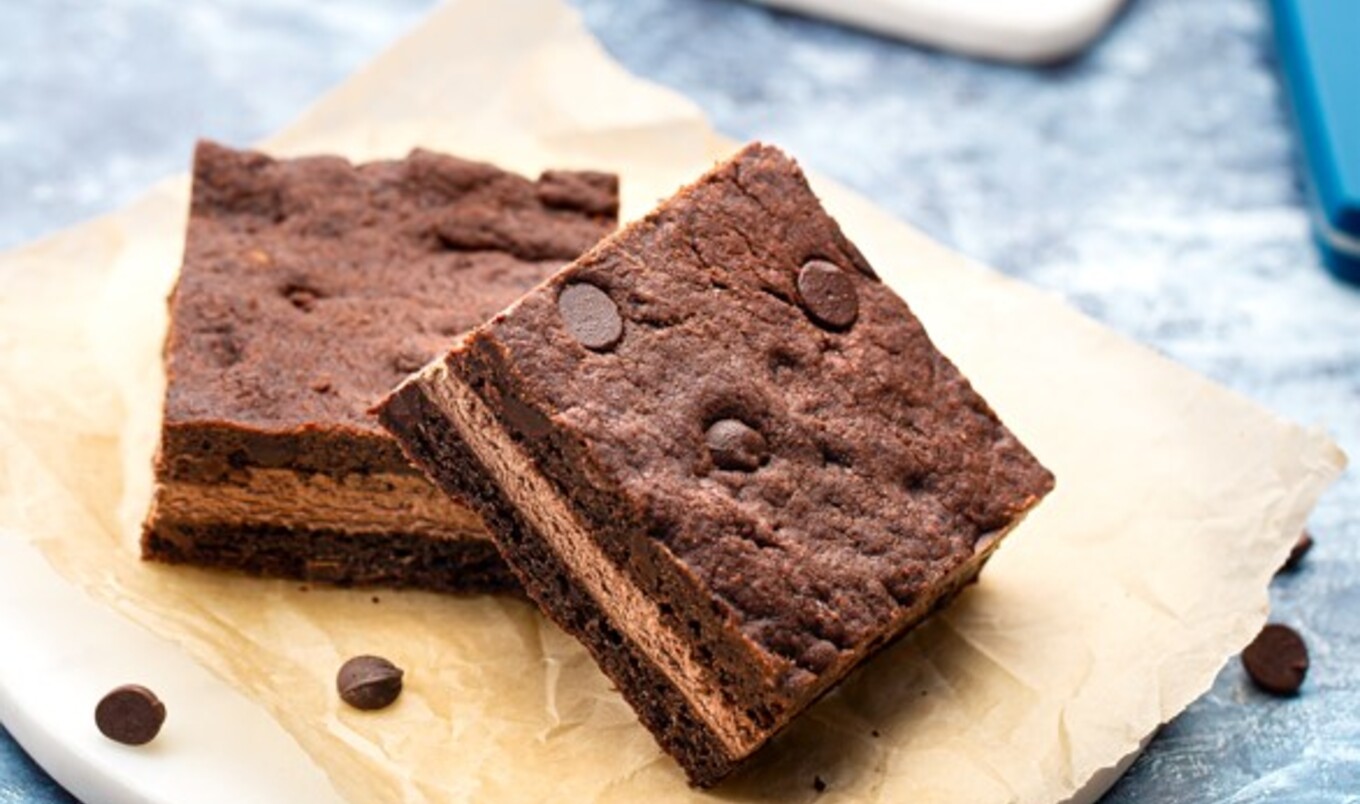 Calling all chocoholics: Meet your new dark, decadent obsession. Thick, chewy, chocolatey cookie bars meet creamy no-churn ice cream in a single big batch.
June 14, 2023
Let us offer you a pro tip for this recipe from The Everyday Vegan Cheat Sheet cookbook. The longer you can let the cookies sit with the frozen filling, the softer they'll get, creating a perfectly matched fudgy bite all the way through.
What you need:
For the chocolate-chocolate chip cookie bars:
¾ cup vegan butter or refined coconut oil, melted
1 cup dark brown sugar, firmly packed
½ cup sugar
½ cup unsweetened applesauce
2 teaspoons vanilla extract
2½ cups all-purpose flour
½ cup Dutch-process cocoa powder
1 teaspoon salt
½ teaspoon baking powder
1 teaspoon baking soda
1 cup semi-sweet chocolate chips
For the no-churn chocolate ice cream:
2 (14-ounce) cans full-fat coconut milk, chilled
2⁄3 cup powdered sugar
1⁄3 cup Dutch-process cocoa powder
½ teaspoon vanilla extract
What you do:
Preheat oven to 350 degrees and line a half sheet pan with aluminum foil, but do not grease. Set aside.
For the chocolate-chocolate chip cookie bars, in a large bowl, whisk melted butter, brown sugar, sugar, applesauce, and vanilla. Stir until fully incorporated.
In a separate bowl, sift flour, cocoa, salt, baking powder, and baking soda. Whisk, add chocolate chips, and toss to coat. Pour liquid ingredients into dry and use a wide spatula to fold together. Stir until just combined.
Transfer to prepared sheet pan and smooth out into one even layer. Bake for 20 to 24 minutes, until appears dry across top and is pulling away from sides slightly. Cool completely before placing in refrigerator to chill.
For the no-churn chocolate ice cream, without shaking cans of coconut milk, carefully open and skim thick cream off top. Use a stand mixer with a whisk attachment or a hand mixer,to whip cream at medium-high speed. Sift in powdered sugar and cocoa, a little bit at a time, while continuing to whisk. Add vanilla last and whip until light and fluffy; 5 to 8 minutes.
To assemble, retrieve cookie bar sheet and cut in half crosswise, making sure resulting two rectangles are same size. Return one half to pan, flipped with top facing down. Evenly spread ice cream over top, smoothing all the way to sides and place second half of cookie sheet on top, with right side facing up. Press down gently to adhere.
Set on a flat surface in freezer and let rest until solidified; at least 4 hours, and ideally overnight. To serve, slice into individual rectangles and enjoy right away. To save for later, wrap each sandwich in plastic and stash in an airtight container in freezer for up to 6 months.
For more recipes like this, check out: