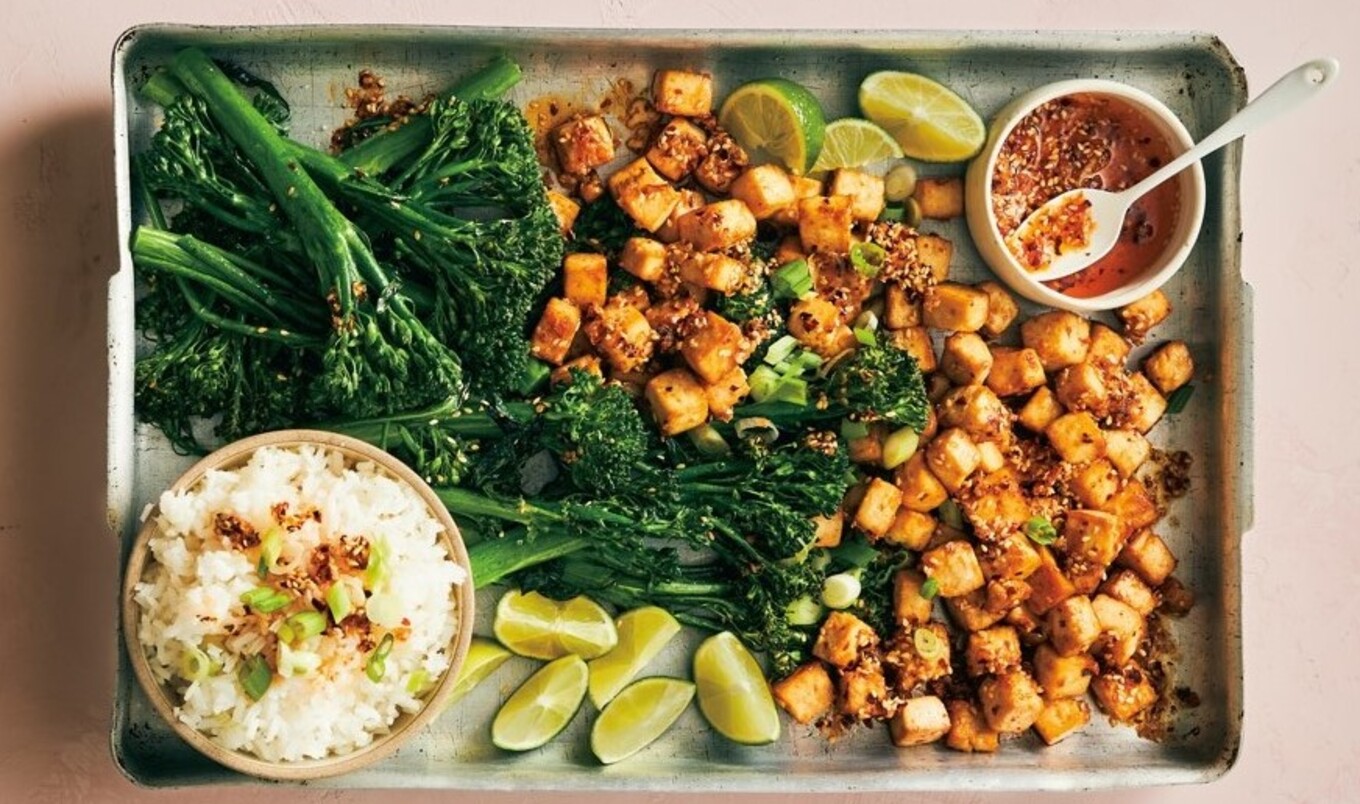 The crackling sounds and intoxicating smell of this infused chili garlic oil add a world of flavor to this crispy, golden tofu dish.
August 28, 2023
This recipe from the Evergreen Cookbook uses the heat of the oven to steep the fiery chili oil with plenty of garlic and red pepper flakes, while the tofu and broccolini bake alongside.
What you need:
1 (16-ounce) package extra-firm tofu, patted dry and cut into ½-inch cubes
2 tablespoons tamari
7 tablespoons grapeseed oil, divided
4 teaspoons cornstarch
6 garlic cloves, finely grated
1 tablespoon toasted sesame seeds
2 teaspoons red pepper flakes
½ teaspoon fine salt, divided
2 bunches broccolini, trimmed
2 scallions, thinly sliced, for garnish
Flaky salt, for garnish
2 cups cooked jasmine rice, for serving
Lime wedges, for serving
What you do:
1. Place oven racks in upper and lower thirds of oven and preheat to 425 degrees. Line 2 large baking sheets with parchment paper.
2. On one prepared baking sheet, add tofu. Drizzle tamari over tofu, and toss until most of tamari is absorbed. Drizzle with 1 tablespoon of oil and toss to coat. Sprinkle cornstarch over tofu and toss to coat. Spread tofu in an even layer, then bake on lower rack for 15 minutes, until lightly golden, but not yet crispy.
3. In a small oven-safe glass container, combine 5 tablespoons of oil, garlic, sesame seeds, red pepper flakes, and ¼ teaspoon of salt.
4. Once tofu has baked for 15 minutes, flip cubes. Place container of chili garlic oil onto same baking sheet and bake on lower rack until tofu is golden brown and crispy around edges and oil is lightly bubbling, about 15 minutes. Remove from oven.
5. Onto second baking sheet, add broccolini. Drizzle remaining 1 tablespoon oil over top and toss to coat. Sprinkle with remaining ¼ teaspoon salt. Bake on upper rack until bright green and tender, 8 to 10 minutes.
6. Drizzle 2 tablespoons of garlic oil over tofu. Using a spatula, toss until evenly coated in oil. On a serving plate, combine coated tofu and broccolini. Garnish with scallions and flaky salt. Serve with rice, lime wedges, and remaining chili garlic oil for drizzling.
For more recipes like this, check out: