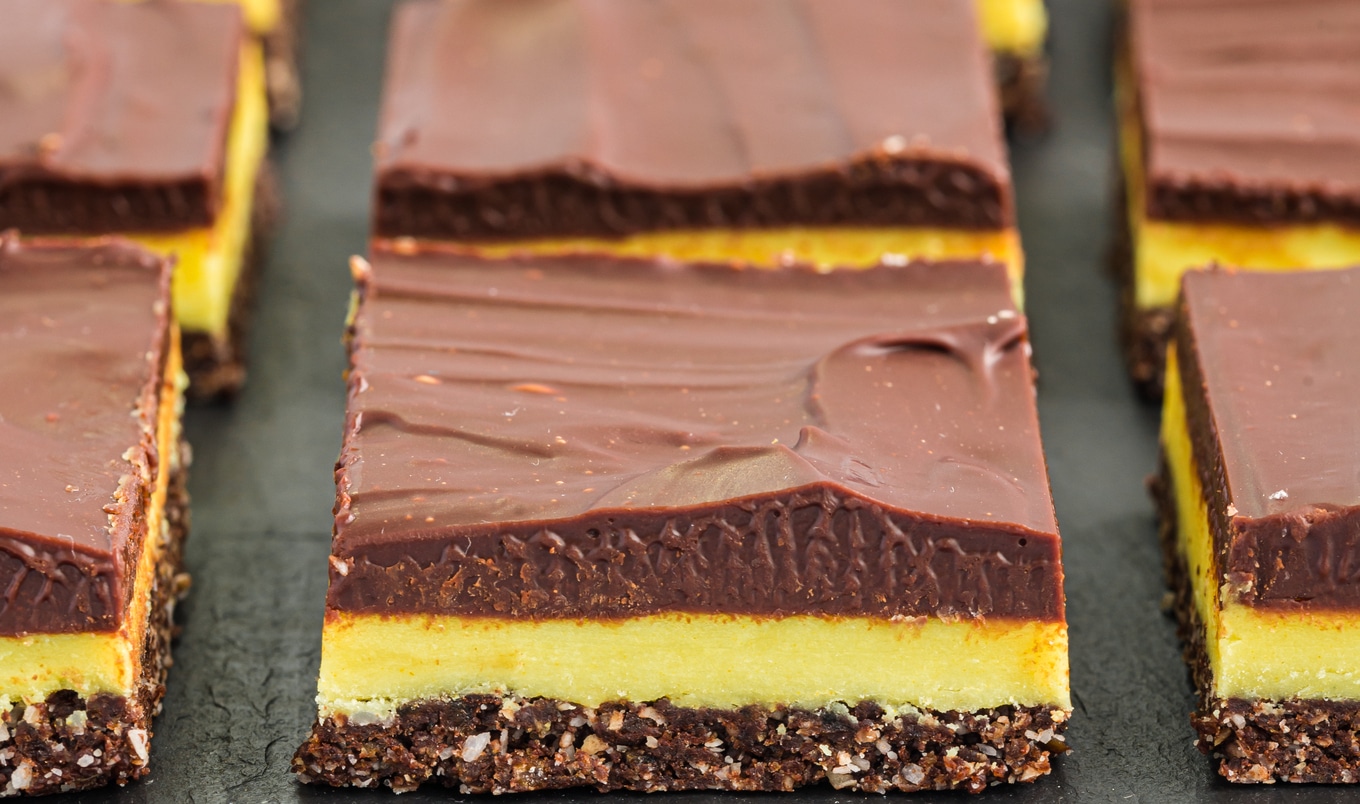 A traditional Canadian no-bake dessert bar made up of a crumb base, custard layer, and chocolate ganache topping gets a totally plant-based makeover.
December 9, 2022
This gluten-free and nut-free take on the layered dessert bar from Dreena's Kind Kitchen cookbook is packed with rich chocolate-coconut favor and makes for a thoughtful and sweet homemade gift.
What you need:
For the base:
1½ cups dates, pitted
½ cup rolled oats
¼ cup cocoa powder
¼ teaspoon salt
½ teaspoon vanilla extract
¼ cup raw pumpkin seeds
¼ cup unsweetened shredded coconut
For the filling:
¾ cup coconut butter
1 cup powdered sugar
3 tablespoons vanilla vegan milk
½ teaspoon vanilla extract
¼ teaspoon ground turmeric
⅛ teaspoon salt
For the topping:
1 cup chopped vegan chocolate chips
2½ tablespoons full-fat canned coconut milk
What you do:
Line an 8-inch square baking pan with parchment paper.
For the base, in a food processor, add dates and oats and pulse several times, until slightly crumbly. Add cocoa powder, salt, and vanilla and process until mixture starts to become sticky. Add pumpkin seeds and coconut and process until mixture holds together when pressed with fingers. Press mixture into prepared baking pan. Place in refrigerator.
Into a food processor, add all filling ingredients and pulse until just combined and smooth. Transfer to baking pan, spreading mixture evenly over base. Place pan back in refrigerator.
For the topping, fill a small saucepan with several inches of water and place over low heat. Put a heatproof bowl on top of saucepan. Into bowl, add chocolate chips and milk and heat gently, stirring occasionally, until chips are melted and mixture is smooth.
Pour topping over top of bars, and refrigerate until set. To serve, cut into 16 to 20 bars. Leftover bars can be frozen.