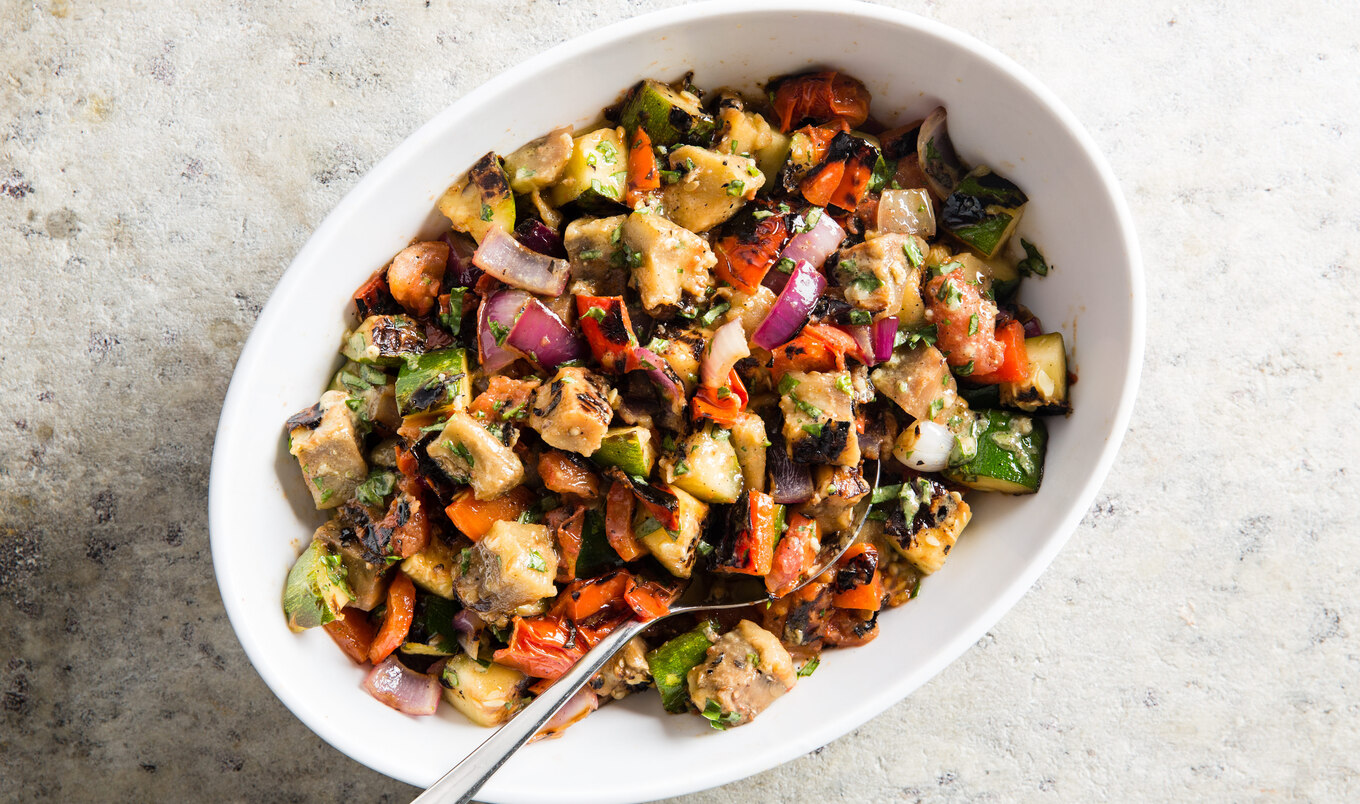 Grilling vegetables gives them a smoky, flavorful char that elevates an otherwise simple salad.
August 21, 2023
Scoring crosshatch marks on the cut sides of the eggplant and zucchini allows some of their moisture to evaporate on the grill, achieving the perfect tender, melt-in-your-mouth texture for this warm salad from The Complete Plant Based Cookbook. Serve with toasty bread and fresh hummus for a nourishing meal.
What you need:
For the vinaigrette:
1 tablespoon lemon juice
2 teaspoons Dijon mustard
1 garlic clove, minced
¼ teaspoon salt
¼ teaspoon black pepper
3 tablespoons olive oil
2 tablespoons chopped fresh basil
For the vegetables:
2 red bell peppers
1 eggplant, halved lengthwise
1 (10-ounce) zucchini, halved lengthwise
1 red onion, cut into ½-inch-thick rounds
4 plum tomatoes, cored and halved lengthwise
3 tablespoons olive oil
1 teaspoon salt
½ teaspoon black pepper
What you do:
For the vinaigrette, into a large bowl, add lemon juice, mustard, garlic, salt, and pepper, and whisk. Whisking constantly, slowly drizzle in oil. Stir in basil and set aside.
For the vegetables, slice ¼-inch off tops and bottoms of bell peppers and remove cores. Make slit down 1 side of each pepper, then press flat into 1 long strip, removing ribs and remaining seeds with knife. Cut strips in half crosswise so there are 4 bell pepper pieces.
Using sharp knife, cut ½-inch crosshatch pattern in flesh of eggplant and zucchini, being careful to not cut through skin. Push toothpick horizontally through each onion round to keep rings intact while grilling. Brush bell peppers, zucchini, onion, and tomatoes with oil, then brush eggplant with remaining oil. Sprinkle all vegetables with salt and pepper.
Clean and oil cooking grate on grill. Set to medium-high heat and place vegetables on cooking grate, cut sides down. Cook until skins of bell peppers, eggplant, and tomatoes are well browned and interiors of eggplant and zucchini are tender, about 15 minutes, flipping and moving vegetables as necessary to ensure even cooking. Place bell peppers in bowl, cover with plastic wrap, and let steam to loosen skins, about 5 minutes.
When cool enough to handle, peel bell peppers and tomatoes, discarding skins. Using spoon, scoop eggplant flesh out of skin and discard skin. Chop all vegetables into 1-inch pieces and transfer to a medium-sized bowl. Drizzle with vinaigrette and toss to coat. Serve warm or at room temperature.
For more recipes like this, check out:
Here at VegNews, we live and breathe the vegan lifestyle, and only recommend products we feel make our lives amazing. Occasionally, articles may include shopping links where we might earn a small commission. In no way does this effect the editorial integrity of VegNews.