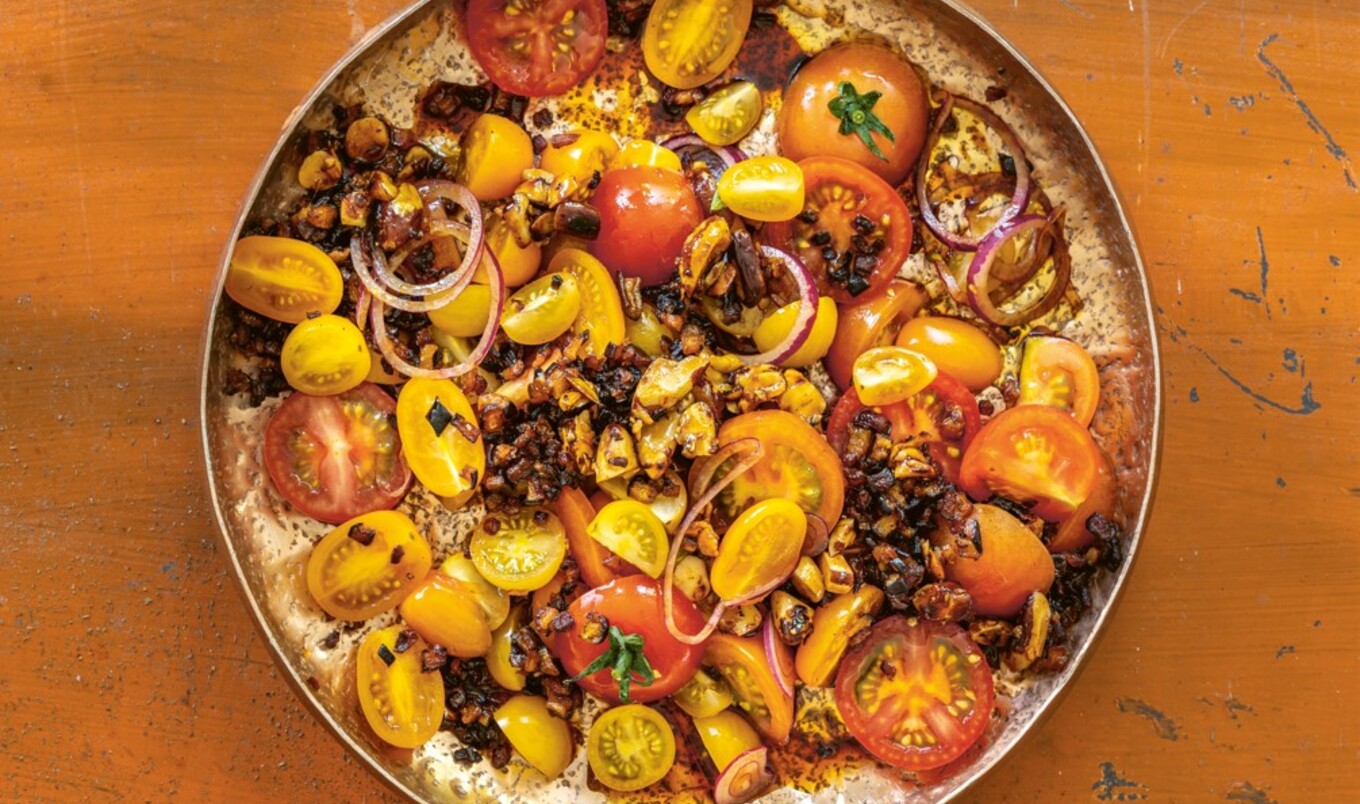 A caramelized, garlicky Brazil nut topping adds crunch and sweet and savory notes to this fresh salad.
May 31, 2023
The combination of fresh tomatoes, smoky eggplant, and crunchy, salty nuts ensure this salad from the Let's Go Nuts cookbook abounds with flavor and texture.
What you need:
5 cups mini heirloom tomatoes, cut in half or quartered
1 red onion, sliced into thin rings
1 teaspoon salt, divided
⅓ cup mature balsamic vinegar, divided
1 large eggplant, small diced
3 tablespoons olive oil, divided
1 teaspoon smoked paprika
½ teaspoon smoked salt
⅛ teaspoon black pepper
8 sprigs fresh basil
2 garlic cloves, peeled and finely sliced
¾ cup Brazil nuts, chopped
½ teaspoon sweet paprika
2 tablespoons soy sauce
2 tablespoons maple syrup
1 red onion
What you do:
On a large platter, arrange tomatoes and onion. Sprinkle with ½ teaspoon salt and drizzle with half of balsamic vinegar.
In a medium skillet over high heat, warm 2 tablespoons of oil. Add eggplant and sauté for 5 to 8 minutes, stirring constantly, until browned on all sides. Sprinkle with smoked paprika and smoked salt. Remove from pan and arrange over tomatoes. Sprinkle with pepper and drizzle with remaining balsamic vinegar. Garnish with basil leaves.
In a small pan over medium heat, warm remaining 1 tablespoon oil and sauté garlic and nuts. Add remaining ½ teaspoon salt, sweet paprika, and soy sauce, scraping any bits from bottom of pan. Add maple syrup and caramelize nuts slightly. Serve salad scattered with crunchy Brazil nuts and garlic topping.
For more recipes like this, check out: