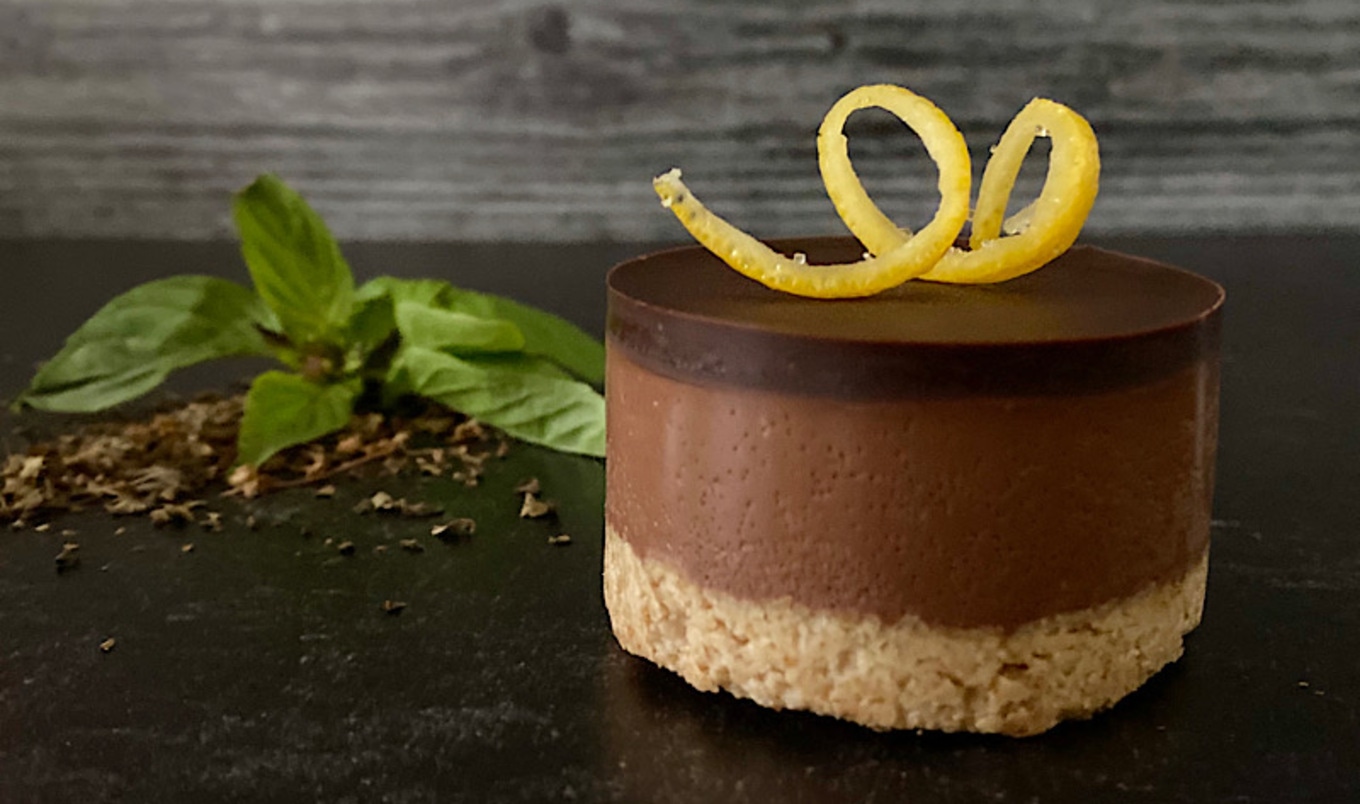 These blissful mini chocolate tarts get an herbal upgrade with a stress-relieving infusion of holy basil.
December 18, 2022
Holy basil is an herb long revered in India and in the practice of Ayurveda for its multi-beneficial adaptogenic properties. Also called Tulsi, it adds a balancing sweet and peppery twist to this decadent chocolate custard tart.
What you need:
For the orange shortbread crust:
1½ cups oats
1½ cups raw cashews
3 tablespoons coconut sugar
½ teaspoon salt
7 tablespoons coconut oil
½ teaspoon orange extract
½ teaspoon vanilla extract
Zest of 1 orange
For the holy basil chocolate custard:
1 cup oat milk
2 tablespoons dried or fresh holy basil
2 to 3 Thai basil leaves
2 to 3 sweet basil leaves
½ cup cacao powder
½ cup coconut sugar
1½ tablespoons arrowroot powder
½ teaspoon agar agar powder
1 (13.5-ounce) can room-temperature coconut milk
½ teaspoon vanilla extract
⅛ teaspoon salt
For the chocolate glaze:
2 (3-ounce) bars of 72% vegan dark chocolate
1 teaspoon grapeseed oil
What you do:
For the shortbread crust, preheat oven to 350 degrees. Into a food processor, add oats and cashews and process until a fine crumble is achieved. Add remaining shortbread ingredients and blend until a dough is formed.
Form roughly 1-inch balls from dough and press firmly into bottom of silicone muffin molds, taking up about ¼ depth of each. Bake for 15 minutes. Set aside.
For the custard, into a saucepan, add oat milk, holy basil, thai basil, and sweet basil. Bring to a simmer for 5 minutes, remove from heat and let steep for 10 minutes. Strain basil out of oat milk and set aside.
In a medium-sized pot, add cacao powder, coconut sugar, arrowroot powder, agar agar, coconut milk, vanilla, and salt and whisk. Add basil-infused oat milk, and continue whisking over medium-high heat for 10 minutes or until mixture thickens. Remove from heat.
Pour mixture on top of each shortbread crust, leaving about ⅛-inch space at top. Allow to soft set on counter for about 10 minutes.
In a double boiler, melt chocolate and grapeseed oil, stirring continuously. Once melted, pour a thin layer over each custard tart. Transfer to refrigerator to set for at least 4 hours. Once set, gently remove from silicone molds and enjoy.