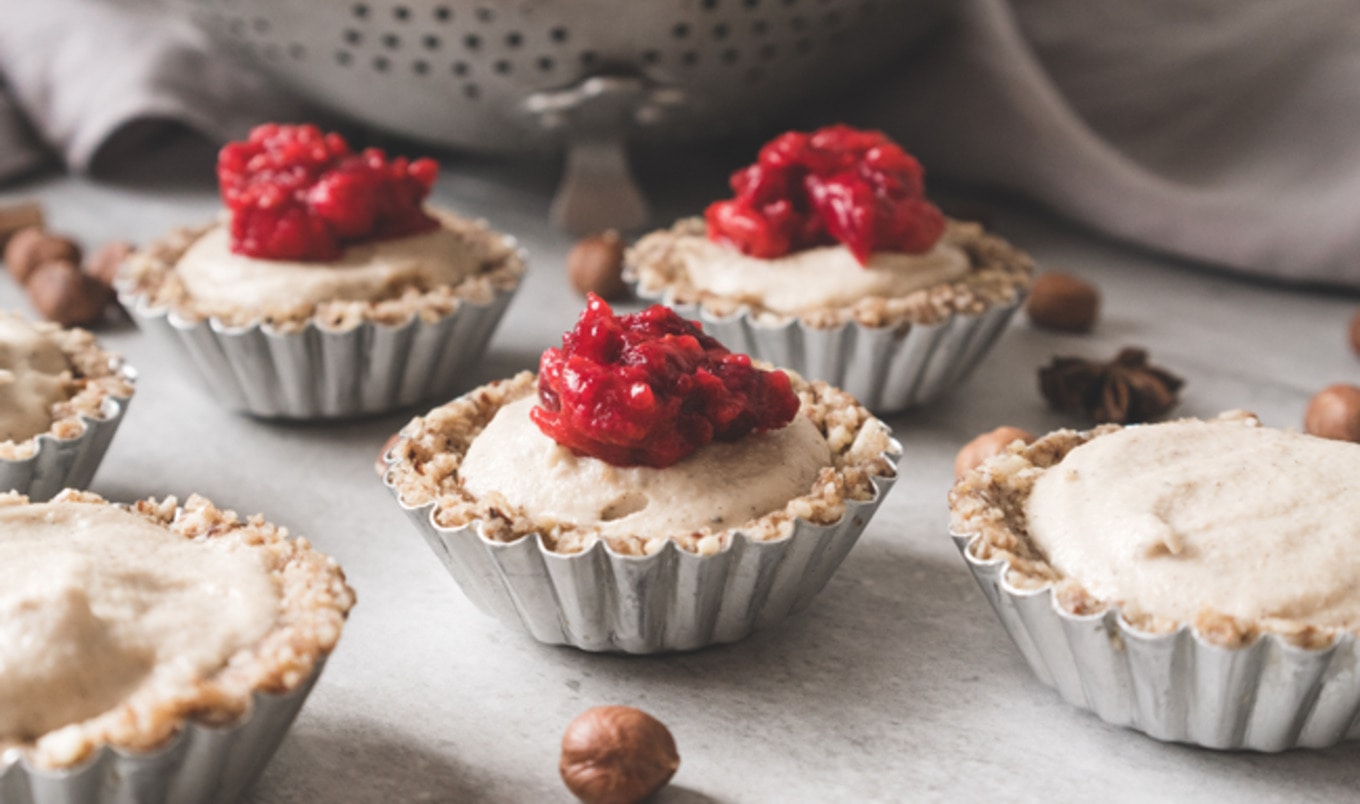 Please pass the cranberries—so we can make seasonal vegan tarts!
November 23, 2022
Sweater weather and warming spices are just two of our favorite aspects of fall. Another is the fact that our vanilla tarts with cranberry compote are seasonal treats that make this cozy time of year even cozier! With sweet notes of vanilla, maple, and cloves and a pop of tangy, vibrant, cranberries, these tarts are the perfect dessert for fall.
What you need:
For the crust:
½ cup hazelnuts
½ cup almonds
⅓ cup shredded coconut
7 medjool dates, pitted
¼ cup coconut oil, melted
¼ teaspoon sea salt
For the filling:
1½ cups cashews, soaked overnight
½ cup shredded unsweetened coconut
⅓ cup coconut oil, melted
⅓ cup maple syrup
¼ cup fresh squeezed lemon juice
½ teaspoon vanilla powder
For the compote:
1 cup fresh or frozen cranberries
¼ cup maple syrup
2 tablespoons freshly squeezed orange juice
½ teaspoon cinnamon
½ teaspoon ground ginger
1 tablespoons white flour to thicken
⅛ teaspoon ground cloves
What you do:
1. For the crust, into a high-powered blender or food processor, place hazelnuts and almonds and blend. Add remaining ingredients, and blend until well combined. Onto a lined cupcake pan, press the dough into an even layer, and transfer to freezer to set.
2. For the filling, into the blender, add all ingredients and blend until smooth and creamy. Remove crusts from the freezer, and pour in the filling until just below the crust edge. Transfer back to the freezer to set for 45 minutes.
3. For the compote, into a saucepan, combine cranberries, syrup, orange juice, and spices. Cook over medium heat, stirring occasionally. Once cranberries have burst, gently whisk in the flour, half a tablespoon at a time, to thicken. Remove from heat, and chill until cold.
4. Once tarts have set, remove them from the freezer, top with 1 teaspoon of compote, and enjoy.