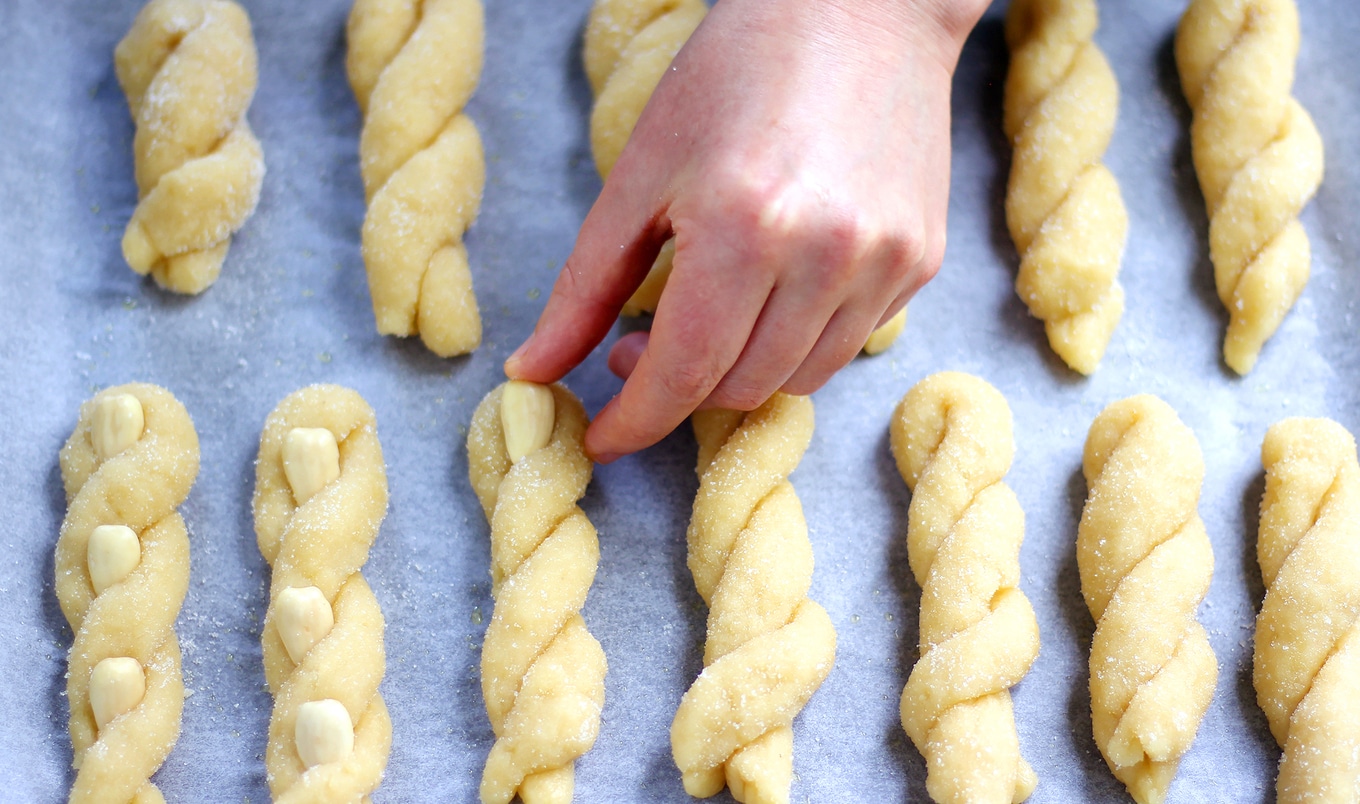 These buttery, crunchy morsels are dotted with blanched almonds and get a generous dusting of sugar.
December 14, 2022
Known as intorchiate, these baked treats are traditionally vegan, with the inclusion of olive oil and white wine—two hallmark ingredients in Pugliese baking—that lend wonderful flavor to the dough. These braided biscuits from the A Vegan Summer in Southern Italy cookbook are the ideal coffee dunking biscuit.
What you need:
3¾ cups flour
1¼ cups sugar, divided
1 cup almond meal
2 teaspoons baking powder
¾ cup olive oil
¾ cup white wine
¾ cup blanched almonds
What you do:
Into a large bowl, sift flour. Stir in ¾ cup of sugar, almond meal, and baking powder. Make a well in center and pour in oil and wine.
Stir with a fork until combined, then use hands to form into a smooth dough. Wrap and refrigerate for 30 minutes.
Roll dough into a large log. Slice into 20 equal pieces. Handling gently, shape each piece into a rope 7-inches long. Lightly roll until smooth. Overhandling may cause dough to split.
Fold each rope in half then twist into a braid shape. Repeat with remaining dough.
Preheat oven to 350 degrees. Poke blanched almonds into hollows of braid, approximately 3 almonds per biscuit. Into a bowl, add remaining sugar and press tops of each biscuit into sugar so entire surface is covered.
Place on baking trays lined with parchment paper. Place in oven and bake for about 30 minutes until golden brown. Remove from oven and allow to cool before serving.