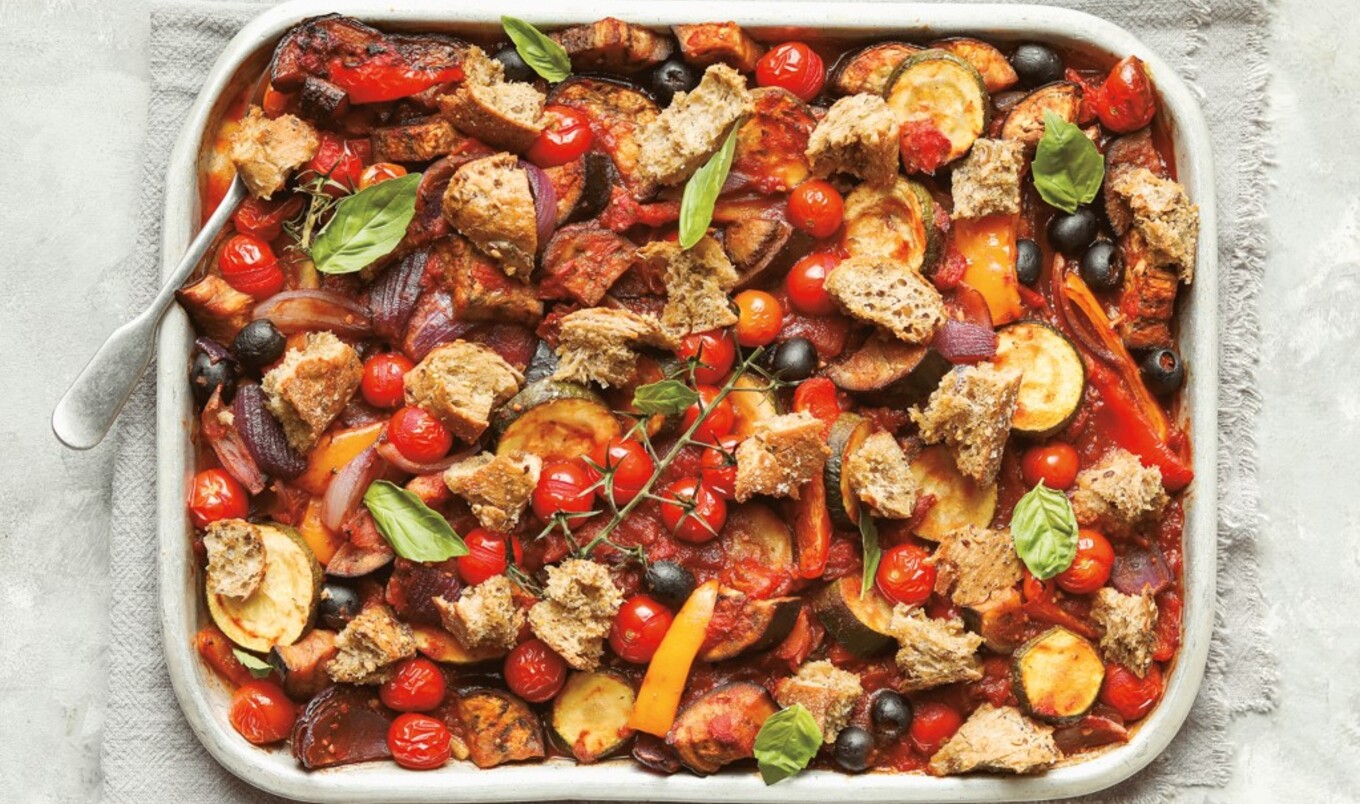 A light and saucy tomato marinade mingles with eggplant, zucchini, peppers, and onions for a nutritious sheet pan meal.
January 13, 2023
This simple sheet pan dinner from the One-Pan Vegan cookbook is a great way to get lots of your daily servings of vegetables in (six different types, in fact) while black olives and warm, crisp chunks of herbed bread add salt, crunch, and heft to this plant-forward dish. Try adding chickpeas or your favorite vegan protein to round out this meal.
What you need:
1 zucchini, halved and sliced
2 eggplants, halved and sliced
1 red bell pepper, sliced
1 orange bell pepper, sliced
1 large or 2 small red onions, roughly chopped
2 tablespoons olive oil, divided
½ teaspoon salt, divided
2 (15-ounce) cans chopped tomatoes, with liquid
3 cloves garlic, crushed
1½ teaspoons dried oregano, divided
1 teaspoon tomato paste
2 tablespoons balsamic vinegar
½ cup black olives
2 slices of bread of choice, torn into chunks
1¼ cups vine or cherry tomatoes
Fresh basil, for garnish
What you do:
Preheat oven to 350 degrees and onto a sheet pan, evenly spread zucchini, eggplant, peppers, and onion. Drizzle with 1 tablespoon of olive oil, ¼ teaspoon of salt and place in oven to bake for 20 minutes.
Meanwhile, in a bowl, combine canned tomatoes, garlic, 1 teaspoon of oregano, tomato paste, balsamic vinegar, and black olives.
In a small bowl, place bread chunks and drizzle with remaining 1 tablespoon of oil and ½ teaspoon of oregano. Toss to combine.
Once vegetables are removed from oven, pour tomato mixture over top. Use a spatula to coat vegetables in sauce and then place tomatoes on top. Place back in oven to bake for 15 minutes.
Remove from oven and add bread to pan. Return to oven to bake for a final 10 minutes, until bread has hardened and turned crispy. Garnish with fresh basil and serve.