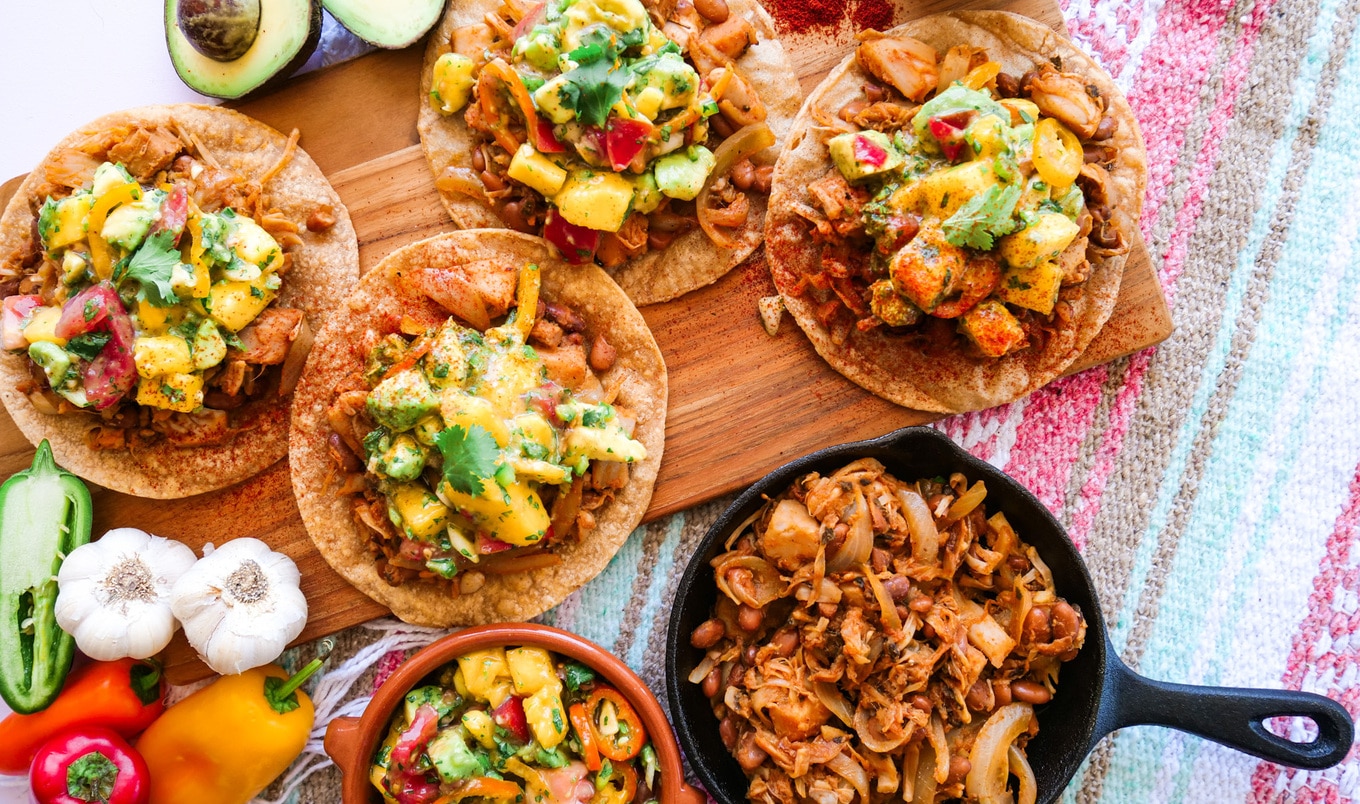 The mango avocado salsa paired with chili-spiced jackfruit in this simple dish will take your Taco Tuesday to new heights.
January 2, 2023
Fresh, homemade salsa really elevates this Mexican-inspired dish from the Cook. Heal. Go Vegan! cookbook. Our tip? Make extra to pair with salty, crunchy chips or to add over beans and rice.
What you need:
For the tostadas:
1 tablespoon olive oil
1 medium onion, peeled and sliced
1 teaspoon salt, divided
2 (20-ounce) cans unripened jackfruit, rinsed and drained
2 teaspoons smoked paprika
2 tablespoons dried oregano
2 teaspoons chili powder
1 teaspoon granulated garlic
1 teaspoon dried coriander
1 teaspoon cumin
1 (15-ounce) can pinto beans, drained and rinsed
¾ cup vegetable broth
1 tablespoon agave nectar
6 tostada shells
For the salsa:
3 mini sweet peppers or 1 small bell pepper, seeded and diced
2 medium tomatoes, cored and diced
2 large mangos, peeled, pitted, and diced
2 medium avocados, seeded, peeled, and diced
4 scallions, ends removed and thinly sliced
4 garlic cloves, minced
½ teaspoon salt
3 tablespoons lime juice
1 medium jalapeño, seeded and minced
¼ cup packed minced cilantro
What you do:
For the tostadas, in a large cast-iron skillet over medium-high heat, warm oil. Add onions and ½ teaspoon of salt and sauté for 5 minutes while stirring occasionally.
Meanwhile, squeeze jackfruit tightly with hands to help release any water. To skillet, add jackfruit, smoked paprika, oregano, chili powder, garlic, coriander, and cumin. Cook while stirring frequently on medium heat for 2 to 3 minutes. Add pinto beans and stir for 1 minute more. Add broth, cover, reduce heat to low and simmer for about 10 minutes.
Add agave and remaining salt, and cook while stirring for 2 more minutes. Remove from heat.
For salsa, into a medium bowl, add all ingredients and mix well.
To serve, top tostada shells with jackfruit mixture and salsa. Enjoy immediately.