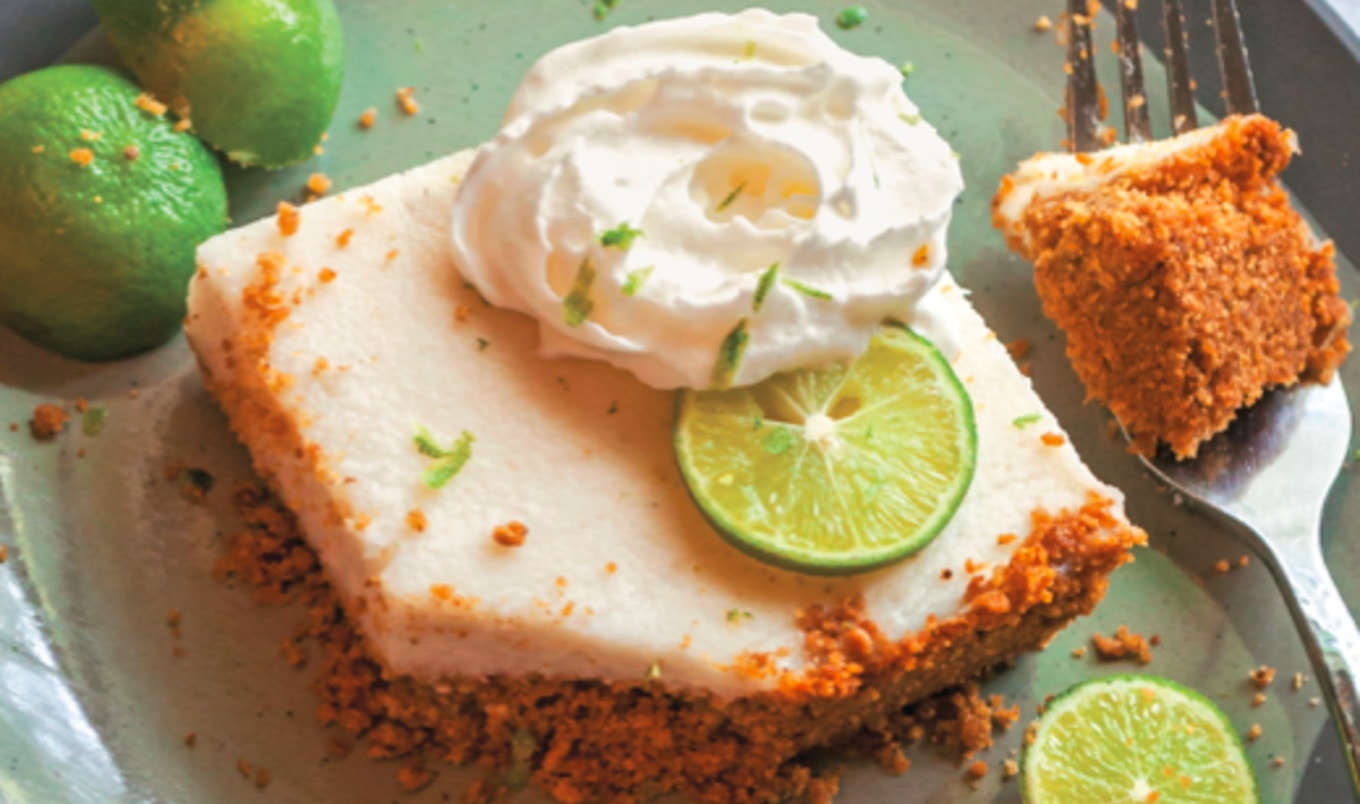 A creamy, zesty, custard-like filling makes these Southern-inspired dessert bars irresistibly good.
February 4, 2023
This classic dessert typically involves egg yolks, but full-fat coconut milk steps in to lend luscious thickness to the filling of these bars from the Southern Vegan cookbook.
What you need:
For the graham cracker crust:
2½ cups vegan graham cracker crumbs
3 tablespoons brown sugar
1 cup vegan butter, melted
For the key lime pie filling:
1 cup lime juice
2 (15-ounce) cans full-fat coconut milk
1 cup sugar
1½ teaspoon lime zest
¼ teaspoon salt
6 tablespoons cornstarch
Vegan whipped cream, for garnish
What you do:
For the graham cracker crust, preheat oven to 350 degrees. Spray a 13 x 9-inch baking pan with cooking spray.
In a large bowl, stir graham cracker crumbs and brown sugar. Pour butter into bowl and stir to coat. Make sure graham cracker crumbs are moist and stick together when squeezed. Press graham cracker crumbs evenly into bottom of prepared baking pan.
Bake crust for 12 to 15 minutes, or until brown and firm.
For the key lime pie filling, in a medium saucepan over medium-high heat, whisk lime juice, coconut milk, sugar, zest, and salt. Continue whisking until mixture is combined. Add cornstarch to saucepan. Whisk to combine, making sure there are no lumps, for 3 to 5 minutes. Bring mixture to a simmer, reduce heat to low and simmer for 3 to 5 minutes, whisking frequently, until filling is thick. Remove saucepan from heat.
When crust is done, remove from oven. Pour filling into crust and smooth out evenly. Let crust and filling cool for about 15 minutes, then put baking dish in fridge for at least 4 hours to chill (the filling will look soupy at first, but will get firm and creamy once cooled). Cut into 2 x 2-inch squares and serve with vegan whipped cream.
Here at VegNews, we live and breathe the vegan lifestyle, and only recommend products we feel make our lives amazing. Occasionally, articles may include shopping links where we might earn a small commission. In no way does this effect the editorial integrity of VegNews.
Photo credit: Lauren Hartmann and Julie Grace