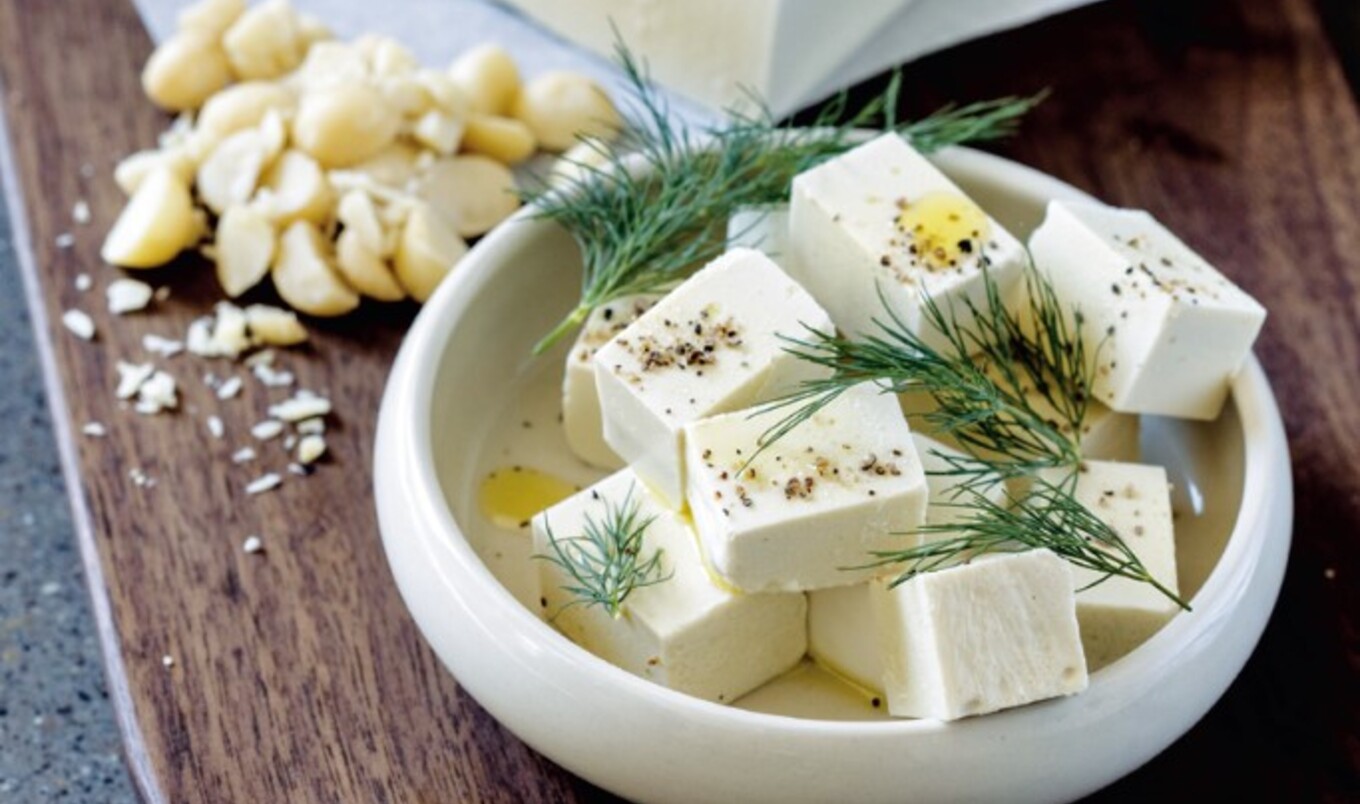 Immerse yourself in the art of dairy-free craftsmanship with this feta recipe that achieves the perfect balance of tanginess and creaminess.
August 15, 2023
This homemade feta from the BReD cookbook may take four days to be totally ready to use, but its crumbly, rich, and creamy textures and flavors nail the feta taste making it well worth the wait.
What you need:
1¼ cups macadamia nuts
2¼ cups plus 4¼ cups filtered water, divided
Zest of 2 lemons
¼ cup lemon juice
2 cloves
3½ tablespoons nutritional yeast
½ teaspoon plus ¼ cup salt
2 tablespoons agar-agar flakes or powder
What you do:
1. For the macadamia feta, in a 4-cup glass jar or other container, add nuts. Add 1¼ cups of filtered water. Cover and let soak in refrigerator overnight.
2. Lightly spray a rectangular plastic or glass container with a lid, approximately 5½ × 3½ × 1½ inches, with olive oil, then line with a sheet of plastic wrap, pressing into all corners and stretching out as many creases as possible.
3. Drain nuts and transfer to a high-speed blender. Add 1 cup filtered water, lemon zest, lemon juice, garlic, nutritional yeast, and salt. Blend on low speed for 30 seconds, then slowly increase to high speed, blending until mixture is smooth and beginning to heat, 2 to 3 minutes.
4. Add agar-agar. Blend, starting on low speed and slowly increasing to high, for about 4 minutes to activate setting properties of agar-agar. Pour into prepared container and let cool for 15 minutes. Cover with lid and place in refrigerator to set overnight.
5. In a medium saucepan, bring remaining 4¼ cups filtered water to a boil, then add salt. Remove from heat and set aside to cool. Pour cooled brine into a container large enough to fit slab of feta, cover, and set aside in refrigerator overnight.
6. Remove feta from refrigerator. Using plastic wrap as handles, gently lift from container and transfer it to chilled brine container (ensuring feta is submerged in brine). Cover and return to refrigerator for at least 2 days and up to 5 days, depending on how firm or salty you prefer the feta.
7. Gently remove from brine and store in an airtight container in refrigerator.
For more recipes like this, check out: