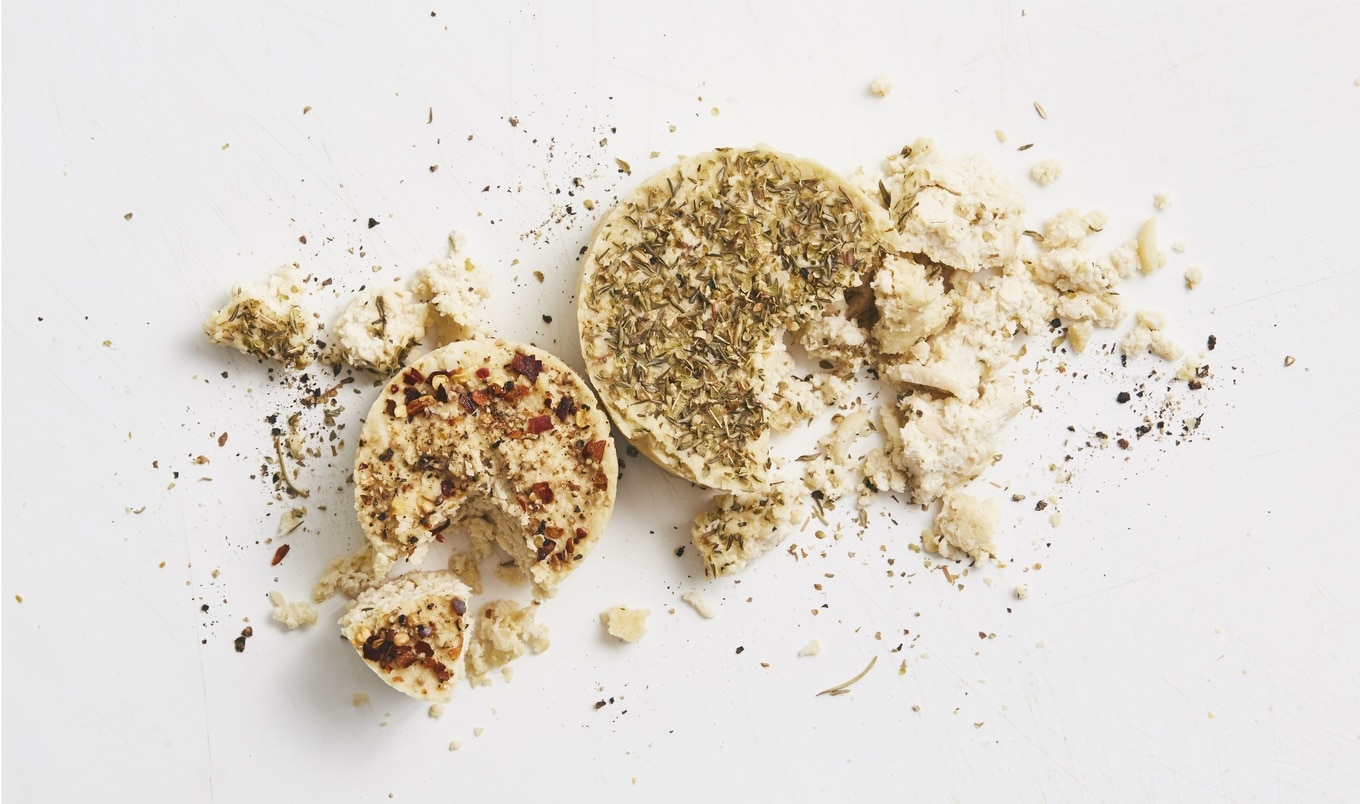 Whether you like your cheese sharp and tangy or mild and creamy, this foolproof, customizable recipe can do it all. Eat it on its own with crackers or crumble into salads in place of feta.
September 8, 2023
These crumbly cheese wheels from the Show Up for Salad cookbook take a bit of time to ferment, but the deliciously creamy result is worth the wait. Pair with herbed crackers and fresh chutneys and jams for a delicious cheese plate.
What you need:
1 cup sliced, blanched almonds
½ cup unroasted cashew pieces
1 vegan probiotic powder capsule
1¼ teaspoons salt
1 teaspoon lemon juice
1 tablespoon nutritional yeast
Coatings:
2 teaspoons dried oregano, dried thyme, or minced chives
½ teaspoon pink salt
½ teaspoon coarsely ground black pepper
1 tablespoon olive oil
What you do:
In a small container, combine almonds and cashews. Cover with 2 inches of room-temperature water and soak for 2 hours, or overnight in refrigerator. Drain.
In a food processor, add nuts and pulse into a gritty paste. Add ¼ cup of water, then gently open up probiotic capsule and pour contents into nut mixture. Pulse a few more times, scraping down sides as needed, until mixture is just combined.
Cut a piece of cheesecloth about 14 inches wide. In a small glass or ceramic bowl about 5 inches wide, add nut mixture and smooth down to a level surface. Lay cheesecloth over bowl and secure with a rubber band around edge.
Set cheese in a dehydrator for 12 hours at 115 degrees. After 12 hours, it should have a mild, tangy aroma.
Peel away cheesecloth (don't discard). Stir in salt, lemon juice, and nutritional yeast, and use a silicone spatula to mix thoroughly. Divide mixture in half.
To get a perfectly round cheese, use two 3-inch-wide biscuit cutters. Cut two more squares of cheesecloth, and layer older pieces on top of new pieces (for two stacks of cloth). Place a biscuit cutter in center of each cloth stack. Use a spoon or rubber spatula to firmly pack half of nut mixture into each cutter form. Smooth tops of each cheese evenly and neatly.
Move cheeses to freezer for an hour to firm. When each cheese is firm to touch, remove from freezer. Carefully slide away each biscuit cutter. Sprinkle tops of cheeses with dried herbs, salt, pepper, and olive oil. Wrap both cheeses with a double layer of cheesecloth.
Move to dehydrator sheets and dehydrate for 20 to 30 hours at 115 degrees until cheese is very firm and has a dry, crusty exterior. Loosely cover cheeses and chill thoroughly until ready to use. Store in refrigerator in a container with a loose-fitting lid.
For more recipes like this, check out:
Here at VegNews, we live and breathe the vegan lifestyle, and only recommend products we feel make our lives amazing. Occasionally, articles may include shopping links where we might earn a small commission. In no way does this effect the editorial integrity of VegNews.