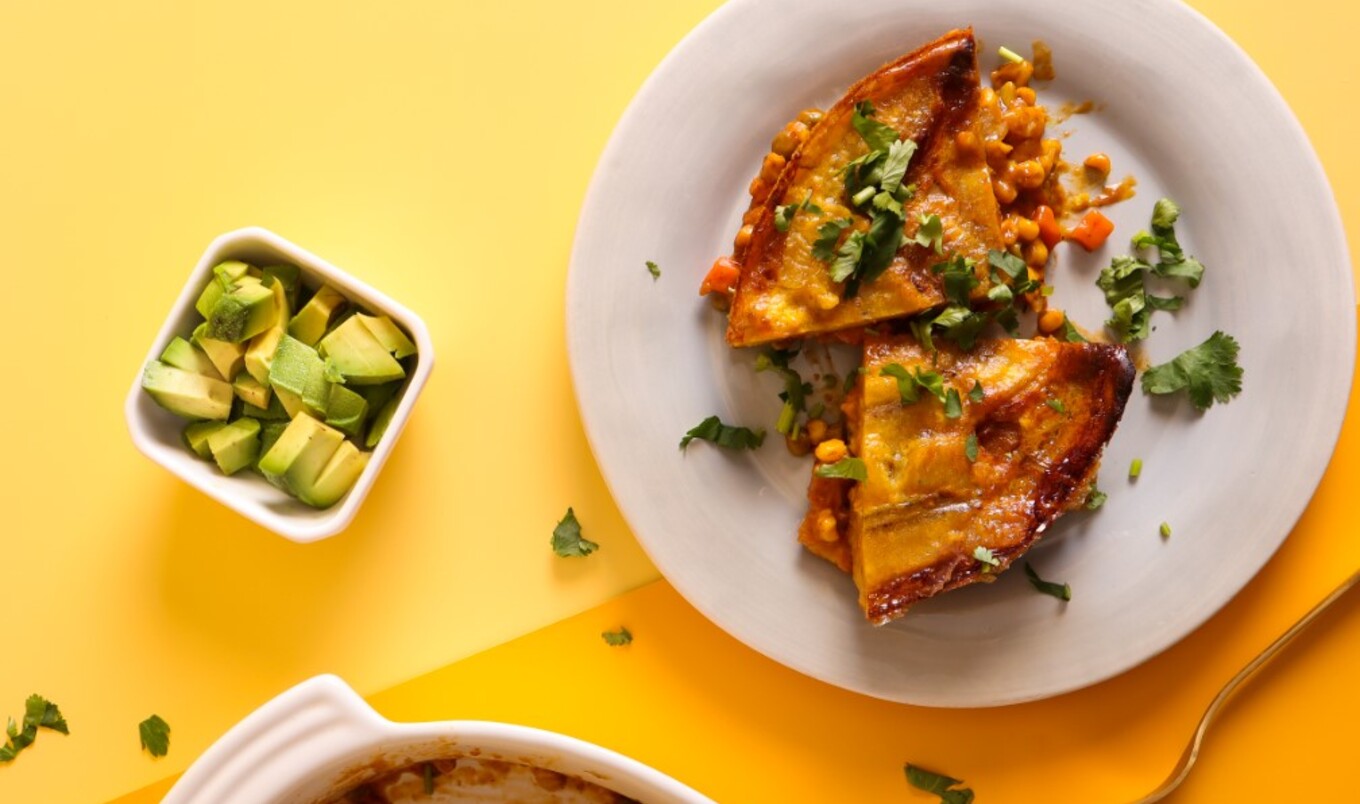 This flipped version of the traditional beef-heavy dish, plays on the warm layers of plantains with a healthy dose of tender carrots and mixed vegetables standing in for the beef, cheese, and egg.
July 3, 2023
Plátanos maduros are the star players here and take the place of lasagna sheets in this veggie-rich lasagna from the Abuela's Plant-Based Kitchen cookbook. The naturally sweet flavor of bright yellow, ripe plantains caramelized in the frying pan paired with the saltiness of the veggies evokes nostalgia with a twist.
What you need:
¾ cup olive oil
4-5 very ripe plantains, peeled, sliced lengthwise
2 tablespoons Sofrito
½ cup tomato sauce
½ yellow onion, chopped
1 Italian green pepper (friarelli), chopped and seeds removed
1 (16-ounce) package frozen mixed vegetables (corn, green beans, peas, and carrots)
1 tablespoon Adobo seasoning
½ tablespoons Sazón
½ teaspoon salt
¼ teaspoon black pepper
1 cup shredded vegan cheddar cheese
What you do:
Preheat oven to 350 degrees. In a large skillet over medium-high heat, warm oil. Add plantain slices and fry for 1 to 2 minutes, or until golden. Once ready, transfer cooked plantains to a paper towel-lined plate and set aside.
In another large skillet over medium heat, add sofrito and tomato sauce, and sauté for 1 to 2 minutes. Add onion and pepper and sauté for 3 to 5 minutes, or until tender. Add a small amount of water if needed to avoid browning.
Add frozen vegetables, adobo, sazón, salt, and pepper and combine. Cover and let cook until vegetables are heated through and tender. Add cheese and mix. Continue to cook for 1 to 2 more minutes or until cheese is melted. Remove from heat and set aside.
Lightly grease a 9 x-9-inch oven-safe casserole dish with nonstick cooking spray. Place half of plantain slices on bottom of dish, then evenly distribute vegetable mixture on top, spreading mixture to edges of dish. Top with remaining plantain slices.
Place dish in oven and bake for 15 to 20 minutes or until edges start to turn golden brown. Remove from oven and let cool slightly before serving.
For more recipes like this, check out: