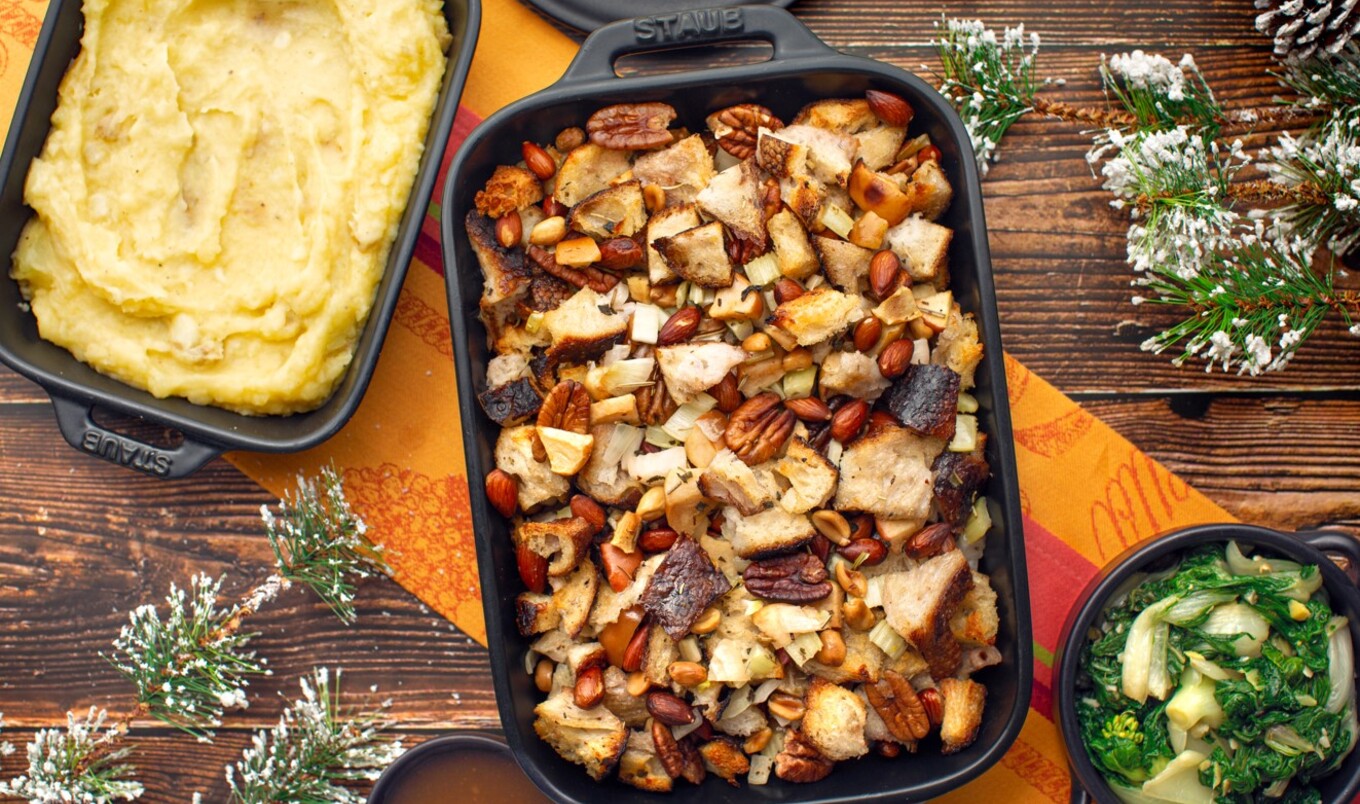 Pecans, almonds, and peanuts add a wonderful nuttiness and heft to this golden-brown vegan stuffing.
November 23, 2023
'Tis the season to get a bit nutty, especially for the main meal. The sheer number of pecans, almonds, and peanuts tumbling throughout this rich bread stuffing from The Everyday Vegan Cheat Sheet cookbook is downright bonkers. Don't be afraid to add your favorite blend; walnuts, pistachios, and hazelnuts are all welcome to the party, too!
What you need:
10 cups ½-inch-cubed sourdough bread or baguette
1 cup raw almonds
½ cup raw pecans
½ cup raw peanuts
3 stalks celery, diced
1 medium yellow onion, diced
2 large sweet apples, such as Fuji or Honeycrisp, cored and diced
6 tablespoons vegan butter, melted and divided
1 tablespoon minced fresh rosemary
1 tablespoon minced fresh sage
½ teaspoon dried thyme
1 teaspoon salt
2 cups vegetable broth, divided
What you do:
Preheat oven to 350 degrees. Onto a baking sheet, spread bread cubes evenly. Toast 10 minutes before adding nuts, and return to oven 8 to 10 minutes longer, or until crisp and golden brown around edges.
In a medium bowl, toss celery, onion, and apples with 2 tablespoons melted butter before layering mixture on top of bread. Bake 15 minutes, stirring halfway through.
Remove from oven and sprinkle on rosemary, sage, thyme, and salt. Drizzle with remaining butter, followed by vegetable broth. Stir to combine before covering pan with aluminum foil. Bake 15 minutes, uncover, stir again, and cook for a final 10 to 15 minutes, until golden brown and liquid has fully absorbed.
Transfer to a serving dish and serve hot.
For more stuffing recipes, read: