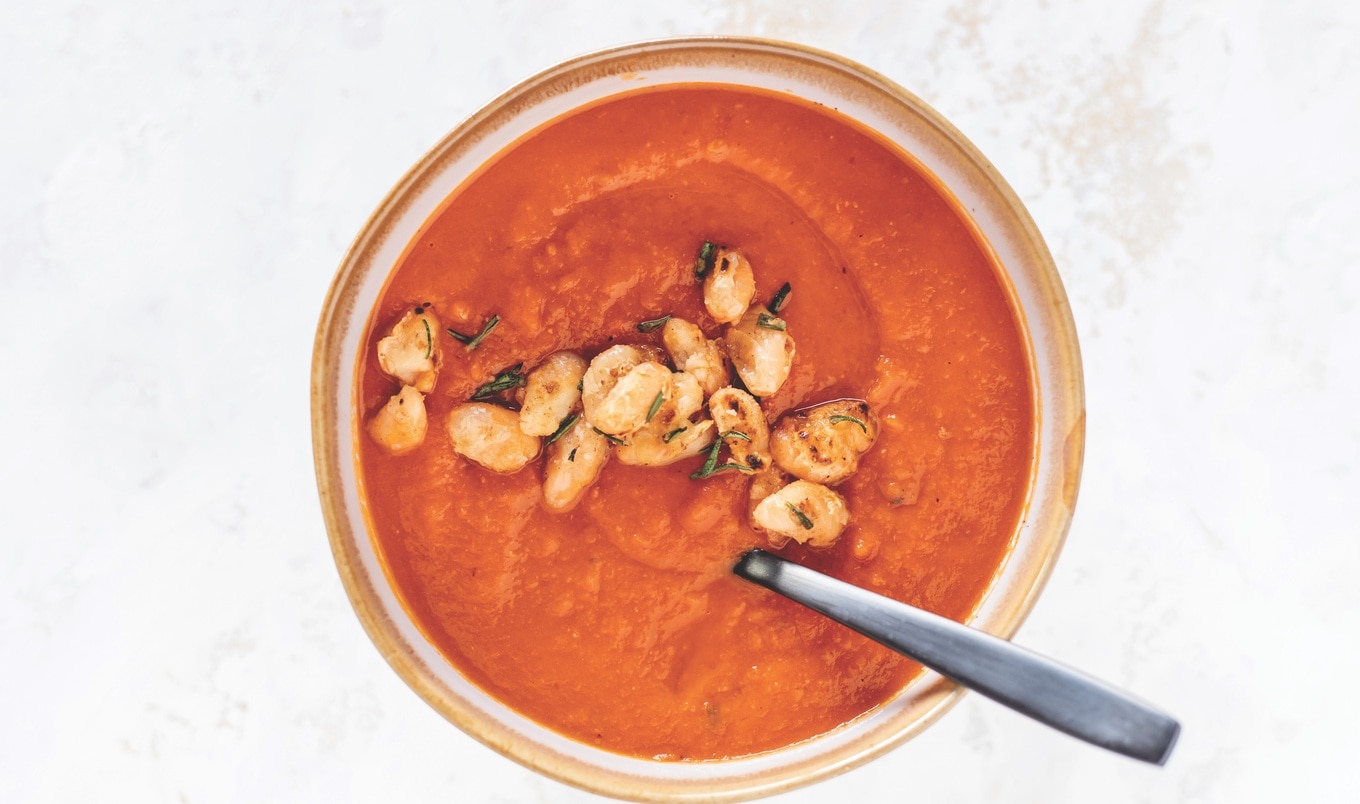 This Italian-inspired soup is filled with the flavors of roasted, blistered peppers, fresh herbs, tangy balsamic vinegar, and lightly sweet, acidic tomatoes.
November 6, 2022
Pack in the nourishing flavors of winter with this simple, flavorful soup recipe from The Plant-Forward Solution cookbook. Crispy, herby, pan-fried white beans serve as the ultimate protein-rich, crouton swap topping for this flavorful soup.
What you need:
3 large red bell peppers, halved, stems and seeds removed
2½ tablespoons olive oil, divided
½ medium yellow onion, chopped
3 cloves garlic, minced
Leaves from 2 sprigs fresh rosemary, divided
¼ teaspoon crushed red pepper
1 (28-ounce) can whole peeled tomatoes
2 (15-ounce) cans cannellini beans, drained and rinsed, divided
2 cups low-sodium vegetable broth
2 tablespoons balsamic vinegar
1¼ teaspoons salt, divided
½ teaspoon garlic powder
¼ teaspoon black pepper
What you do:
Set oven rack 5 to 6 inches from top and preheat broiler to high setting. Line a sheet pan with aluminum foil sprayed lightly with cooking spray. Place red bell pepper halves cut side down on prepared sheet pan. Place pan on top rack in oven and broil on high heat until skins are charred black, about 10 minutes. Use tongs to carefully transfer charred peppers to a glass bowl, cover with a lid or a plate, and let sit for 10 minutes. Once cool enough to handle, remove charred skins and set aside.
In a large pot over medium heat, warm 2 tablespoons olive oil. Add onion and sauté until softened, about 5 minutes. Stir in garlic, half of rosemary leaves, and crushed red pepper and cook for 1 minute.
Add roasted red peppers, tomatoes with juices, 1½ cups beans, broth, vinegar, and 1 teaspoon of salt. Bring to a boil, then reduce heat to medium-low and simmer for 15 minutes.
Finely chop remaining rosemary leaves. In a skillet over medium heat, warm remaining oil. Add remaining beans, season with garlic powder and remaining salt, and cook for 5 minutes. Add rosemary and continue cooking until beans are lightly browned and crispy, 2 to 3 minutes.
With an immersion blender, gently blend soup in pot. Stir in black pepper.
Divide into 4 serving bowls and serve topped with crispy beans.