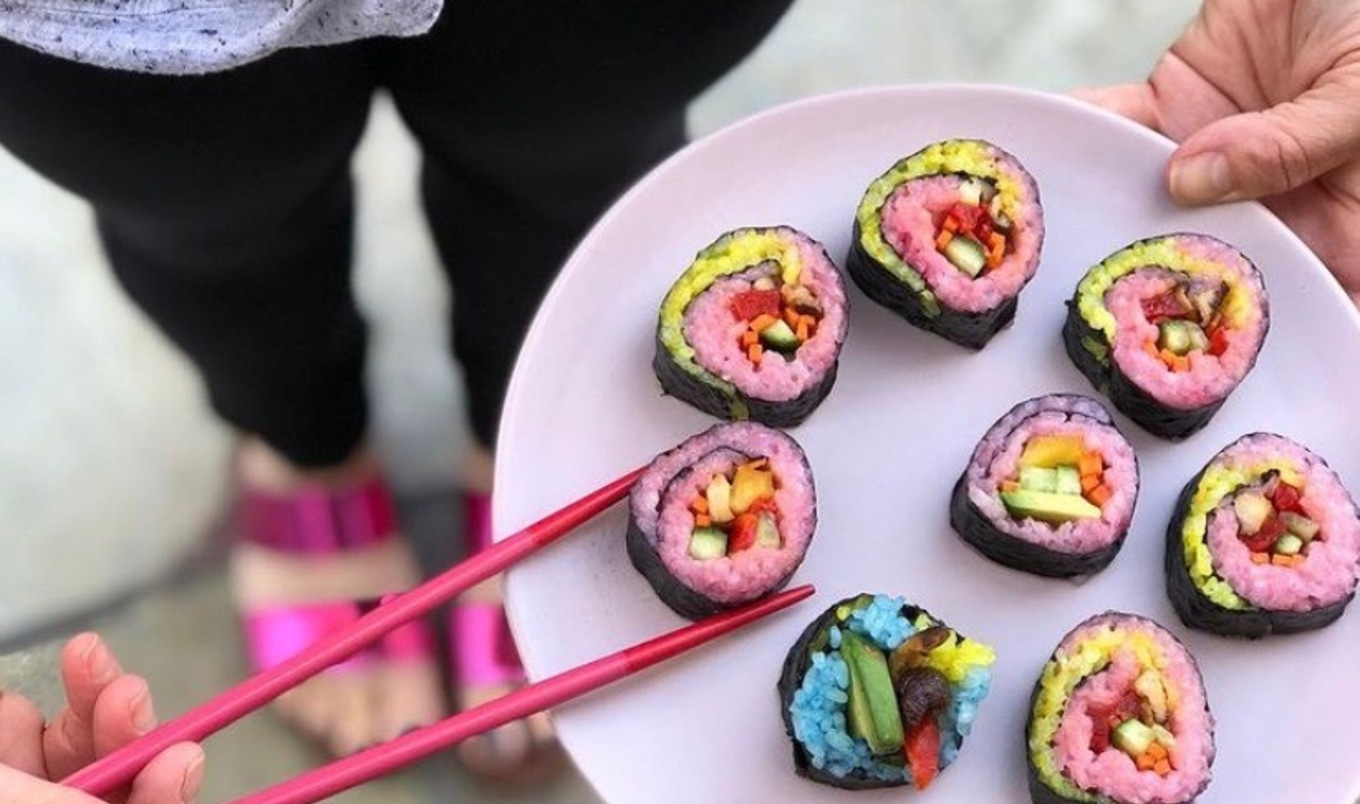 These tasty, plant-based hand rolls get their pink hue from beets and pack in a rainbow of vegetables.
January 19, 2023
Easily customize these rolls from Spork Foods to your liking with additional fillings such as baked sweet potato, marinated shiitake mushrooms, or roasted eggplant.
What you need:
For the rice:
1 cup sushi rice
1 small beet, peeled and grated
3 tablespoons rice vinegar
1 tablespoon sugar
1 teaspoon salt

For the filling:
½ ripe avocado, peeled and sliced into thin segments
½ red bell pepper, cut into thin matchsticks
2 yellow carrots, shredded into long strips
1 Persian cucumber, cut into thin strips
½ block baked teriyaki tofu, cut into strips
4 toasted nori sheets, cut in half

For the Creamy Ginger-Tamari Sauce:
½ cup vegan mayonnaise
1 teaspoon tamari
1 teaspoon rice vinegar
2 teaspoons finely chopped pickled ginger
1 teaspoon toasted sesame oil
What you do:
In a medium saucepan, add rice and 1¾ cups water. Cook according to package directions. Once cooked, transfer to a large bowl. With a wooden spoon, incorporate beets, vinegar, sugar, and salt until slightly sticky. Set aside to let cool.
To form hand roll, place nori (shiny side down) in one hand. With damp hands, spread ¼ cup cooked sushi rice evenly over half of nori in a square. Place small amount of fillings in a diagonal line across rice.
Gently roll sushi into a cone shape, and seal edge of hand roll with a few remaining grains of sushi rice.
For sauce, in a medium bowl, whisk together all ingredients. Serve hand rolls with sauce on side.